Arts & Culture
Lifestyle
The Hobby Hole: Crochet, and is it for you?
Handicrafts can seem daunting, but fear not! Crochet is perfect for beginners, and the rewards will outweigh the cost.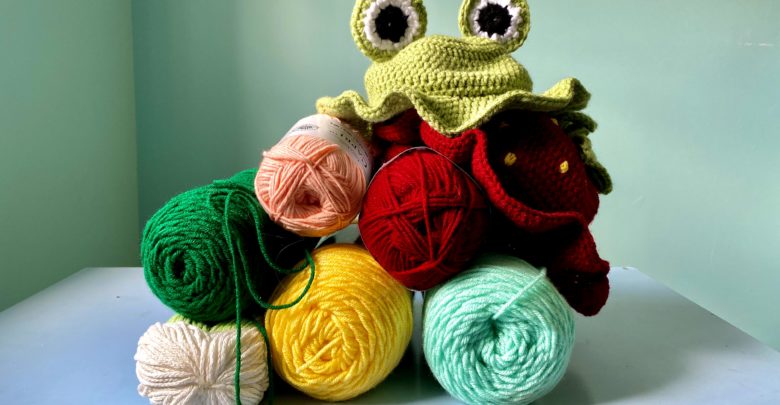 Crochet is the pandemic pal I hooked into existence these past few months, and it has been well worth the price of my sore fingers.
Knitting is a perfect pandemic activity, but have you considered its sibling, crochet? Unlike knitting which is done with two sticks, crochet involves a single hook. Some in the crochet community dub themselves "hookers," as the activity repeatedly hooks yarn into a larger piece. Though the two activities both involve yarn, I believe that crochet is better suited for beginners.
I'm definitely biased because I easily picked the hobby up following internet tutorials, but there's one thing in particular that I think makes crochet better for those starting off. 
Stopping halfway through a piece done with crochet is more comfortable than one done with knitting. With knitting, the piece must stay on both sticks, which do not have a convenient hook at the end to stop the piece from sliding off.
In crochet, the last stitch done will leave a small loop, which can be marked with anything from a crochet marker, a scrap piece of yarn, a safety pin, or even a hoop earring! That way, the project is paused without fear of slipping, and it can be stored away until ready to be worked on again. As a beginner that can be a lifesaver, especially because you're likely crocheting much slower than the person who made the pattern.
Crochet tools are also fairly inexpensive considering their frequent and adaptable uses. I'd say yarn is the biggest expense, but there are plenty of lower-end bulk brands to choose from. Buying a couple hooks usually lasts your entire time crocheting. There are plenty of free patterns out there, like this bee!
The beauty of crochet and other handicrafts is the ability to change things to your liking. Patterns will specify hook sizes and yarn weight, but as long you're not making clothing, size doesn't matter! For example, I made a stuffed rabbit over double the pattern's intended size because I decided to use a larger hook and yarn. There's flexibility in what you want to use, and you get the final say in what materials to purchase!
One of the things I love about crochet is that it keeps my hands busy. Unlike those who are more experienced, I have to focus on what I do, lest I lose track. That can be easy until a single row of crochet suddenly increases to hundreds of stitches. More often than not I find myself pausing multiple times in the middle of the same row to count stitches. Though this means I can't attentively watch Netflix at the same time, practice will allow me to do it one day.
Whether you just want to make yourself something special or you want to start your own handcrafts shop, crochet is the perfect hobby to try; there's a pattern out there for everyone. A little bit of love and time can breathe life into something phenomenal!