Guest Columns
Empowering Women & Girls: a Q&A with Anuja Tripathi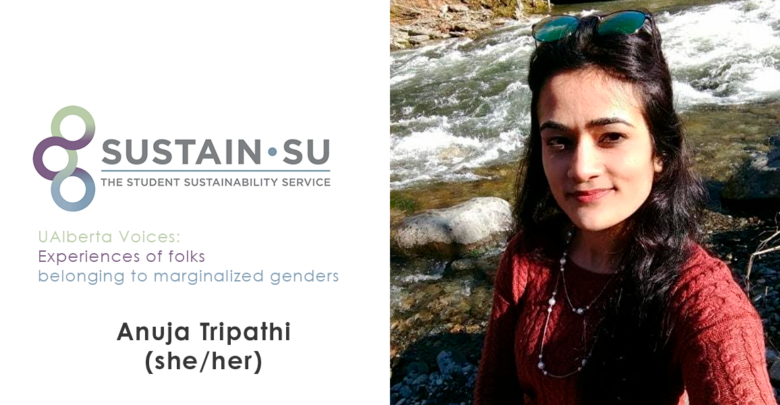 This guest column is written through a partnership with Sustain SU, a service provided by the University of Alberta Students' Union. The interviews and articles have been conducted and written by Sustain SU ambassadors, and edited by The Gateway for publication.
This article is the eighth of a multi-part series named "UAlberta Voices: Experiences of Folks Belonging to Marginalized Genders" that aims to highlight the experiences of students and community members belonging to marginalized genders in leadership positions within the University of Alberta campus and Edmonton community.
This is a question and answer (Q&A) session with Anuja Trapathi (she/her), on the topic of financial sustainability and the impact of socioeconomic barriers in post-secondary education.
This interview has been edited for brevity and clarity.
Q: Please tell us a little bit about yourself.
Anuja Tripathi [she/her]: I'm Anuja Tripathi, a fourth-year doctor of philosophy candidate in chemical engineering at the University of Alberta, and my pronouns are she/her. I was born and raised in India and moved to Canada in 2017. I spend most of my time in the labs. If I'm not there, I like spending time with my friends. In terms of hobbies, I like cooking, movies, running, and occasionally I write blogs.
Q: Please share one or two experiences where you have demonstrated any significant leadership skills, or occupied a leadership position within the campus community or within the local Edmonton region?
Tripathi: I did various volunteering activities so far. I have been a career mentor for quite a long time to help my juniors at my previous institute (in India), who seek guidance for overseas studies and research. Here at the U of A, I have been in charge of a few events such as the Week of Welcome by the U of A Students' Union. Through the City of Edmonton, I am part of an orientation program that promotes inclusivity to newcomer students, especially international students who come to the Edmonton region. Furthermore, I was actively involved with the U of A Women in Science, Engineering and Research (WISER) and WISER-International, a global program that runs in America, Canada, and India. Through this program, I acted as a mentor for individuals who seek help in their careers. I had a great time being involved with the student union group at U of A in my first year. For the last two years, I have been volunteering as vice-president at the University of Alberta Nanotechnology group.
Q: Do you hold intersecting identities that have placed a barrier on your ability to be recognized and heard as a leader within the campus community?
Tripathi: I feel like society has made progress in providing women with equal educational opportunities as men, but when it comes to balancing domestic duties and work, women end up getting all the caregiving responsibilities. In the workplace, promotions or recognition of achievements sometimes go to someone older with more experience. I feel often, women are thought of as "less-than" men since men have to worry less about balancing their work and domestic duties. To note, this sentiment is not intentional, and I don't think men, or those who adopt this mindset intend to think about this notion of unequal recognition in the workplace based on gender. It's just because of their unconscious biases, most of the time from a stereotypical mindset.
Q: Based on your leadership experiences, and life experiences, what is your perception of the prevalence of gender inequality in Edmonton or Alberta?
Tripathi: Women make significant contributions to Alberta's economy. From the past few years, the status of women made significant progress towards achieving gender equality through preventing and ending violence against women and girls, and increasing women's leadership and democratic participation. The coordinated efforts from the government, organizations, and universities are highly appreciable.
Q: That being said, where do you feel the responsibility for eliminating gender inequality should lie?
Tripathi: More than ever in history, women are valuable and essential members of our house, and workplace. We are doctors, lawyers, clerks, waitresses, cleaners, teachers, soldiers, and scientists. So that being said, we must change the culture in our workplaces to keep pace with the new reality. The issue of work-life balance has never been so important. Despite the fact that for many, gender equality is given, women are still the primary caregiver in most families. That means the women face serious challenges when it comes to balancing their work and family obligations. I must tell you, this is an issue I understand very well as an employee or a colleague. Firstly, it starts within our mindsets — it starts with ourselves! Women should be more aware of the laws, policies, and their employers. Secondly, it should be more susceptible to give women more freedom in their work culture, or offer them more flexible work options. Being flexible is about working differently, not working less. Ensuring that women feel supported in meeting their family obligations is just better business — it's better for productivity, for the employer, for the economy, for society, and for their own work-life balance.
Q: What do you believe are the contributing causes to gender inequality?
Tripathi: I'd say lack of legal knowledge and job segregation. Some types of organizations want women in all fields, and there are some particular areas where they only prefer women. They should replicate this sentiment in other sectors as well so that women can apply to most employment postings, and balance the gender ratio.
Q: What are the chief obstacles to achieving greater gender equality within the communities you are part of?
Tripathi: In both private and public spheres, women face occupational segregation, and multiple barriers — such as lack of access to land, capital, financial resources and technology, as well as gender-based violence — due to cultural mindsets and stereotypes. Women continue to bear the burden of many complex issues. And for some women of colour, women with disabilities, or women of different faiths, the road is even more difficult because they may experience discrimination on more than one front, which might further lead to fear of asking to be paid more than what they are worth for.
Q: In your opinion, in what ways do you think an individual can empower themselves or increase their self-esteem if they do face marginalization, or discrimination based on gender?
Tripathi: I would like to touch on what is within the work culture. Women should demand equal work culture. They shouldn't be afraid to ask for help if needed. They should practice self-care methods with other women as well! Mental wellness is also very much important for everyone and if you feel something then just say it, no matter how awful the circumstance or situation is. Similarly, if something is bothering you, raise your voice. Amplifying feminism through magazines and articles is another strategy, like this gender inequality event we are launching right now. Promoting this awareness within our community is crucial.
We should be responsible and teach young girls their worth, and empower them to strive for opportunities that may not be within their reach. For instance, by removing the unconscious bias. Respect the choices of other people no matter what their background is, race, culture, gender identity, or religion. Finally, it is important that women should not be afraid to challenge individuals who do not uphold the ideas described earlier. For instance, if they are a leader of a field in their industry, it does not mean women cannot lead in that area. Women are not passive, or dismissive, they can exhibit confidence in their leadership positions, just like men, and not feel afraid to raise their voice and challenge others' opinions.
Q: Do you feel individuals who have marginalized identities experience underrepresentation in decision-making and leadership positions?
Tripathi: Although women have made great gains in higher education and are now earning more degrees than men, women hold the least senior administrative positions and are the lowest paid among higher education administrators. Women with marginalized identities, and especially… [women] of colour, are also underrepresented in tenured and full professorships, which in turn limits opportunities to advances into formal leadership positions at colleges and universities. Yet we know, from research and our own academic experience, that qualified and ambitious women are definitely not in short supply.
This guest column is written by Sustain SU volunteers through a partnership with Sustain SU, a service provided by the University of Alberta Students' Union. To learn more about Sustain SU or to get involved, visit their website.