Arts & Culture
Campus & City
Dominique Adams tackles loss on her self-titled debut EP
The bachelor of music student is channeling her unique sound into an exploration of loss and the life that comes after it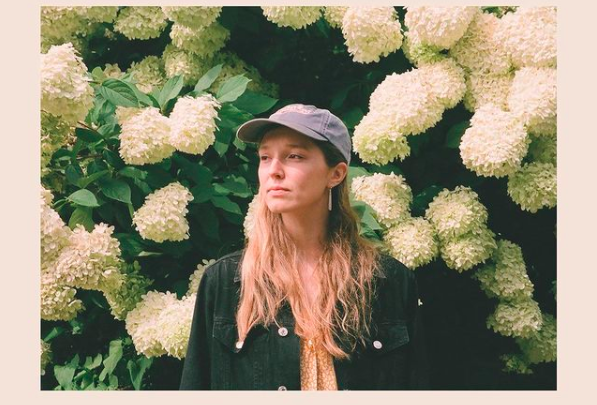 I caught wind of Dominique Adams' self-titled EP so soon after it was released that it felt like I had pre-saved it on Apple Music.
Released on February 16, 2021, the three-track EP was the calming soundtrack to my Reading Week, and I was pleased to talk to Adams about her EP and her experiences as a musician. 
Dominique Adams is an Edmonton-based singer-songwriter and a voice major in the University of Alberta's Bachelor of Music program. Adams started songwriting five years ago while studying music at Red Deer College.
It was at Red Deer College that she met a diverse range of musicians who showed her what a future music career could bring.
"My concept of being a musician was mainly rooted in group-based, community-oriented music making," Adams explained. "[Red Deer College] was my first exposure to the possibility of being an artist in the individual sense. It took me a little while to realize I could incorporate elements of both into my life."
Adams was recently featured on CBC Listens' Key of A With Katherine Duncan, where she and other Albertan musicians showcased new original music.
Adams' recently released EP explores themes of loss and trying to cope. Like many, Adams felt a loss of normalcy due to the pandemic, especially with regard to her university experience.
"I would say that what I miss most about 'pre-pandemic' university is the togetherness," Adams described. "I miss the intimacy and community that comes with singing and making music with other people."
The EP is a blend of alternative, folk, Americana, and soul influenced by artists like Laura Marling, Lianne La Havas, and Joni Mitchell. Adams' stripped down instrumentation, poignant songwriting, and soothing harmonies encapsulate her unique brand of music.
The EP opens with "Let Me Show You," a track about appreciating the people in your life that leads the listener along like a sunny morning walk. The twangy guitar featured on both the studio track and the live version adds an upbeat attitude to every stride.
"The idea of backing up the things you say and the things you feel with loving and intentional action is really something I try to implement into my life daily," Adams added.
The EP follows with "I Could Stay," a track that Adams based on a "seemingly impossible" breakup and the constant "back and forth that comes with learning to trust yourself."
The charming electric piano chimes in with an uneasy chord progression to end the song with an unresolved chord, leaving the listener to answer the question: 'should I stay or should I go?'
Adams pointed out that even though it was a long road back to happiness after her breakup, she appreciated "all the different and beautiful ways" that she felt different types of love in her life.
"Body From Soul" closes the EP, and for Adams, it became an outlet to cope with the loss of a close family friend to mental health struggles.
The chord progression on "Body From Soul" dances around uncertainly like on "I Could Stay," but it eventually resolves in a higher key and a slower tempo, as if in acceptance of loss.

"Mental health is not something to be taken lightly," Adams said. "I just hope to always remind others and myself that as bad as things can seem, there is always help and there is always hope." 
Dominique Adams' self-titled EP is available now on Apple Music, Spotify, and Bandcamp.