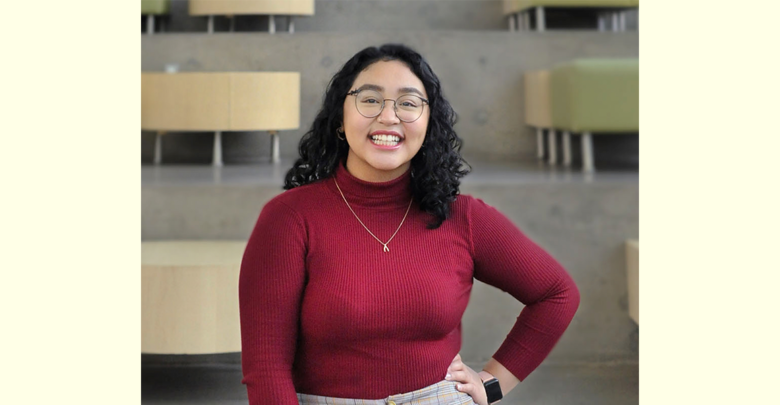 Between all of the forums, campaign promises, and debates, it can be easy to forget that all of the candidates running in the Students' Union elections are students too. Just like the rest of us, they know what it's like to wake up at 9:47 a.m. for a 9 a.m. virtual lecture, or submit an assignment 12 seconds before the eClass deadline
We wanted to get to know the candidates a little better this election cycle, so we asked for their thoughts and opinions on some questions that you probably won't be hearing at the next candidates forum.
Here is what we heard from Julia Villoso, second-year psychology student currently running for vice-president (operations and finance).
Responses have been edited for brevity and clarity.
The Gateway: What's your go-to song to put you in a good mood?
Villoso: "thank u, next" by Ariana Grande.
Would you rather take an 8 a.m. lecture or a three-hour evening class?
Definitely a three-hour evening class. I'm not a morning person, plus they're usually smaller classes!
What's the last show you binge watched?
True Beauty!
Are you an early riser or a night owl?
A night owl, although I do wish I was an early riser.
Mask or face shield?
Masks. They're definitely the safer bet.
Who is your favourite Canadian celebrity?
I love Ryan Reynolds.
Are you Team SUB or Team HUB?
Team HUB since I'm an arts student. I'm always on that side of campus and the LRT station is literally right there.
What's your opinion on CAB? Love it or hate it?
I love it, especially the staircase. It's also the best place to nap in-between classes. 10/10 would recommend.
What's your favourite library on campus?
Rutherford. I think it's the prettiest.
Is the Tim Horton's from CAB worth the line-up?
No. To be honest, I would rather go to Starbucks and spend the extra $4 rather than wait 30 minutes in line.
What do you miss most about campus?
Just hanging out with my friends all the time and physically being there to study in the libraries.
What's your favourite social media app?
Instagram. I know, I know, it's horrible, but I've always used it and I have gotten used to it. It's my go-to.
What's the last video game you played?
I recently finished playing the entire Uncharted series on the PlayStation 4.
Finally, what's your favourite kid's TV show, past or present?
My favourite show was either Kim Possible or Totally Spies.