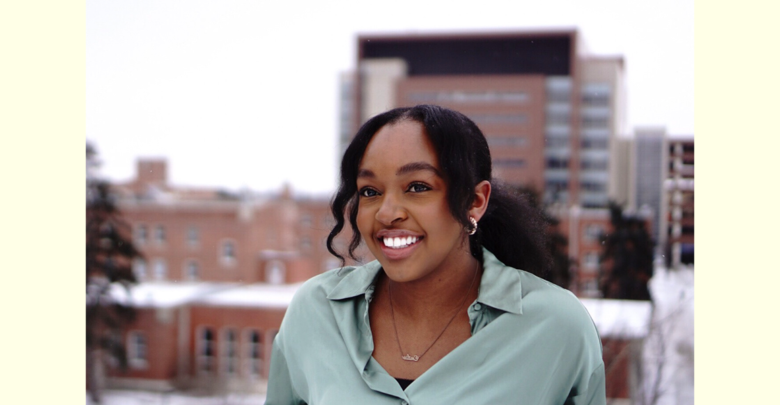 Between all of the forums, campaign promises, and debates, it can be easy to forget that all of the candidates running in the Students' Union elections are students too. Just like the rest of us, they know what it's like to wake up at 9:47 a.m. for a 9 a.m. virtual lecture, or submit an assignment 12 seconds before the eClass deadline.
We wanted to get to know the candidates a little better this election cycle, so we asked for their thoughts and opinions on some questions that you probably won't be hearing at the next candidates forum.
Here is what we heard from Emily Kimani, a fourth-year immunology and infection student currently running for vice-president (operations and finance).
Responses have been edited for brevity and clarity.
The Gateway: What's the last show you binge watched?
Kimani: I'm huge fan of The Office, so I'm always re-watching episodes. I'm also huge Marvel fan, so I'm currently watching WandaVision.
Mask or face shield?
Mask!
What's your favourite library on campus?
John W. Scott Health Sciences Library. You can find good study spots in there and it's always really quiet.
What do you miss most about campus?
There's a vibrancy on campus when it's full of students that I truly miss. I also miss the little things that made campus great, like bumping into a friend on your way to class or lining up at the CCSIS Starbucks and grabbing coffee with a friend.
What's your favourite kid's TV show, past or present?
That's So Raven. There weren't a lot of Black actresses on kid's TV at the time, so I really related to her growing up.
Finally, what's your beverage of choice? Is there a particular mood/vibe/time of day when you like it best?
Coffee, anytime and any day.
I really like the taste of coffee, in fact, I drink it more for the taste than the caffeine. My go-to order is always a vanilla latte with soy milk.