Arts & Culture
Nation & World
"Splices in time": A Q&A with 2020 Polaris Music Prize winner Backxwash
Backxwash's authenticity and honesty is unforgettable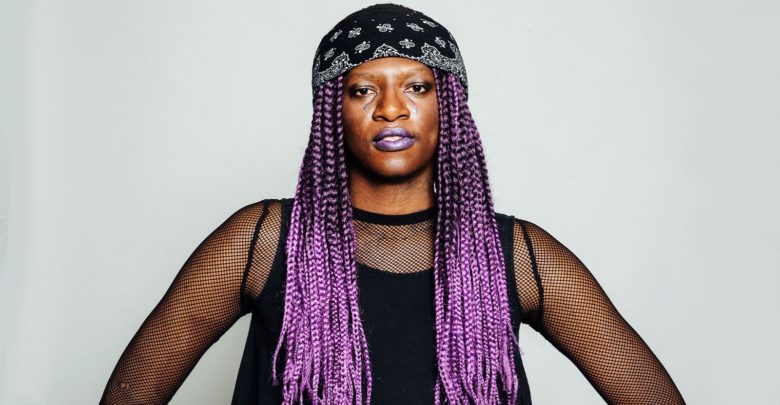 What better way to make a statement that different is better than to take the 2020 Polaris Music Prize?
On October 19, 2020, Montreal-based rapper Backxwash did just that in a statement-making night. Born Ashanti Mutinta, Zambian-Canadian rapper Backxwash left her hometown of Lusaka at the age of 17 to study computer science in British Columbia. She then moved to Montreal following her graduation. Backxwash released her debut EP F.R.E.A.K.S. in 2018, and her sophomore project Black Sailor Moon a few months later. It was also in 2018 that she came out as transgender, and has been a staple in Montreal's queer music scene ever since. But despite Backxwash's quick ascent, things really began picking up steam this past summer with the release of God Has Nothing To Do With This Leave Him Out Of It, Backxwash's debut full-length solo album and her irreverent, genre-bending punch in the gut.
With a title sounding like it's being spat through barred teeth and crusty eyelids, God Has Nothing To Do With This Leave Him Out Of It has the raw vulnerability that you would expect from a 3 a.m. shouting match. Everything about God Has Nothing To Do With This makes you instantly sit up and pay attention, from the haunting Ozzy Osbourne sample opening the album, to Backxwash's part-rap part-death-metal delivery, to the haunting production throughout (most of which was handled by Backxwash herself).
The album also caught the attention of the 2020 Polaris Music Prize's selection committee, and despite competition from internationally recognized acts like Caribou, Jessie Reyez, and Kaytranada, it was Backxwash who left this year's ceremony with the trophy in tow.
The Gateway was able to speak with Backxwash and get her thoughts on winning the 2020 Polaris Music Prize, as well as reflect on her artistry and influences.
Responses have been edited for brevity and clarity.
The Gateway: We're now a way out from the awards ceremony, so I think a good opening question is how are you feeling?
Backxwash: It feels great to be validated like that. When you're putting out music on such an independent grind, it's kind of hard for you to gauge whether people are actually enjoying it or not, so this is a bit more validation towards that.
God Has Nothing To Do With This is your first full-length solo album. What do you think it is about this album that has caused it to get the response it's been receiving?
I think the approach was just different. This one had a personal story to it. I took a head-on decision to produce everything by myself and I sat there and barred it all in terms of my feelings, so that fuelled the content of the lyrics. A few rappers have technical ability, but what they lack is in content. I try to make sure I have that content at the centre for people to digest.
When I first saw the album name God Has Nothing To Do With This Leave Him Out of It, I was immediately drawn in. Where did you get the inspiration for the album name?
I was watching this horror movie called Veronica. It's about this girl who is really into the occult who summons a spirit. It's obviously sensationalized, but some of it is based on a real-life story.
So the girl goes to see a nun, and the nun says "God has nothing to with it, leave him out of it" in Spanish, and I thought that was the coolest thing. I was watching it with my creative director and I was like, "That's going to be the name of my album."
A lot of people aren't aware of the love affair between hip-hop and metal, but your music draws it into the open. How did you decide to incorporate elements of rap and metal into your music?
These are things which were really taboo growing up, so it was nice to always keep an ear to them. What made me choose is just the feelings of the sounds. Samples are like splices in time to me and what that splice in time would make me feel was something I was really attracted to. When Ozzy Osbourne was shouting all of that on "God Has Nothing To Do With This Leave Him Out of It", it legitimately felt like he was in pain. These are also splices in time in my childhood, so the sample usage was just a no-brainer.
I was reading your biography and there's definitely a lot going on there. How do you think the journey you've been on since before you were 17-years old manifested itself in your music and particularly on God Has Nothing To Do With This?
I think it's a combination of experiences. When you finally make the jump to transition, a lot of things start making sense and falling into place. You have all of these experiences of microaggressions when you were growing up but didn't have the freedom to explore, but now you're in a place where you can explore them much more freely. A lot of those emotions and experiences from back in the day come back to the forefront.
In the music, it's been an ongoing process of me putting some of those stories down, but I haven't really gone as deep as I did on this album.
Winning the Polaris Music Prize is obviously going to give you a lot more exposure and introduce a lot of people to your music. Is there anything in particular you're hoping to achieve with this bigger platform?
I'm just hoping to go back in the studio and make more music. That's what I'm in this for. I'm hoping it will just give me more opportunities to be able to do that more freely.
Speaking to people who might be learning about you for the first time, are there any tracks on God Has Nothing To Do With This that would be a good introduction?
Either "Black Magic" or "Spells" would be a good introduction.
Do you have any future projects in the works?
I have a horror anthology coming out. It's called Heretics and the People Who Made Them and each track is going to be based on a character. I'm working on the instrumentation right now.
Is there a release date?
Next year, probably around the summertime or even earlier if it's finished earlier.