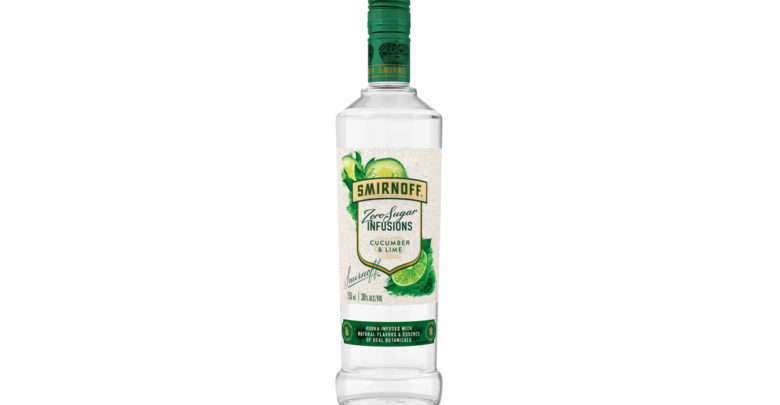 The First Time is a series where our writers share about their first time trying a new product or experience.
After the past few days of near-spring like temperatures, I endeavoured to find a drink that could take me back to the feeling of summer.
As I perused the shelves of my local liquor store, I honed in on a product I'd never seen before: Smirnoff Zero Sugar Infusion Cucumber & Lime. It seemed like the perfect beverage to transport me to the warm sunshine of a summer patio.
I first tried the Smirnoff Infusion with its recommended recipe: a simple ratio that's four parts soda water and two parts Smirnoff Infusion, topped with ice.
The flavour was instant; refreshingly cool cucumber takes over your palette as you sip away. I was immediately taken aback by the drink's smoothness. There's only a slight hint of vodka and no lingering aftertaste. You just get to enjoy the summer flavour of a cucumber highball while sitting on a patio under the sun. The only thing missing is the lime flavouring, which is muted and not at all detectable.
While sipping away, I was reminded of just how much the Smirnoff Infusion resembles Chopped Leaf's fruit-infused water. It took me back to those distant days of in-person classes, stopping by Chopped Leaf at Van Vliet to grab their legendary spicy creamy tomato soup and enjoying it with a Chopped Water.
Memories aside, the Smirnoff Infusion is strikingly delicious and relatively affordable. It's $28.99 at Real Canadian Liquor for a 750 mL bottle, which is well worth the money if you are a fan of vodka-based cocktails.
The Smirnoff Zero Sugar Infusion Cucumber & Lime also works great on the rocks or as an addition to other alcoholic cocktails. I tried it with a Bloody Mary as opposed to using a standard vodka, and I was surprised at how the cucumber flavour continued to burst though the others.
If you tend to like sweeter drinks, I would recommend having the Smirnoff Infusion with a light pop like Sprite. You can also level up the basic recommended recipe by adding cucumber slices, some fresh mint, and lime juice or a lime wedge. In all honesty though, the drink is delicious enough by itself.
Flavoured vodka is often a hit or miss. You either get something so sweet that its basically a cooler, or the flavouring is nowhere to be found. The Smirnoff Infusion Cucumber & Lime is the ideal flavoured vodka. The flavours are crisp, clear, and not overpowering, and there is just enough vodka that comes through.
In fact, the entire Smirnoff Infusion line of vodkas has zero sugar and uses all-natural ingredients — no pesky artificial sweeteners either. The other flavours are Watermelon & Mint and Strawberry & Rose, and after enjoying the Cucumber & Lime, I will definitely be trying the others.
The versatility and impeccable flavour profile — even by itself — make the Smirnoff Zero Sugar Infusion Cucumber & Lime a great drink to enjoy.