Arts & Culture
Campus & City
Off-Campus Gems: Cafe Mosaics
Cafe Mosaics is a locally-owned restaurant with plant-based dishes that can satisfy any appetite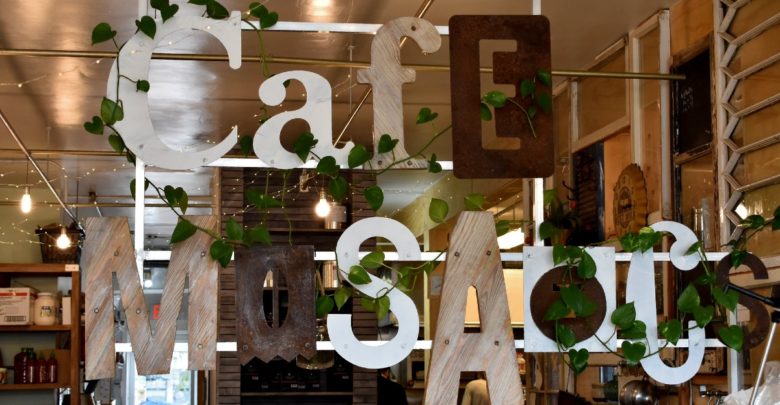 Off-Campus Gems is a series where we highlight businesses and restaurants near the University of Alberta campus.
---
Whether you are looking for a tasty burger, a heartwarming soup, or a cozy atmosphere, Cafe Mosaics has it all.
As a vegan, vegetarian and plant-based restaurant owned locally, you can't miss the opportunity to treat your taste buds with their delicious treats.
Cafe Mosaics was first opened in the 1990s by a local family, looking to inspire and create through culinary art. Over the years the ownership has changed, but a few things remain the same:
It is family owned and operated.
It is local.
They strive to deliver exquisitely prepared, tasty food while keeping health at the centre of their operation.
Located on Whyte Avenue, Cafe Mosaics brings in all sorts of people. The atmosphere is welcoming with numerous plants and minimalist furniture. Locally made art adorns the walls and if you look closely, you will see a price tag — the art is for sale! The employees are welcoming and ready to answer your questions or help you make the tough decisions about what to order. It's no secret that the hospitality brings people back.
The menu at Mosaics is widespread and diverse, offering all kinds of treats to satisfy your hunger. Some of their options include burgers, bowls, soups, and even breakfast items like tofu scramble and Eggs Benedict. The kitchen is very flexible and willing to accommodate allergies or special requests to make your meal personalized and perfect for you.
My current go-to is the Laughing Monkey Hot Pot, a vegan and gluten-free soup with rice vermicelli, coconut milk and two big handfuls of mixed vegetables. The flavour is immaculate. The soup is made with a variety of spices to give it a little kick, and the broth does a great job of warming my chest on those cooler Edmonton days. Give it a shot!
In addition to their incredible food menu, Cafe Mosaics has a number of teas, plant-based alcohols and plant-based desserts. Whatever your mood, there is a tea to match it, and Mosaics is pleased to serve it to you. As for desserts, variety is not a problem, as cupcakes, cake, cookies, scones and loaves are all offered. I have to say that the icing on the peanut butter cupcake is probably one of the best things I have ever tasted.
Although Cafe Mosaics is not 100% plant-based, they have a second restaurant just across the river that is, called The Moth Cafe!
Cafe Mosaics is a local gem that offers anything and everything to satisfy your tastebuds while keeping plant-based, vegan and vegetarian diners in mind. Go ahead and try it! You might fall in love with it.