Arts & Culture
Lifestyle
Crowdfunding campaign hopes to launch a new kind of bed and breakfast
This Bed-and-Breakfast campaign keeps marginalized people and accessibility at the forefront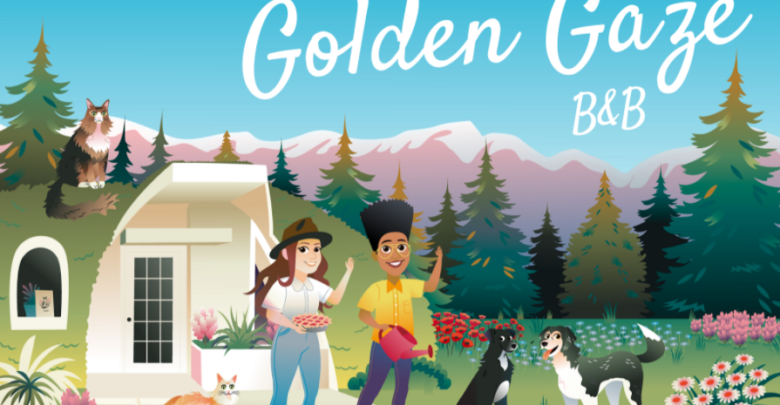 Golden Gaze B&B is an upcoming bed and breakfast set to be located in Golden, British Columbia that centres on sustainability, accessibility and relaxation.
The idea for Golden Gaze was conceived by Reigh Ring and Katie Ring. Katie formerly worked for the Students' Union at The Landing — and together, they are currently coordinating a crowdfunding campaign through Indiegogo to help bring their concept to fruition. So far they have managed to raise over a quarter of their $300,000 goal, with the campaign set to end on November 15.
The Gateway sat with the two co-owners of Golden Gaze B&B to learn more about their vision and what future visitors can expect.
Responses have been edited for brevity and clarity.
The Gateway: For our readers, can you explain the vision and story behind Golden Gaze?
Golden Gaze started as the dream we kept talking about each time we traveled and felt in some way frustrated with our vacations, whether that was from homophobic comments from fellow guests, an unwelcoming host, or even just the lack of recycling bins throughout a hotel.
Golden Gaze was our imagined response to what so many of our communities members experience while traveling. We have had great difficulty finding spaces that are built with our values in mind, such as inclusion, sustainability and accessibility.
Golden Gaze is queer and Black-owned. You also list your pillars as connection, sustainability, equity and justice, growth and community. Can you explain more about why some of those pillars were chosen, and how Golden Gaze affirms them?
In order to connect deeper to nature, we have to build sustainability into everything we do. To be truly sustainable, we have to do so with an equity and justice foundation and practice, recognizing the intersectional and complex reconciliation we need to do to grapple with the effects of climate change and the impacts it has had on all of us, but especially the Indigenous, Black, and other communities of colour.
This also means we are seeking to have beneficial relationships with the Ktunaxa Nation, specifically the Akisqnuk communities whose land we hope to build on. To us this means following the Land Code and their leadership on how to care for the property in a way that is beneficial to the natural world around us, and using building technology that is as sustainable as possible to reduce our environmental impacts.
There are a lot of youth that are passionate about community advocacy and many of the tenets you listed. Do you have any advice for young entrepreneurs wanting to develop their own businesses while still holding those values?
When working on the business concept, research is so important! Definitely have consultations with people. To be able to build a space that has a community-based philosophy, you have to learn what the community needs and wants and not just operate based on your guesses.
We are members of a few marginalized communities ourselves, so from our own lived experiences we've been able to design with those in mind. But for communities we are not members of, it has been important to listen to them, hear their stories and experiences, and learn from the mistakes of the past. For example, neither of us has had to navigate the world in a wheelchair, so we need to consult with folks who have so we don't end up perpetuating an ill-informed harm in the future, like putting the light switches too high up on the wall.
You include a unique pricing scale for your services. Can you explain your pricing scale and why it was important to implement that system?
We have a few pricing scales that aren't typical to most vacation stays. For one, we will offer sliding scale prices for marginalized folks. This means we will work to find a price we can both afford, to make a restorative vacation accessible to more folks. Marginalized communities have been given less access to resources and high-earning careers and are far more likely to be living in poverty than non-marginalized folks.
We are building on equity and justice values and to be an explicitly affirming space for marginalized people, so it's important that we make sure they can afford to come here too. Leisure has historically always been exclusive. Everyone deserves a vacation and to rest.
Leisure has historically always been exclusive. Everyone deserves a vacation and to rest.

Reigh Ring and Katie Ring
Furthermore, all folks who identify as Indigenous to Turtle Island will be given 20% off their stay. This essentially covers the cost of land and land development. We do not believe Indigenous folks should have to pay the costs for any land that was taken from their communities without their consent.
Additionally, we offer senior discounts, as seniors generally live off of tight, fixed incomes. They've done years of labour for our communities and worked their whole lives for a break — they deserve to take one.
Something really unique about Golden Gaze is that a large portion of funds were raised through crowdfunding. Have there been any key learnings from that experience?
So far, the biggest lessons have been in persistence, just being willing to put ourselves out there to ask for help, and trusting that there is enough abundance in the world to go around! We only need about 350 folks to pre-book their vacation with us in order to reach our funding goal, so we feel confident that it's possible if we reach the right folks!
We understand that not everyone has the means to pre-book a vacation though, so we have other rewards for other levels of contribution that folks can send our way, including a luggage tag reward that's worth a 10% discount off any future stay with us or a $15 personalized thank you postcard from Golden Gaze, just to help us reach our goal!
We've talked so much about the philosophy of Golden Gaze, which is fantastic, but since it will be an actual bed and breakfast, what are some activities that we can look forward to doing while staying at Golden Gaze?
Our cabins and amenities are all made with your connection to yourself and the earth in mind. We will have an on-site lake, perfect for an afternoon dip or skating in the winter. We will have a wood burning sauna and cannabis lounge to ease aching bodies after enjoying some of the exciting attractions in the area like hiking, skiing, and paragliding. We will offer enneagram coaching for folks who want to foster a greater connection to their spirit or their relationships. You can expect a movement and meditation sanctuary to reconnect to your breath and body. And of course, it would not be complete without a delicious farm-to-table breakfast!
I for one am really excited to visit Golden Gaze. When can we expect to make reservations?
If you're financially able, you can prepay your vacation with us today! It will be redeemable for at least three years after we open. Booking a stay is the best way to ensure that we are able to open at all, since our funding goal on Indiegogo is all or nothing — if we don't reach it, we have to return all of the funds we raised to the backers.
The eco-domes we want to build are much faster to construct than standard housing, so we hope to start welcoming guests by the end of 2021 or sooner, if possible! Indiegogo backers will get to finalize their reservations before the general public once we have an expected opening day, so it's best to reserve your vacation with us now to have the best chance at getting the future dates you want for your trip!
For more information on Golden Gaze's Indiegogo crowdfunding campaign, visit the link here.