Arts & Culture
Campus & City
Edmontonia Trading Cards celebrate Edmonton, quirks and all
From the High Level Bridge to the Muttart Conservatory, these cards capture the spirit of the 780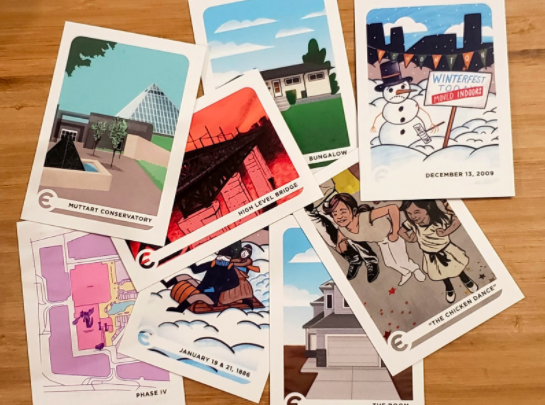 They may be small, but you won't be forgetting the Edmontonia Trading Cards next to your hockey cards once you unwrap them.
Although Edmonton is becoming a more active city with festivals all year, it's sometimes easy to forget there's a lot of history and nostalgia already within the city, so long as you know where to look. Edmonton writer Michael Hingston is striving to highlight the unexpected things that make Edmonton such a unique city with the Edmonton Trading Cards.
Created with the help of 12 local artists, the Edmontonia Trading Cards are a set of 60 cards featuring gorgeous artwork and detailed histories written on the back. The quirky cards each have their own style and character, and are meant to show different parts of the city we live in.
The Gateway had the opportunity to sit down with Hingston to ask about the ideas behind the cards, as well as the creative process.
Responses were edited for brevity and clarity.
The Gateway: What were you trying to remind people about Edmonton?
Locals are our primary target and the cards are for sale at a bunch of stores around the city, and most of our customers are in the city. We also sell [the cards] to people who used to live here or they're being given as gifts to people who have moved away, to remind them of their time in Edmonton.
Edmonton's got a reputation, outside the city especially, that's not always positive. I think [the cards are] kind of a way to remind people, hey, remember this place here, where you used to live? Maybe you missed it a little bit more than you thought.
Honestly, whenever I think of Edmonton the first thing I think of is construction and the early snow in the middle of fall. It's actually a really nice place.
Yeah, and especially if you grew up here, you probably wouldn't research why things are the way they are. If you grew up around them, you might just accept them.
Part of the reason I think I ended up doing this is because I'm actually not from here. I'm originally from Vancouver, and so I've been in Edmonton about 12 years now. I think of Edmonton as my home, but definitely when I first moved here I would just ask people all these questions, like what's up with these jackrabbits? What are the city buildings? Why are they all shaped like pyramids? I actually don't know that I found the answer to that.
It was an outsider's perspective, and I think that actually informs the cards quite a bit because all the write ups on the back were all the histories of those things. Those are all the questions I was asking people the first couple of years I lived here just because it was so different to me.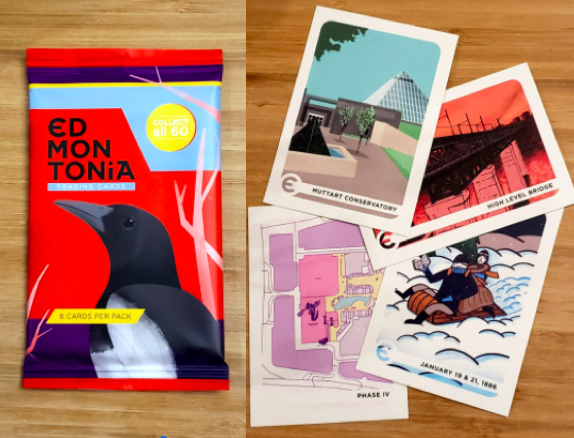 There's something else I was curious about, just because I know these are illustrated by artists in Edmonton. I am just wondering if you commissioned these from local artists?
Yes, all the artwork was commissioned. It's all original, made specifically for the cards. I've known for a long time that there are lots of great artists in the city and even I was surprised by how many [there were] when I started researching for the cards. I was really amazed by how many really high-end talents we have in the city.
I was trying to find artists that would be sort of a variety of styles, so that when you open up a random pack they wouldn't look the same. I wanted it to have a variety of subjects, but also a variety of artistic styles in terms of colour and line work.
Are you planning on releasing a second series of cards?
There's definitely more things to do, more things that I think would definitely merit having a card. I've got pages and pages of ideas that I think would all make sense. So, yes, [that's] certainly something I'm considering, but I'm going to see these ones through to the end and then maybe I'll come back to it depending on how it goes.
Have you visited every specific location on the cards yourself, or were some of them areas people suggested to you?
I think just from living here, I have been to all these places before!
Just one thing to say about the cards more generally is that I really wanted them to be different than if the City of Edmonton as a government entity put out cards promoting the city. What I wanted to do was reflect the things that were meaningful to people who live here, and reflect the actual everyday experience of people who live in Edmonton. I don't know that the city would go out of its way to promote the Whitemud or the Yellowhead like tourist attractions.
Do you have any suggestions for students who are new to Edmonton — because this is a student paper — just sort of where they should go look first?
I think I would love it if they picked up a pack of cards and went and saw some stuff around the city and tried to go see it in person. I think the recommendations you sometimes get are [to] go to the mall, which is maybe not something I'd recommend currently [because of COVID-19], but in better times I definitely think you've got to go to West Edmonton Mall just to look at it and marvel at this thing that we've made here.
I do think the fun of Edmonton is sort of slowly learning the character of the entire city. It's not so much one flashy day trip. It's more [about] getting immersed in the local character. I think the people are great and I think there's lots of interesting nooks and crannies around the city if you're willing to look for them.
Edmontonia Trading Cards sets are available for purchase here.