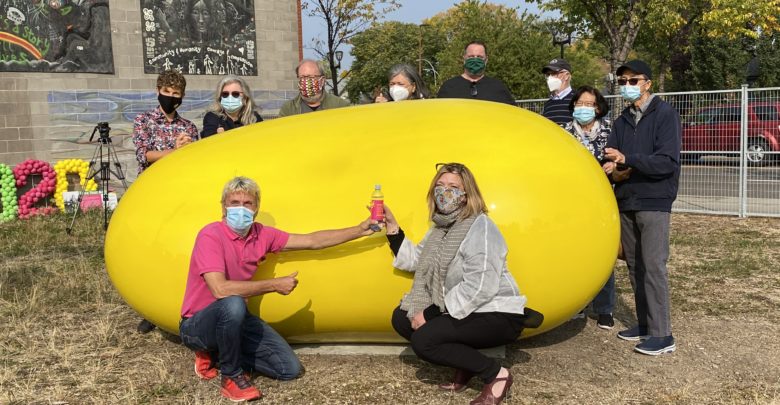 There is a new challenger for the title of weirdest art sculpture in Edmonton.
Vancouver Biennale has loaned sculptor and filmmaker Cosimo Cavallaro's Love Your Bean installation, along with other artworks, to Arts on the Ave's neighbourhood improvement initiative along 118th Avenue.
The three giant fibreglass resin jelly bean sculptures were installed by crane on September 18th in Alberta Avenue's green space (118 Avenue and 91 Street).
The arrival of the beans has caught the attention of many and made the quaran-bean season a bit more bearable with their adorable presence.
The beans are the more colourful, long-lost Canadian cousins of Chicago's Cloud Gate "bean." According to Cavallaro, the beans are "whimsical, joyful, interactive, and a little bit unsettling as they seduce and dwarf their viewers by their sweetness and smooth form."
This isn't the first time Cavallaro has used food in installation art. In 2019, he vowed to 'Make America Grate Again' by building a cheese wall along the USA-Mexico border, which in my opinion is a more fun alternative to Trump's concrete and steel.
This is a lovely crossover between Vancouver Biennale and Arts on the Ave, as both non-profit charitable organizations make great art more accessible and bring communities together. Barrie Mowat created the Vancouver Biennale in 2004 to "bring great art to public spaces where people live, work, play and transit, free for all to enjoy, explore and be inspired by." Arts on the Ave has done many initiatives since 2005 with its 200+ artists and community members to invigorate and strengthen Edmonton's inner-city neighbourhoods.
As someone who likes to admire the weird and wonderful things in the city, I think the beans fit right into Edmonton's art scene. They are wacky, entertaining, and exciting, much like the other sculptures and murals around the city. They could definitely be on the same playing field as the infamous silver balls chilling by Whitemud Drive or the Immense Mode at Southgate LRT station (those gigantic brick feet you see while waiting for the train).
If you get the chance, visit Love Your Bean on Alberta Avenue's green space. The sculptures will definitely cheer you up and it won't cost you a bean.