Campus Life
COVID-19
News
Campus Food Bank especially in need of donations due to COVID-19
The drive will run from October 26-30, and will pick up marked donations left outside front doors to abide by COVID-19 restrictions.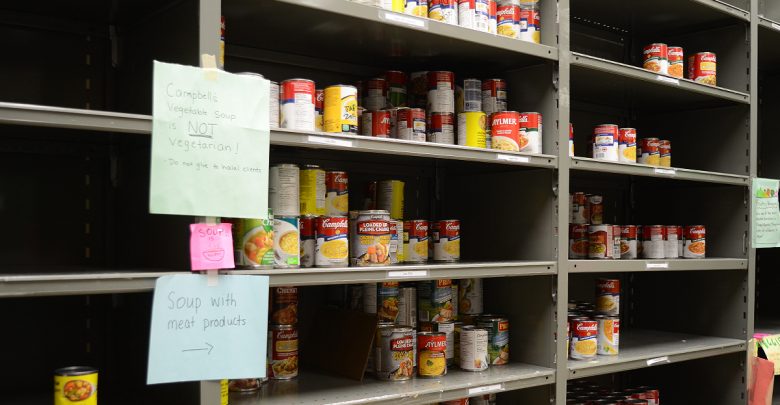 COVID-19 restrictions might change the way the Campus Food Bank (CFB) organizes their annual food drive, Trick or TrEAT, but it won't stop them. 
The food drive will take place from October 26-30, visiting a different neighbourhood each evening, beginning at 5:30 p.m. Volunteers will travel to McKernan, Belgravia, Garneau, Windsor Park and Queen Alexandra each evening, and will pick up donations left outside front doors and placed in a bag or container marked "Campus Food Bank."
While before COVID-19, the drive would typically take place during one day, the CFB has split it up into smaller events to ensure social distancing practices can be easily followed.
Cory Hodgson, the executive director of the CFB, said despite the pandemic, students are still living close to campus and in need of their services.
"We're pretty busy right now," he said. "I think a lot of people think things would be pretty calm for students because they're not around, maybe not even in Edmonton because they're living with their families back home. But, we still do have quite a bit of students who are living on or near campus."
Hodgson mentioned that he has seen an uptick in the number of students with children accessing the CFB.
"We're really in need of anything that would work for a kid's snack for lunch," he said. "Granola bars, juice boxes, those kid snacks are harder for us to get, they're expensive for us to buy, so we could really use those."
Additionally, Hodgson said non-perishables that can be used to create a meal by mixing with fresh ingredients, like rice or pasta, would be great donations. Additionally, he said peanut butter, and canned fruit and vegetables are always needed.
Volunteers in demand for Trick or TrEAT, Hodgson said
Hodgson also mentioned that the CFB is in need of volunteers to help spread the word about the food drive by distributing flyers, and volunteer drivers to collect donations.
"We're definitely short on people," he said. "Volunteering this year for students has been a harder thing. I wouldn't say we're seeing less interest, but I think people are really hesitant to volunteer [because of COVID-19]."
While Hodgson shared that the drive will help the CFB meet immediate demand, he also noted that they're expecting demand to go up, potentially even as COVID-19 restrictions lessen.
"A lot of food banks are talking about the 2008 financial crisis, and how the peak in food bank uses was actually a year later," he said.
"We're planning for it if that's the case here, and really looking at it for the long haul. Having a successful drive ensures we can stockpile, meet demand coming through November, December, and into the winter semester to ensure people have access to the food that they need."