Campus Life
COVID-19
News
U of A students rally in support of universal basic income
Students mentioned the precarity of the job market, issues surrounding migration, and the impact of the COVID-19 pandemic, as reasons universal basic income is needed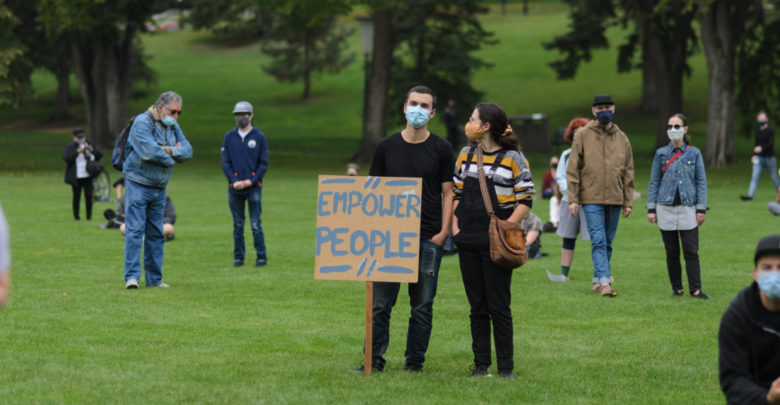 As advocates of universal basic income (UBI) rallied this past weekend, University of Alberta students in attendance spoke about what UBI would mean for them. 
Around 100 people attended the rally at the legislative grounds on September 19, following similar events across Canada, including rallies in Calgary, Victoria, and Toronto. Attendees wore masks and remained socially distanced as they listened to the speakers. The event included performances by singing and drum group Chubby Cree, spoken word poet Kaz Mega, and event organizer Dana Wylie.
Organizers of the rally said in a media release a catalyst for hosting their event was Leah Gazan's motion to the House of Commons. Gazan, a member of parliament from the New Democratic Party, pushed to turn the Canada Emergency Response Benefit (CERB) into UBI.
UBI inextricable from conversations around migrant workers, rally speaker and student attendee said
For Lyla Luciano, a U of A student studying sociology, attending the rally was a way for her to show support for migrant youth in Edmonton.
"Being a youth here as a person of colour — our parents are migrants, and some of us youth are also migrants here — and looking for a job, looking for some way to pay tuition in Alberta and university, or just basic schooling, it's hard," she said. "How are we supposed to live?"
Luciano is a member of Anakbayan Alberta, a Filipino youth organization. Anakbayan works closely with Migrante, a not-for-profit Filipino organization that advocates for the rights of migrant workers.
Cynthia Palmaria, one of the founding members of Migrante Alberta, spoke at the rally regarding her work with migrant, precarious (those who fill permanent needs of employers but are denied permanent employee rights), and undocumented workers. She noted that these workers are often left out of wider discussions surrounding employment and income in Canada.
"Given Canada's reliance on immigrant labour for its economic and population growth, it is imperative to examine the universal basic income in relation to migration," Palmaria said. "We believe that universal income means that no one is left behind."
Universal basic income important for those attending school, students share
Samantha Cima, a second-year PhD sociology student attending the rally, noted that while her status as a student gives her access to opportunities, it also places her in an uncertain position, one that helps her see how a UBI could benefit those facing even more uncertainty.
"We're so used to being precarious already and having poor access to funding and finding employment," she said. "As students, we're in a privileged position. There are a bunch of people that are not in a privileged position that are still struggling even worse than we are. There has to be some form of solution."
Leslyn Stobbs, a women and gender studies student, shared that a UBI would be invaluable for students now and in the future.
"I look at all the recent graduates who probably would have gone into field work, but those budgets have been cut and all of their opportunities to stay afloat are nonexistent," Stobbs said.
Stobbs also highlighted the additional problem of attending online classes in a pandemic.
"Now, not only do you have to pay for your education that's over the computer — which is not a learning style that is applicable to a lot of people — you also have to pay for a bus pass, to use the internet, and some people don't feel safe to go on campus and study," she said. "There are a lot of factors that a universal basic income would help to provide for.".
COVID-19 brings conversations surrounding universal basic income to the fore
According to Celine Beaulieu, a first-year masters student in the department of sociology attending the rally, the COVID-19 pandemic has highlighted disparities in Canada.
"COVID-19 really has raised awareness for the need of a basic income," she said. "For recognition that there are some basic rights that people are not able to access. If we're able to support that, then I'm definitely on board with it."
Stobbs also cited the pandemic as a reason that the movement in support of UBI is gaining momentum.
"I'm completely distraught about COVID-19, but I'm also happy that it's generating more visibility and awareness around the issue for universal basic income," she said. "More people are realizing that they're much closer to not having any income than they are to people who tend to promote the idea that a universal basic income isn't necessary."
Despite COVID-19 having brought these issues to the forefront, Stobbs also noted that the struggle for a UBI predates the COVID-19 pandemic.
"I don't think that our conceptualization of a UBI would be as informed as it is without the necessary work put in by disabled activists and other people who originally wouldn't have access to getting income," she said. "I think it's important to shout out all of the scholarship and emotional labour being put into pushing society to reconfigure what's acceptable for accessibility, and what that means."