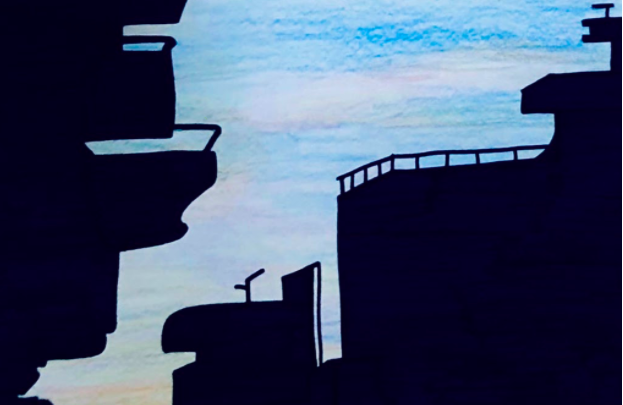 The Hobby Hole is a series where our writers share their hobbies and interests.
The COVID-19 pandemic hit Alberta hard and fast, and within a few days I was packed up, moved out, and back in B.C. living with my parents.
I think at first we all thought the pandemic would be a short-lived, well-deserved break from the day-to-day busyness of university. That mindset only lasted for about a week until reality set in and case numbers rose while store aisles got wiped clean.
After a few weeks of social isolation, I had stopped working out, eating well, listening to music, reading, and instead I had turned to watching copious amounts of Gilmore Girls while laying in bed all day. I suffered the consequences, and I noticed my stress and anxiety skyrocket. I decided to do something about it.
I downloaded TikTok on my iPhone, the most hyped-up app of the year, and found the majority of videos showing up on my recommendations page were art related. Watching other young people create art pieces and post them online made me feel really inspired. I liked how the artists were not professionals per se, but just normal people who had found a common interest in something.
I put on my mask, went into the first art store that I drove past, and began the search for supplies. I picked up acrylic and oil paints, six different brushes, and a few canvasses, all for under $40. My DIY art studio consisted of me mixing paints on the top of a plastic container lid while sitting at my kitchen counter to get the perfect amount of natural light in the room. I would stare at the blank canvas for a while until an idea or image popped into my head, then paint it freehand.
I would love to say I was painting Rembrandts right off the bat, but I won't lie to you; the first few attempts were very below average. I went through three or four canvases before I got into the groove and felt myself relaxing to the point of loosening up. I even started waking up in the mornings excited about what I was going to paint next, feeling more energetic and happy as the days went on.
Most people think of painting as a common hobby, but when you break it down it's actually one of the most effective ways of relieving stress. By using art to clear your mind, you're not only enabling your body to enter a state of calmness, but you're also teaching it to accept mistakes and flaws within your artwork. I learned this from reading Elisabeth Egan's New York Times interview with art-critic Jerry Saltz titled "Yes, You Can Channel Your Stress Into Creativity. Here's How."
"Allow yourself to get lost there; just follow whatever idiot thread you get on. I do! Art tells you something you didn't need to know until you know it," Saltz says.

Saltz gives artists permission to be free when creating something, and I couldn't agree more!
The most enjoyable part of painting is being able to let your mind take the piece wherever it wants to go and enter a different world each time. Pieces using bright colours and elements of nature were personally the most beneficial, as they made me feel as though I was really at that peaceful and distant place, if only for a few moments.
There is a quote by Phyllis McGinley that says, "A hobby a day keeps the doldrums away." I can't say for certain that painting is a cure for doldrums, or even a boost for your mental health, but here's what I can tell you. Learning to express myself through art helped me through one of the toughest times in my life by pushing me to get back in touch with my creative side, and providing me with a getaway when the world felt enclosed.
In the future, will I continue to paint every day? Probably not. But if there really is a second wave, you'll know to find me at the kitchen counter with a brush in my hand.