Arts & Culture
Nation & World
Paddling up the Livestream: Shrekfest heads online!
The annual celebration of all things big, green, and ogreish is now on Twitch!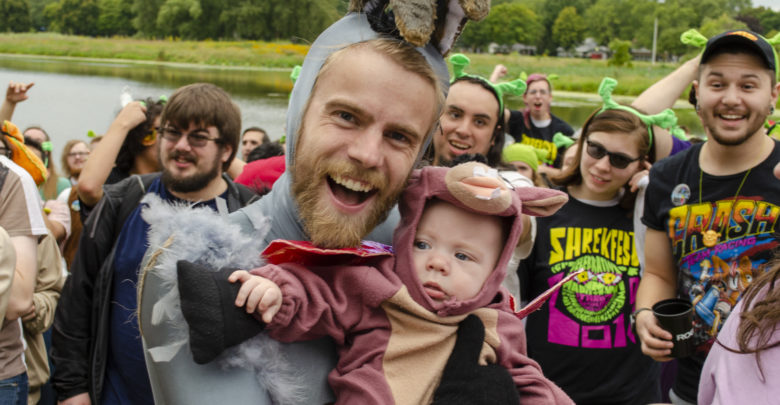 This upcoming Saturday, the annual and long-awaited Shrekfest heads online to celebrate Shrek and all of its fans!
The festival is normally held every year in Wisconsin to celebrate and discuss all things Shrek, including activities such as an onion eating contest, and regular festival goings like drinking and partying. Speaking with Shrekfest head coordinator Grant Duffrin, he admits that Shrekfest originally spawned from a joke Facebook page gone wrong.
"[Shrekfest] was like an online fake Facebook event that my friends and I thought was real, and two weeks before it was supposed to happen we found out it was a hoax," Duffrin said. "But we were like we could make it real, so we made it real!"
For the seventh annual Shrekfest, the festival will be moving things online in light of the coronavirus pandemic, making it more accessible to the public as well. Many of the same activities that were held at the physical Shrekfest will also be held online. Highly anticipated events such as the onion eating contest will become contactless through a series of participant-submitted video entries. As usual, Shrekfest 2020 will close off with a viewing of Shrek Retold, a fan-made, modern retelling of the award winning Shrek (2001).
Shrek Retold is a bizarre and fun compilation of over two hundred fan clips creating a loose retelling of Shrek. Debuting in 2018, the video has since garnered over five million views and counting. The movie as well as the fan submissions will be streamed on the Shrekfest Twitch on Saturday, September 19. You can read The Gateway's full review of Shrek Retold in all its glory here.
When asked what challenges Shrekfest expects to face being held entirely online, Grant was optimistic, listing only his shoddy internet signal as a possible obstacle. He also expressed thanks for all the great submissions from fans.
"We got so [many] awesome music videos, and short films, and animations," Duffrin said. "It's all so good."
Grant also brought up an idea for a biannual Shrekfest, with one in Wisconsin for those who want to take the trip and party their hearts out to Smash Mouth's "All Star", while leaving another one online for those unable to bear the twelve-month wait for the festival. It's an idea that's sure to be eaten up by festival fanatics like they eat up their onions in record time.
"Shrek memes were born from the internet, so holding Shrekfest online is like a homecoming for Shrek," Duffrin said.
With an exciting lineup of activities and content to watch from the warmth of your home, Shrekfest is sure to be an exciting experience for the whole family. And in this dreary landscape, we could all use a bit of green back in our lives.