Arts & Culture
Campus & City
Cultural Affairs
Paddling up the Livestream: Multiculturalism Under the Mid-Autumn Moon Festival
This year's Mid-Autumn Moon Festival has been expanded to celebrate fall and harvest traditions from around the world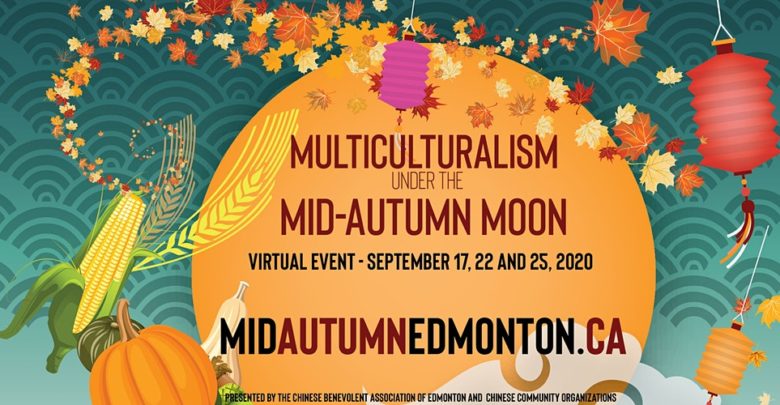 Multiculturalism Under the Mid-Autumn Moon Festival is a multi-day, Edmonton-based arts and culture celebration organized by the Chinese Benevolent Association running on September 17, 22 and 25.
This year's festival was a recipient of the Alberta Culture Days grant, and incorporates fall traditions from a variety of cultural groups over three days of virtual workshops, performances and panel discussions.
Lan Chan, the Chinese Benevolent Association's vice chair, explained how the organization's Mid-Autumn festival began six years ago as a one-day event held in Churchill Square to celebrate the Chinese Mid-Autumn festival. This year the festival has expanded to be a platform for Indigenous, Jewish, South Asian, Ukrainian, and African presenters, among others, to share their art forms and autumn traditions online.
"We're trying to make it as multicultural as possible, and then still trying to tie it to our theme, which is mid-autumn, harvest time, and people's traditions during that time," Chan said when asked about the festival's expanded scope.
"So, basically during September…what do you do in your culture? How do you celebrate this period?," he added.
Krystal Liu, who works for the Chinese Benevolent Association, shared how the origins of the Chinese Mid-Autumn festival date back over 3,000 years to ancient China, when the first Emperor prayed to the moon goddess for a bountiful harvest. In the following centuries, the celebration has evolved to include music, dancing, and food, including moon cakes.
"[The moon cake] represents the moon…but it also means during mid-autumn festival time it's important that families come together and share a meal together, because family in China would be scattered all over," Chan explained.
The festival will feature a moon cake making tutorial on September 22. Also scheduled for that day is a virtual tour of Alberta's multicultural hotspots, which features photos symbolizing multiculturalism submitted by the public.
In addition to workshops and cultural activities, the program will feature two panel discussions.
"We thought well, let's take a look at how artists and performers are doing during the pandemic? How do they stay being creative? How do they [overcome] the challenges of the pandemic?" Chan said, discussing the September 22nd panel.
A recording of the panel discussion from September 17, titled "Multiculturalism in the Current Context," can be accessed on the festival's website, along with the rest of the day's program. The festival will conclude on September 25 with a virtual concert showcasing dances, music and martial arts from a multitude of cultural groups. To attend, participants need to register through an online link.
Although the activities are organized by age group, Chan emphasized that the festival is for all ages.
"University students can certainly come [and] be part of any of those days," Chan said. "I think everything we put together can be enjoyed by all age groups, and you don't have to be in elementary school to enjoy a puppet show."