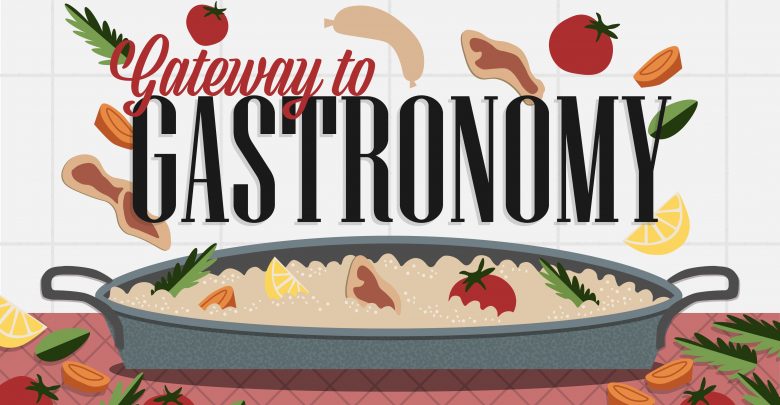 Working and studying from home means that I don't really have an excuse to not cook everyday, since the kitchen is right outside my room and there's a fridge full of groceries.
I've taken this as a challenge to learn some dishes my grandma has always made for me. Today, the recipe calls for pork belly.
Braised pork belly is a fairly simple Chinese dish. Although it takes quite a while for the meat to get to that perfectly soft, gelatinous consistency, you don't need to watch the pot simmer. You can do the prep work, throw the ingredients in the pot, and occasionally check up on it. This dish uses common ingredients found in Chinese cooking, so you'll likely use them frequently if you plan on learning some Chinese cuisine. Keep reading for the recipe.
Ingredients:
1 lb of pork belly (look for a cut that isn't too fatty or lean)
2 stalks of green onion
A few cloves of garlic
4-5 slices of ginger
2-3 star anise
2 tbs of sugar
1/2 cup of soy sauce
1 tbs dark soy sauce (gives the dish its dark red colour)
Optional:
1 can of quail eggs
1-2 carrots
A handful of dried shiitake mushrooms (soak these while doing prep)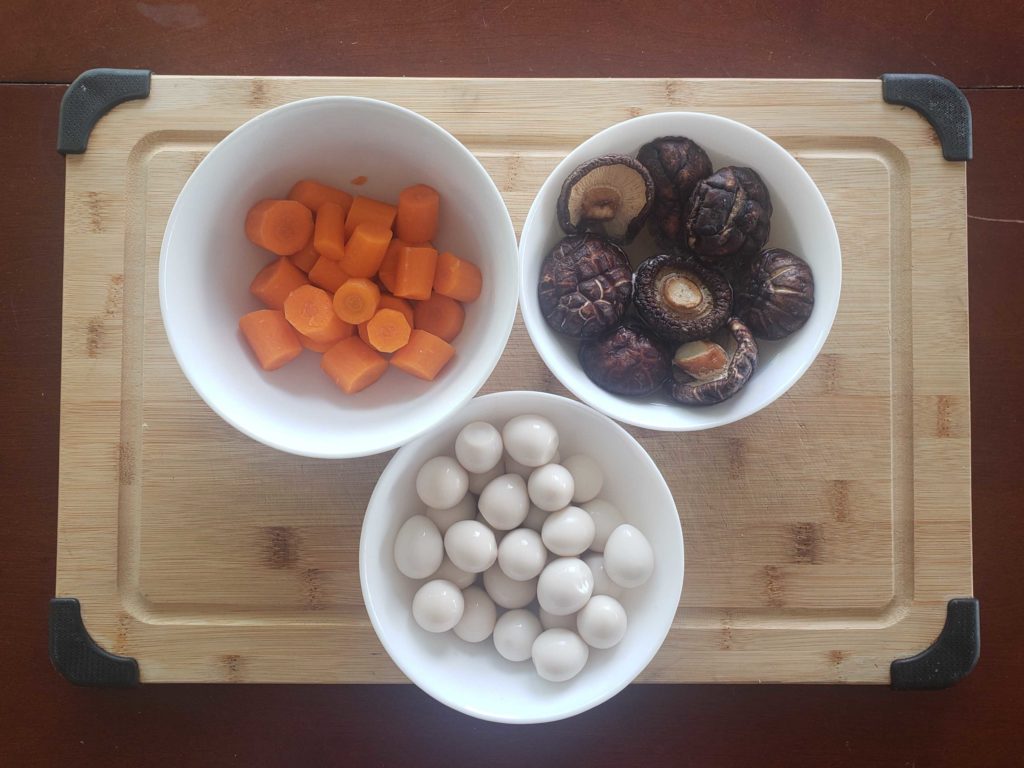 Start by cutting your pork belly into cubes — however big or small depending on what's most satisfying to you. Blanch them in water for five to 10 minutes. In Chinese cooking, pork is often blanched before the "real" cooking begins to get rid of any impurities, and to improve the overall smell and taste.
In a non-stick pot, heat up a dash of oil and melt the sugar over medium heat until it just begins to caramelize. Put the pork belly in, and slowly stir fry until the pieces begin to take on a golden colour.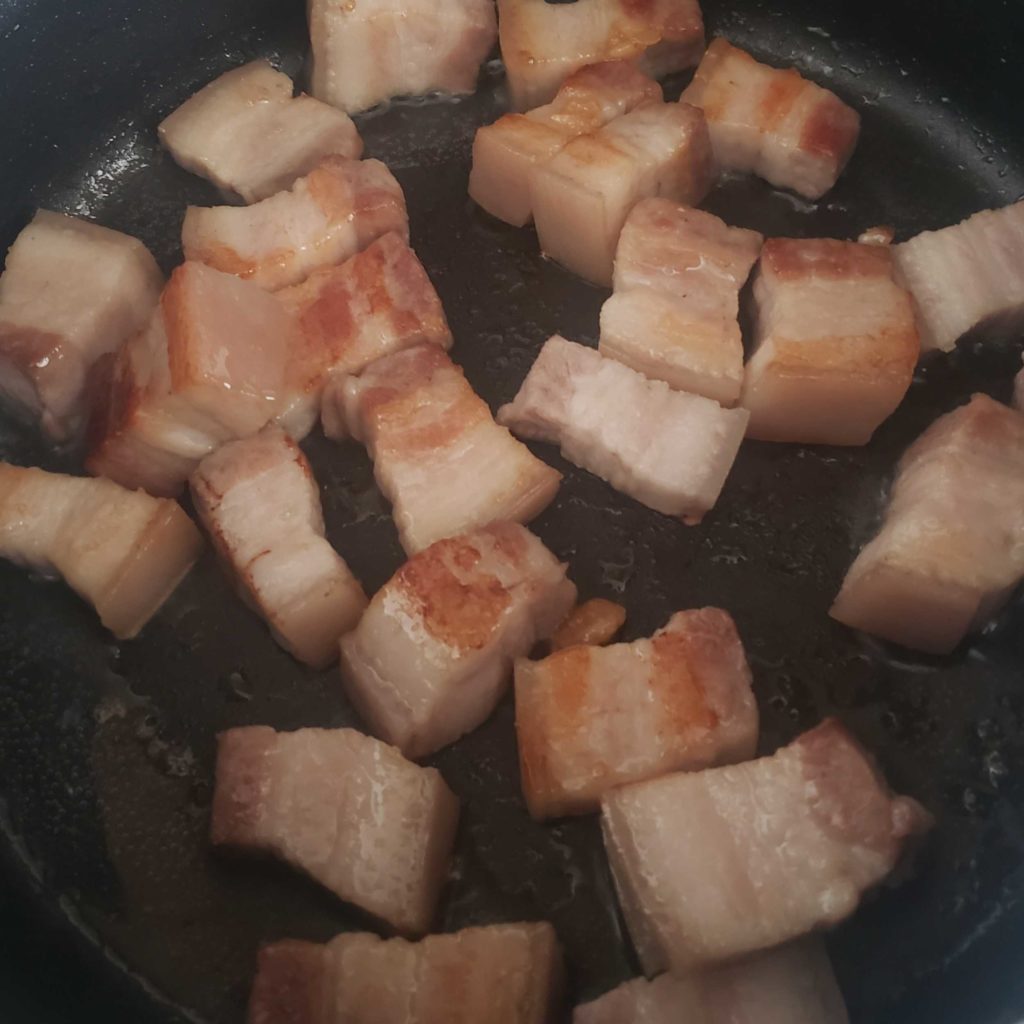 Now you can add water. Depending on the size of your pot, add enough water until it covers all of the pork belly. At this stage, I also throw in the garlic, green onions, star anise and soy sauce. I save the ginger for about halfway through the braising process because I'm not a fan of heavy ginger tastes, but feel free to put it in now if you don't mind.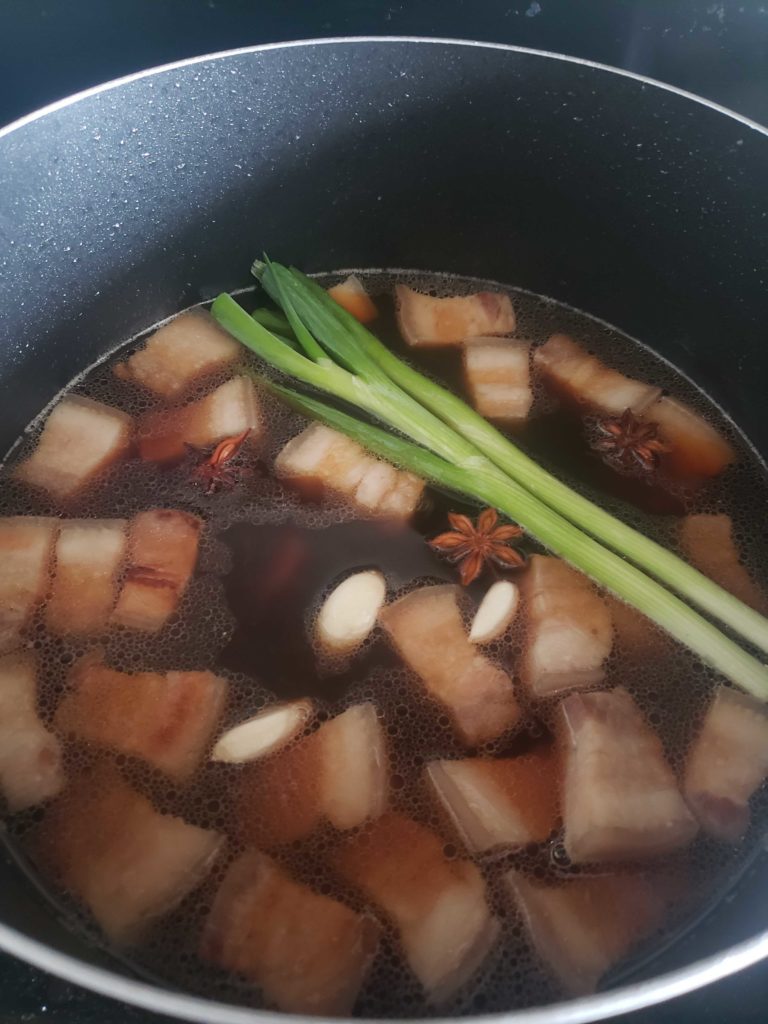 It may not look super appetizing right now, but over time the aroma will fill your house and the pork belly will take on a darker colour, due to the dark soy sauce. Let the pot simmer, covered, for an hour on medium heat, checking occasionally to see if too much sauce has evaporated.
After an hour, I added some more water (about a cup) because the sauce had reduced significantly. I also added the ginger, quail eggs, carrots, and shiitake mushrooms, and turned it down to a low-medium heat to simmer for another hour.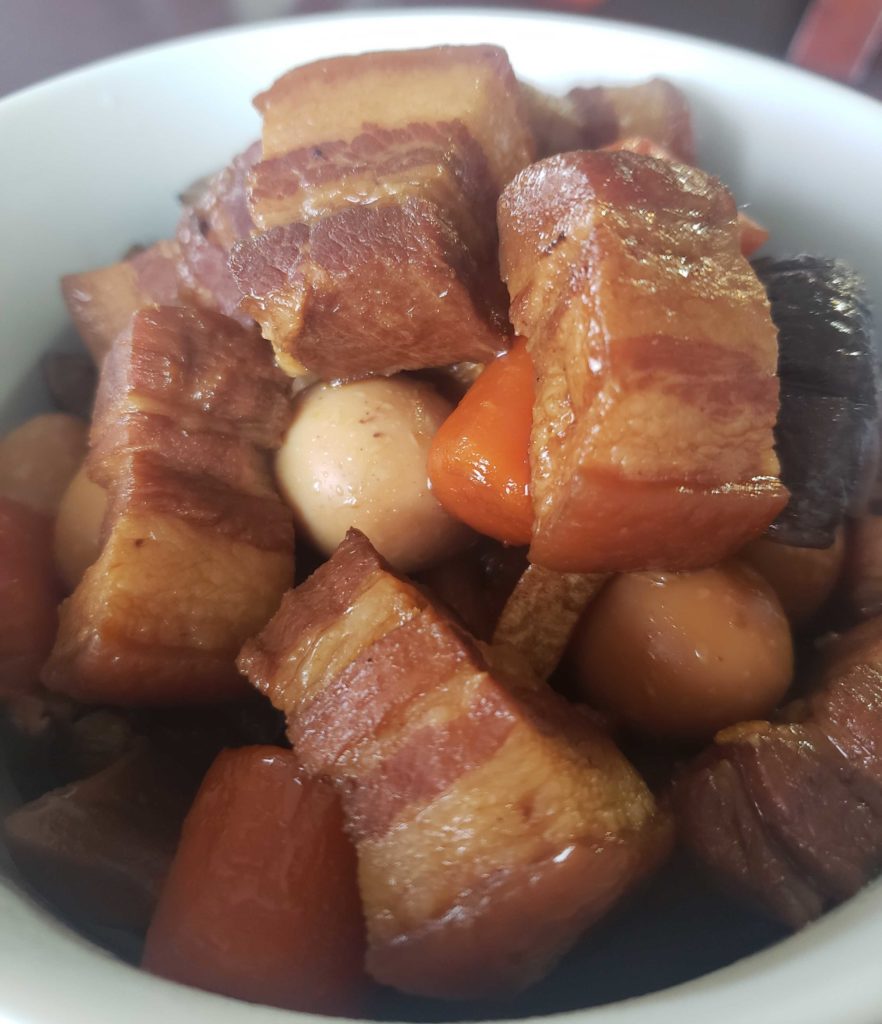 Here's the finished dish after two full hours of braising!
The pork belly should be tender and easily melt in your mouth. The carrots, quail eggs, and shiitake mushrooms will also have absorbed some of the rich sauce. Pair this with some rice and green veggies for a colourful and — somewhat — healthy dinner!
This pork belly dish earned my grandma's stamp of approval. If you're interested in more Chinese cuisine, check out how to make red bean buns here.