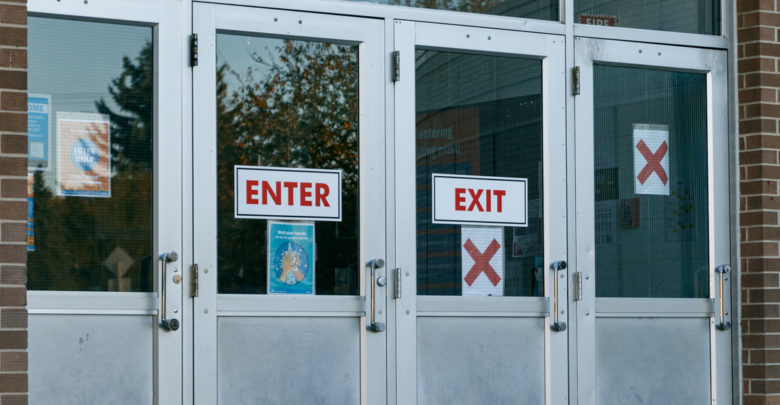 As I sigh in relief for the University of Alberta's choice to do online classes, I find myself watching the province with scrutiny as they relaunch K-12 learning in schools across Alberta.
I hate to be the one to say "I told you this would be a terrible idea," but the in-person reopening of schools? Between COVID-19 and constantly changing health protocols by Dr. Deena Hinshaw, this school year has started as nothing short of a dumpster fire.
Even as I'm writing this, there have been 154 schools hit with cases of COVID-19 across Alberta since school started, according to Support Our Students Alberta. The site is non-partisan and runs as a non-profit, while keeping track of cases and outbreaks through tips from the schools themselves or reports from Alberta Health Services (AHS). The organization has been tracking cases since the outbreak at St. Francis High School's summer session back in July.
Despite the government-issued masks and safety measures set up by the Edmonton Public School Board, Ross Sheppard High School still sent home nearly 100 Grade 10 students to self-isolate after reporting a positive case. Whether it was a student or staff member that brought the virus in is unknown.
It's no surprise parents have to look for alternative sources of information, when AHS makes it more and more challenging to keep families informed and safe. Discrepancies between the website and the reports of AHS were bound to happen.
The weekend before school started AHS also changed their stance on social distance guidelines, stating: "…an operator of a school does not need to ensure that students, staff members, and visitors are able to maintain a minimum of 2 metres distance from every other person when a student, staff member or visitor is seated at a desk or table."
Doubling down on this, Premier Jason Kenney defended reopening schools, stating "the social and educational benefits from return to school would be predicted to far outweigh the risk of COVID-19 for the vast majority of Alberta children."
However, being able to spend recess with your friends is a meaningless gesture when you end up in quarantine and pass COVID-19 to your family members. Frankly, I'm disappointed at this point, because the Alberta's Teachers' Association was calling for better social distancing, PPE measures, and a delay to reopening the schools for weeks before September hit. In return, the government gave them nothing but platitudes on the matter.
We already saw how our southern neighbours shut down schools in August with massive outbreaks and community-wide spreading, but apparently the message didn't stick.
If we want to see kids get back to learning and playing again, the government needs to start learning from its mistakes and make changes sooner rather than later. The time for pretending that things are normal is over, and we need to accept that this virus is playing the long game if we're going to win.