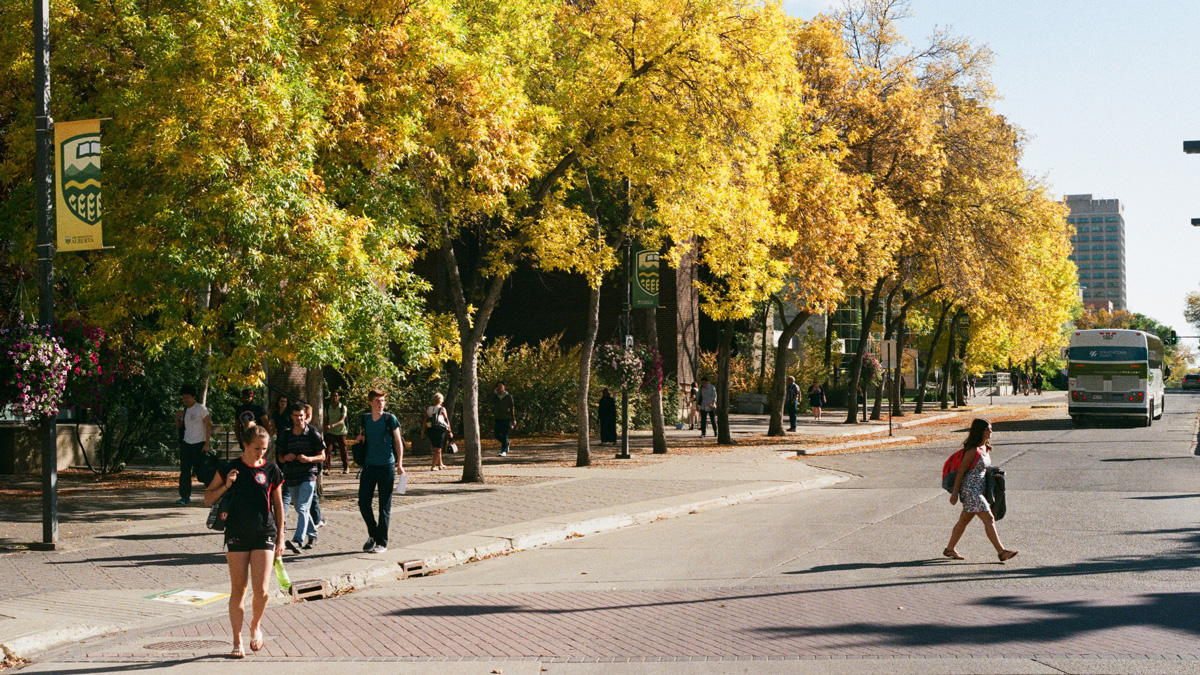 While social distancing measures loosen across Canada, researchers at the University of Alberta are becoming involved in projects to study and aid the availability of a COVID-19 vaccine.
In response to the pandemic, the Canadian Institute of Health Research (CIHR) has awarded $11.3 million to 13 University of Alberta research projects in the faculties of medicine and dentistry, nursing, and the school of public health, to learn more about the rapidly developing situation of COVID-19. This is the third round of funding supplied by the federal government to aid researchers studying the pandemic and its effects; in total $17.2 million in grants have been awarded to U of A research projects.
John Lewis, a professor in the oncology department of the faculty of medicine and dentistry, will receive $4.23 million to develop a potential COVID-19 vaccine.
Before COVID-19, Lewis and his team had been working on a cure for stage four prostate cancer, developing a technology called Fusogenix for delivering DNA gene therapy. Once the COVID-19 pandemic hit, the team's primary goal soon became using the technology they had developed to create a COVID-19 vaccine.
Lewis explained while traditional vaccines typically inject a small amount of the inactive virus to trigger an immune response, a DNA vaccine works a bit differently.
"A vaccine is basically like knowing there's a home invader in your neighbourhood and posting a picture of them to tell your neighbours not to let them in," Lewis said. "Imagine SARS-COVID-2 is a home invader and basically you want to train your immune system to make sure that it can recognize this threat and then mount a response. In a DNA vaccine in particular, instead of delivering the picture itself, it delivers the instructions to make the picture in your own cells."
Before the pandemic, Lewis's team had been interested in moving forward to begin treating tumours with gene therapy, potentially creating a personalized cancer vaccine. While there is currently not a genetic vaccine used in humans, Lewis believes that it could be incredibly effective for treating both COVID-19 and eventually, cancer.
"We see the ability to use these genetics to treat tumours as a really powerful tool that can not only be rapidly developed, designed, and deployed in a personalized way, but adaptable for the individual patient to have the best outcomes" Lewis said.
"It's sort of the perfect platform to be able to rapidly respond to something like a pandemic and develop something that will be highly effective, but also pretty straightforward to manufacture and scale and potentially deploy internationally."
Lewis's team — which includes both international and cross-Canada collaborators in Halifax — have been testing different COVID-19 proteins "day and night" to try to figure out which ones produce a response that will protect an individual when they actually encounter the virus in the real world.
While Lewis shared that a regular vaccine typically takes a decade to produce, in the extenuating circumstances of our current moment, scientists are pursuing these goals faster. As a result, the processes that usually go into making a vaccine, like document and regulatory reviews, have been significantly sped up.
"We're compressing timelines as far as the development, but we can't compress the safety aspects of it," Lewis said. "We need to make sure if we're vaccinating a healthy or even a sick population that it's extremely safe."
CIHR researcher studying acceptability of COVID-19 vaccine
Shannon MacDonald, professor in the faculty of nursing, has also received $335,000 from CIHR.
Prior to the pandemic, MacDonald research primarily involved new ways to help make services like vaccines more accessible for vulnerable populations across Canada. Her current CIHR funded project looks at whether vaccine coverage rates will drop as an unintended consequence of COVID-19, in addition to surveying citizens about whether or not they would get vaccinated for COVID-19 if the opportunity arose.
"A new vaccine is great but it's not very effective unless you can get it into people's arms," she said. "With this project we hope to provide some guidance about what the public is thinking that will be very valuable."
While COVID-19 is being tracked around the country, MacDonald wants to ensure there is not an accidental surge of a disease like measles, mumps, or rubella — all things which routine vaccinations prevent.
"Infants usually get these vaccines when they're 12 months old, and we want to see if kids during the pandemic are getting those vaccines at the same rate as the same time period last year," MacDonald said. "Having seen first hand the impact of some of these diseases on kids, I certainly wouldn't want any child to go through that if they didn't have to."
If MacDonald's study finds that coverage levels have dropped, her team will be able to inform the public health system that additional programs or strategies will need to be implemented.
MacDonald also believes that the reverse might prove true, and that the pandemic could actually increase interest in getting routine vaccines.
"We've become a bit complacent," MacDonald said. "We think, 'oh, these infectious diseases don't exist in Canada, as long as I eat a healthy diet and exercise I can't get these diseases,' but I think the pandemic has really driven home to all of us that we are all at risk, and we're absolutely a global village."
CORRECTION: On October 2 at 2:00 p.m. the article was rectified to correct a quote from MacDonald that was recorded with an error. The article previously stated that "these infants usually get these diseases when they're 12 months old … " The Gateway regrets the error.