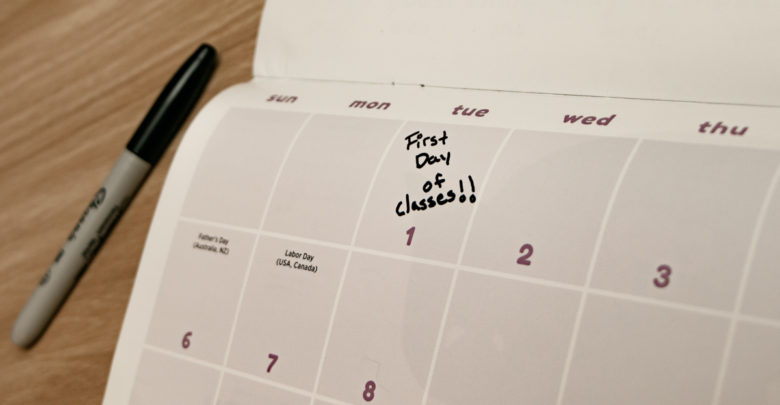 Back to school season is never easy, particularly for university students, and this fall is going to be exceptionally challenging for many.
Here are my top five things to do before school starts so we can be mentally, physically and psychologically prepared for whatever 2020 brings.
1. Designate a workspace (and a quiet space)
Designating a workspace is incredibly important when it comes to work ethic, performance and focus. By appointing a place to work, whether it be an office, desk space or corner in your bonus room, you set a routine in your brain. This routine will trigger you to instinctively get into your 'work mode'. If you practice this enough, soon you will find it easier to focus, concentrate and push distractions away. In addition, it is important to designate a quiet space. A place your brain and body can relax. This area can be dedicated to reading, watching Netflix or scrolling through socials. Eventually, your brain and body will recognize when you are in these spaces and your workflow will become smoother.
2. Be prepared
There are a number of ways to make yourself prepared for university, some slightly more obvious than others. The first is to purchase supplies before the school year starts. Go early and get everything you need so you are not stressing about lined paper the night before classes start.
This next point might not be so apparent; buy back to school clothes. A new year, a new you; so treat yourself and buy clothes that make you feel confident and comfortable. Having a stocked wardrobe will make it easier for you to get ready in the morning, and will boost your self-esteem.
The third tip is to set a routine prior to the first day of school. This looks different for everyone, but some suggestions are waking up earlier, scheduling time for work or the gym and getting used to focusing for long periods of time.
Last, but certainly not least, is to check your syllabus. I can not stress this enough — CHECK YOUR SYLLABUS. This will give you a head start and hopefully relieve some anxiety regarding what you will be learning.
3. Put yourself first
Now this one might not be so obvious. With the stressors of today breathing down our necks, we often forget to sit down and think of ourselves. Before classes are back in session and you are thinking a million miles a minute, take some time for yourself.
Self-care can make a big difference in your mood and, in the long term, will likely have a great impact on how you start university. Start small and treat yourself here and there. Get your nails done, take a rest day, or go shopping.
Along with self-care are mental health check-ins. We often get so caught up in routine we forget the most important detail in our lives: ourselves and our well being. Prior to September, sit down with yourself and reflect on the past couple of months. What has been a big stressor in your life? What needs to be changed and what can you do to improve your mental state? Recognizing these stressors and addressing them will take pressure off your shoulders and relieve you of a weight you didn't know you were carrying. Practice mental health check-ins throughout the year as often as you need to stay sane and productive. There is no shame in putting yourself first.
4. Get involved
Although universities are mainly here for education, a monumental part of the experience is the community.
So many people go through their post-secondary education without getting involved and live to regret it. It will be a little harder to immerse yourself this year with the current social and public health situations but don't use them as an excuse to throw the experience of engagement out the window. Take the time to flip through student pamphlets, read student-run papers and magazines, sign up for events such as new student orientation, and spend time on campus. In addition, the U of A website has many pages dedicated to campus life and involvement, so it's easier for you to find and join clubs you love. You can find one of these pages here. The best way to experience something is to be present, so make new friends and explore U of A, safely of course.
5. Spend time with family and friends
As school gears up, life is going to become increasingly busy, and soon students will find that they don't have as much time as they used to. Before you get sucked into the whirlpool of studying and lectures, spend time with family and friends, enjoying the company of those you love prior to the crazy fast-pace of university. Don't worry, it doesn't have to be something big like a fancy dinner and a movie. Go out and do simple things, such as getting a coffee or walking around your local mall. Then, when school begins, try to make time for the people important to you and appreciate their presence.