Arts & Culture
Nation & World
Travel Diaries: Learning from the Gwa'sala-' Nakwaxda'xw Nations in Port Hardy, BC
Find one-of-a-kind experiences on Vancouver Island's northernmost tip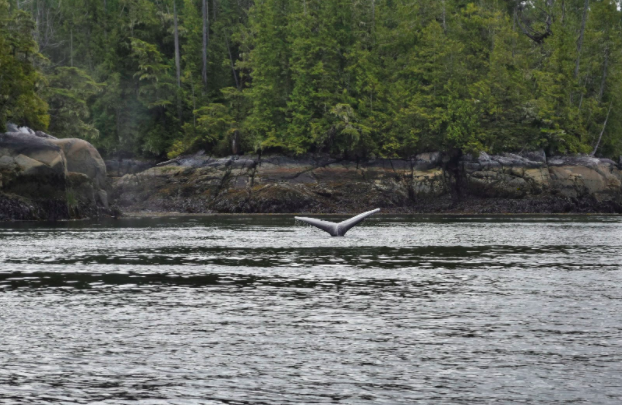 For many visitors to Vancouver Island, Port Hardy is often overlooked for better known spots such as Tofino or Victoria. Port Hardy sits on the northernmost tip of Vancouver Island where Highway 19 draws to a close, and is home to the Gwa'sala-'Nakwaxda'xw Nations and a local population of nearly 5,000 people.
This summer I decided to visit the town of Port Hardy as part of my Vancouver Island road trip, since my previously planned trip to Europe didn't pan out due to COVID-19. I loaded up my car, took the ferry over, and drove the seaside route north, passing coastal towns such as Parkville, Qualicum, Courtenay, and Campbell River.
When I arrived in Port Hardy, I decided to stay at the Kwa'lilis Hotel on Granville Street. The Kwa'lilis Hotel is owned and operated by the Gwa'sala-'Nakwaxda'xw Nations on their traditional lands. Many of the rooms feature unique and beautiful Indigenous art pieces. The hotel is truly one of the a centrepieces of the community. The pub is called na'xid', which means "drink" in Kwakwala, one of the Indigenous local languages, and it is where many locals go to relax and chat. The restaurant is called ha'me which means "food."
The front desk recommended I take the Nakwakto Rapids & Cultural Tour, to which I said absolutely. The tour costs $150 before tax and is a three-and-a-half hour boat ride that intertwines stories of the Gwa'sala-'Nakwaxda'xw' Nations' history and culture while touring the local wildlife.
I arrived at 8 a.m. the next morning at the harbour for the tour. I had the opportunity to meet Tamara, our host, and boat driver Eddie.
Our tour began with Tamara introducing herself in Kwakwala. She welcomed us all graciously and told us she would point out the wildlife we saw during our tour, as well as share their Indigenous names.
I saw countless sea birds, an eagle, a breaching humpback whale, sea lions, and even a cluster of sea otters who stared at us with casual disregard as we went by. I was later told that despite how cute sea otters may appear to be, they are actually quite vicious.
We then made our way to the Nakwakto rapids, which lay east across the Georgia Straight and are the fastest navigable tidal rapids on Earth. As the tides change, millions of gallons of water rip through this relatively narrow bottleneck creating a massive wake-like effect on the water's surface.
Our boat used nearly 300 horsepower of thrust to keep from being swept away by the raging currents. As we bobbed around in the rapids there was a risk of getting struck by fast moving logs, but Eddie — or as I came to think of him, the Tom Brady of boat drivers — kept us in one piece.
Once we cleared the rapids we made our way to an oyster farm nestled in a quiet harbour. The environment there is perfect for growing seafood and we were able to talk to some of the local oyster farmers. This particular oyster farm was run by the Gwa'sala-'Nakwaxda'xw Nations and had only been set up a few years ago. The farmers told us that they seed around 100,000 oysters annually and that it takes between three to four years before the oysters are ready for consumption.
Our last stop was Blunden Harbour, which is traditionally known as Ba'as and at one time housed longhouses and a burial site for chiefs. Blunden Harbour holds significant value to the Gwa'sala-'Nakwaxda'xw Nations and permission must be granted before one can arrive on the island.
That being said, in the 1960s the Canadian government forced the Nations to relocate to a small reserve near Port Hardy and destroyed Blunden Harbour's sacred longhouses, leaving only the barren beach seen today. Even over 50 years later, small remnants of the longhouses remain such as abandoned floorboards and other structural pieces.
Tamara also shared stories with us of the Canadian government and police taking away Indigenous children, including her grandmother who attended St. Michael's Residential school in Alert Bay. She shared many of the injustices that occurred in the past century and their effects even into today.
One thing that was particularly striking was when Tamara told me that while many elders in the community could perfectly understand Kwakwala, they refused to speak it due to the traumas of the residential school system. It is one thing to read about these injustices, but it was another thing entirely to hear it from people who experienced them.
Individuals like Tamara have made it their mission to protect and celebrate their culture and language. Kwakwala is taught in schools and is mandatory for all students. Despite these positive steps, there is still much work that needs to be done towards reconciliation.
I encourage anyone who decides to visit Vancouver Island to come up north and experience Port Hardy and the surrounding communities for themselves. The Kwa'lilis Hotel is superb and the tour showed me marine life that I had only ever seen in textbooks as a kid. I was also able to get a firsthand look into the local culture and learn from the people who have called this place home for millenia. Even though my time there was short, Port Hardy will always have a place in my heart and I will forever remember the people like Tamara and Eddie who made that happen.