Arts & Culture
Campus & City
Summer Reading List: Prof Book Recommendations
Learn about race, ghost stories and the bourgeois with this week's reading list.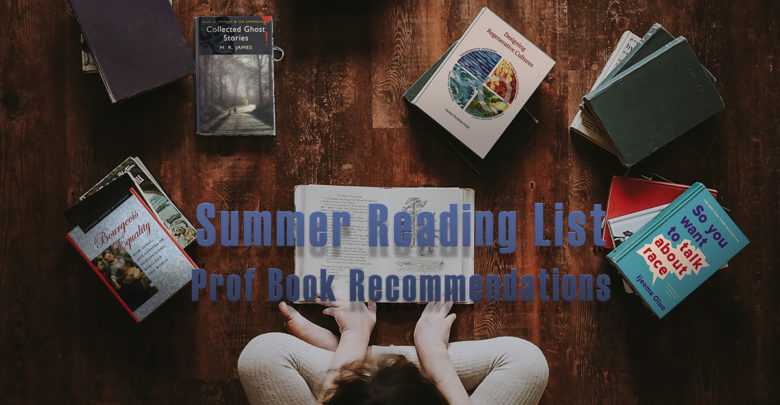 The Summer Reading List is a series where we highlight book recommendations from professors across the University of Alberta.
"There is no friend as loyal as a book." Ernest Hemingway.
Years later, this quote is still relevant. Due to COVID-19 and its chaos, we continue to stay socially distant from friends and postpone summer trips. Now, more than ever, seems like a good time to explore more books and expand our horizons. In times like this, reading can be a way to escape pessimistic headlines; we can stay entertained, get inspired, and gain insight into the institutions around us.
We asked professors from different faculties to recommend books for our summer reading list. We hope you find these books insightful and engaging!
Bourgeois Equality – How Ideas, Not Capital or Institutions, Enriched the World by Deirdre N. McCloskey
"McClosky is one of the most idiosyncratic and independent thinkers in contemporary economics. Her book takes issue with the mainstream economic idea that capitalism creates wealth by encouraging the accumulation of capital and that this requires institutions that encourage capital accumulation. She argues that free-market prosperity needs [capital, institutions and "ideas"] and worries that inequality rising from a misguided focus on ever more capital accumulation actually threatens that prosperity."
Recommended by Professor Randall Morck (Alberta School of Business)
Collected Ghost Stories by M.R. James
"M.R. James is the original master of the ghost story. His stories are timeless and have been adapted so many times since they were first written. They are easy to read despite approaching 100 years old, and they are beautifully written and constructed. Each one has a unique feel and setting, and it pulls you into the plot immediately. You can forget about your world and your troubles, and be drawn into the rich ghost stories of Montague Rhodes James."
Recommended by Professor Al Meldrum (Faculty of Science)
So You Want to Talk About Race by Ijeoma Oluo
"The recent murder of George Floyd by police in the United States and ensuing protests have yet again brought systemic racism, police violence, and structural inequality to the forefront of discussion. This book explores race and racism in the United States in an open and accessible way. You might have the urge to follow the path of many Canadians and think that this story is only relevant for the United States and that race, racism, and racial inequality do not apply to Canada. You [would] be wrong. This book focuses on the United States, but so many of the themes and issues apply to Canada as well." Maroto also recommends The Skin We're In: A Year of Black Resistance and Power by Desmond Cole, The Trouble with Billionaires by Lind McQuaig and Neil Brooks, Lives on the Line by Jeffrey Sallaz and The Class Ceiling: Why it Pays to Be Privileged by Sam Friedman and Daniel Laurison.
Recommended by Professor Michelle Maroto (Faculty of Arts)
Designing Regenerative Cultures by Daniel Christian Wahl
"This book is like an encyclopedia of the 21st century. Wahl tries to bring attention to how global crises can be handled with collaboration and innovative ways of thinking, which will enable us to become more adaptable for unique biocultural conditions that will emerge in the future. With a global health crisis going on which requires collaboration on a global scale, this book is more relevant than ever."
Recommended by Professor Shanthi Johnson (School of Public Health)