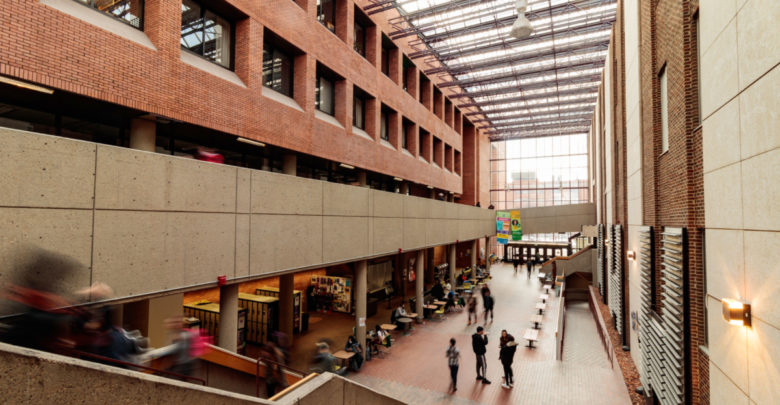 The Tory building gets a bad rap. But despite all of the reasons it gets rightfully dunked on, it's still a shame, because that negative press often overshadows the vibrant space right beside it: the Tory Atrium, one of the most beautiful places on campus.
The first thing you notice upon entering the atrium are the skylights. In the summer, these skylights pour in torrents of sunshine, and in winter they provide a view of the beautiful snow, minus the cold. Combine this with the warm tones of the brickwork on the walls and floors, and you're left with a genuinely nice place to be all year round.
The Tory Atrium is is a constant hub of activity. Job fairs for a variety of fields are a common sight in the atrium, and the department of philosophy periodically sets up a book sale for those in the market for a thought-provoking, cheap read. When tax season comes around, volunteers with an accounting background use the atrium to help fellow students get their taxes done. It's extremely encouraging to see a place host so many different kinds of people and groups.
I walk through the pedway connecting HUB to the Tory Atrium almost every morning on my way to class. Every morning I look out the windows of the pedway across the river, where I can see a subsection of downtown Edmonton. It's a beautiful view. The buildings intertwine together against the bright morning sky; a vision that I could behold for hours. I look forward to seeing this every morning as one of my simple joys in life.
It's not steeped in history like Rutherford South, and it's not shiny and new like CCIS, but the Tory Atrium is something even better: it's welcoming. It's a place you're happy to be — even if you're looking to get away.