Arts & Culture
Campus & City
Theatre Review: Citadel Theatre's "Every Brilliant Thing"
The Citadel's production of Every Brilliant Thing shows that sometimes, what we do has more of a purpose than we realize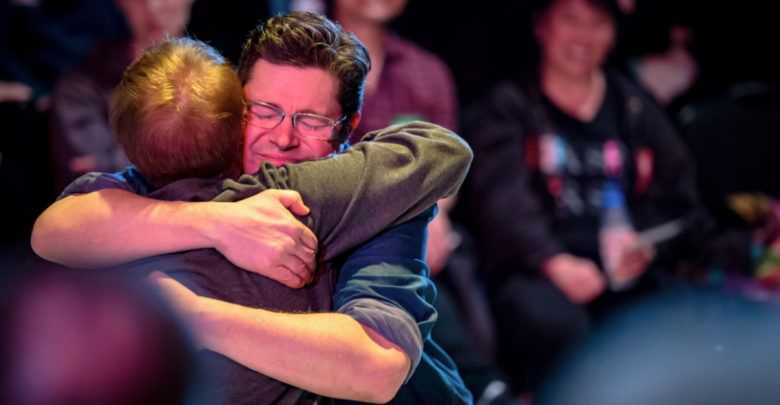 There truly is something about having a nice, ordered, and clean list.
For me, lists are central to all that I do. They help me remember what I need to do, what I have to buy at Superstore, and specific things about moments I want to remember. Sometimes, I even make a list of things I have already completed and cross everything off in order to feel accomplished. In grade six I started my first quote book, where I wrote memorable soundbites; from hurtful insults, times I proved someone wrong, or heard something downright inspiring.
So when I sat down at the Citadel Theatre to watch Every Brilliant Thing and found out that lists were central to the lone unnamed protagonists, I laughed inside. As the play went on, I realized there was more to the central character's fascination with lists and by the end, my lists too.
Every Brilliant Thing is a story of an unnamed man, expertly played by John Ullyatt, who recalls his life from seven years of age to the present, while recalling along the way his mothers attempts to take her own life. The 80-minute one-act play in the Rice Theatre quickly morphs into a reflection of what it means for a person to cope.
Written by Duncan Macmillan, Every Brilliant Thing started out as part of travelling theatre companies Paines Plough/Pentabus Theatre and then enjoyed three sold-out runs during the Edinburgh Festival. It has since been produced worldwide and has had one production recorded as an HBO special.
Central to the main character is the struggle to cope with finding out his mother is depressed and suicidal. He decides at seven years old to create a list of all the most brilliant things in life to present to his mother as a way to convince her to continue living. The quest to make a compelling list changes as the character matures and deals with his own challenges in life.
The play intertwines audience participation and clever improvisation to create a memorable exploration of a difficult and often stigmatized topic. The majority of audience members are greeted by Ullyatt as they enter the theatre who offers them a card. On that piece of paper is a number and beside it is an item, feeling, or memory. Throughout the play, Ullyatt proclaims a number and the audience member with the corresponding card is to read what it says. Responses range from "rollercoasters," "ice cream," and "really good oranges," which form the backbone of the protagonist's list. Mine was "tea and biscuits." It felt exciting to have your number called and loudly proclaim whatever was listed on your card.
Ullyatt skillfully balanced sticking with the script and improvising if an audience member forgot to read their card when prompted. A few scenes involved theatregoers to participate as minor characters which offered him the opportunity to truly shine.
While the play skirts around the topic of suicide in less than a nuanced fashion and incorrectly asserts that things always get better, it propounds an important message: the best way through is finding something to hold on to. For Ullyatt's character, that something is documenting all that makes him happy. For his father, it is listening to records and revelling in their majesty. The play suggests everyone has something they can hold on to.
I always thought my lists helped me to remember and document as the world around me continued to change. Now I see there is more to them than that.