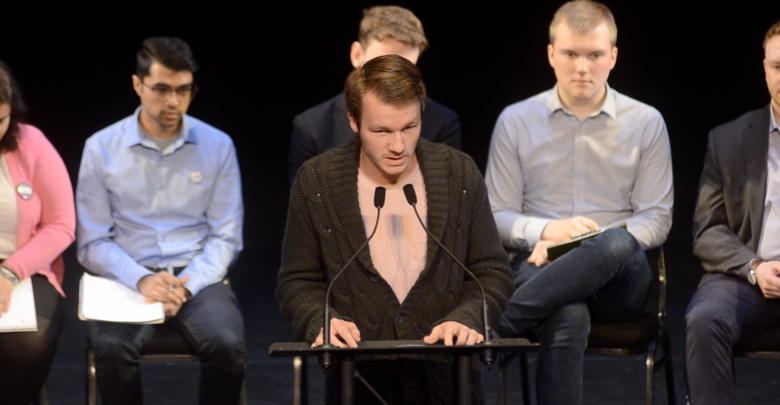 Each year, The Gateway publishes an evaluation of the Students' Union executive and the Board of Governors representative. It's impossible to discuss every aspect of their tenures, so these reports are largely based on the major components of the platform each executive campaigned on, and the most significant responsibilities of their respective positions. These evaluations were informed by interviews with the executives themselves. The grading rubric can be found below. And if you're short for time, check out our TLDR for a bite-sized breakdown.
---
Jared Larsen: B-
The role of a vice-president (student life) is often misunderstood by students, and sometimes even candidates. It's viewed as something of a party position because of it's association to Week of Welcome and other student events, but often forgotten is the association with mental health, sexual violence resources, and student wellbeing on campus. Jared Larsen both has and hasn't forgotten these things; though he focused heavily on residence improvement this year, many of his other platform goals felt either neglected or completely ignored.
Residences, whether on purpose or by accident, seem to be a magnet for problems. Whether it's maintenance, empty beds, skyrocketing rent, long lease terms, or security issues, students who live on campus can expect to deal with their fair share of problems. I should know; I'm one of them. Larsen, who is the previous HUB Community Association (HCA) president, managed to actualize the work he put into the HUB security initiative with Andre Bourgeois, the 2018-19 vice-president (student life) last year. There are now fewer reports of crime in HUB, and the doors were locked by the time the new residents moved in this year. Larsen says that on a ten-point scale, the overall feeling of security in the building jumped two points. In addition to this, he has been working all year on the Indigenous mural in HUB (as part of ARRC recommendations) which should be up soon, and managed to eliminate the 11-month leases in East Campus in favour of four and eight-month leases.
No, residence representation was not a problem this year for Larsen. In fact, many residents are happy with the changes he's made. The flaws in his portfolio lie elsewhere.
Last year during elections, the vice-president (student life) portfolio was the most contested position with three candidates. All of the candidates put a focus on mental health, but there was a distinct lack of vision for how to support survivors of sexual violence on campus. Though Larsen seemed to have the best ideas for how to tackle this, he still failed to carry out this plan during his term. The idea of hiring a sexual violence coordinator, which has been floating around the SU for a while, was an achievable goal— a goal which was never realized. In spite of student outcry during question periods and direct outlines for plans to hire one, Larsen said the work of the coordinator was apparently taken on with a "collaborative response." This response, which is essentially just a reshuffling of what they were already doing, is not enough. As Larsen and several other candidates made perfectly clear in their campaigns, the position needs to be a consolidated role, and several people collaborating to fill the gaps just isn't cutting it.
While the sexual violence coordinator not being hired was the most egregious element of the portfolio, the mental health portion was also disappointing. Larsen said that the peer support centre's multilingual supports have been increased, but addressing students' mental health challenges requires more than improvements to a single service. The University's Counselling and Clinical Services unit is in desperate need of more licensed counsellors, and Larsen should have pushed for more counsellors to be hired, especially given the university's failure to hire a sexual violence coordinator.
TLDR: While Larsen has been competent enough at representing residents this year, and he has worked hard to represent Indigenous students by completing the ARRC recommendations, he has failed to make meaningful progress in the realm of mental health and sexual violence supports. Some of the most important aspects of his platform were not delivered on, and students felt the effects of it all year.
---
Rubric:
A-range: This person has fulfilled the promises they campaigned on and more, has created tangible change during their tenure, and has shown a commitment to improving the lives of students. Their GPA is top tier.
B-range: This person has done their job consistently well, but has not made any remarkable changes, or has fallen short on important goals they set out in their platforms. They're doing fine, but it's nothing to phone home about.
C-range: This person has done their job sufficiently, but has failed to make significant progress in the areas most relevant to their portfolio, or has essentially abandoned a major part of their platform. They're still passing with a safe buffer though, and Cs get degrees!
D-range: This person has done a very lacklustre job, and has not sufficiently fulfilled their campaign promises or the responsibilities of their position.
F-range: This person has not done their job, has not represented students, and has not fulfilled their campaign promises whatsoever.
CORRECTION: This article stated that Larsen should have pushed for licensed counsellors to be hired at the Peer Support Centre. This is not possible, as the Peer Support Centre is entirely run by volunteers. The article has been edited to say that there should have been a push for more counsellors to be hired at Counselling and Clinical Services. The Gateway regrets this error.