Arts & Culture
Campus & City
Review: U of A New Works Festival (Night B)
Although the first night was a success, the second night fell short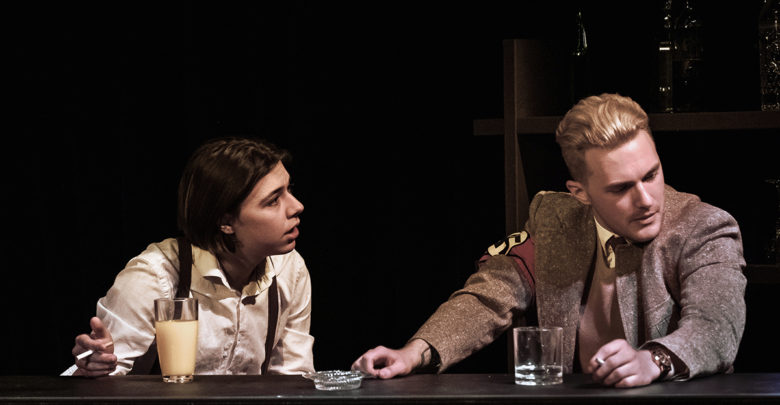 Ran by the University of Alberta Department of Drama, the annual New Works Festival featured productions of four new plays by UAlberta students and alumni. The festival, completely student-run and produced, offers students from Drama and even other departments the chance to flex their artistic talents as writers, actors, designers, directors, and more. The Festival ran from February 4 to 9.
Mirror of Venus by Julian Stamer, directed by Vina Nguyen
Mirror of Venus follows a stand-up comedian and a software developer using a futuristic app where you date people in your dreams. The play uses the fictional app to explore how technology and AI infiltrate our subconscious, and how even the most "broken" people are worthy of love. Both Victor (Brayden O'Boyle) and Heidi (Miranda Martin) appear happy-go-lucky at first, but as their walls come down, they reveal traumas, mental illnesses, addictions, and pain.
O'Boyle and Martin have remarkable chemistry, drawing the audience into a relationship budding in the most unlikely of circumstances. Martin is perhaps even more funny than her character, while O'Boyle draws the audience into the play's most serious moments and offers the play a haunting emotional core. The two balance the play's hilarity and its darkness.
Cody Brayshaw's set and props by Pat Sirant and Shane Marsh are integral to the play's narrative arc and emotional substance, as both characters explore objects with significance to their pasts: a waffle cone from an ice cream parlour they visited as a child, a t-shirt they bought for their sister in Italy, a university degree. Offering endless potential for physical comedy and the awkward exchanges that first dates inevitably bring, they also force the characters to confront the things they like least about themselves.
Despite its heavier moments, Stamer ends his script on a romantic, even cheesy note. While the play offers hope for love between two damaged people, its conclusion is almost too tidy to be believable. Love is possible for everyone, and everyone deserves love, but baggage doesn't go away at the end of an hour-long drama, as much as we wish it might.
Paris, Without Return by Sydni Zastre, directed by Piper Rempel
It's 1938 in Paris. Polish Jew Herschel Grynszpan meets Nazi ambassador Ernst von Rath, setting in motion a turbulent romance that culminates in von Rath's assassination and the historical Kristallnacht. As Jews face more persecution under Hitler's regime, the budding romance between 17-year-old Herschel and 30-year-old Ernst grows strained. While the script paints a beautiful picture of historic Paris, it walks itself in circles, leaving the audience thinking, "haven't we heard this argument before?"
Much of the play is made up of Herschel and Ernst's arguments over the morality of Ernst's occupation as a literal Nazi. Herschel's family has faced unemployment, violence, and finally deportation at the hands of Hitler's party, but Ernst insists he was forced to join the Nazis for the sake of his career. The repeated quarrel begins tense, but quickly grows tired; as convincingly as Jezec Sanders portrays Ernst's moral qualms over seducing the young Jewish boy, no amount of postulating can convince the audience to sympathize with a man wearing a swastika armband. Meanwhile, although PJ Jadziewicz is thrillingly tormented as Herschel, the two individually skilled actors lack the chemistry to sell the titulating gay romance that could ruin the two characters' lives.
Ryan Blair has unfortunately little to do as writer Andre Gide, a shame for this extremely talented actor. While Blair delivers the play's few moments of comedy flawlessly, Gide functions as little more than a mirror to reflect Ernst's moral conundrums, most of which the audience already understands before he speaks.
Cory Brayshaw's set is beautiful in its simplicity. As the play moves us from the cabaret, to Ernst's apartment, and finally to the German embassy, the set pieces are bold on a largely bare stage. Its monochromatic browns and tans set the stage for the play's extremely dark subject matter. Breanna Twist's lighting design helps move the audience through time and place as we follow the doomed romance. Paris, Without Return is historically interesting and skillfully executed, but leaves the audience wishing it took itself just a little less seriously.