Arts & Culture
Campus & City
Gallery Review: Durrah Alsaif's newest piece strikes up a conversation about gendered expectations
Durrah Alsaif explores the hardships that face Saudi Arabian women and the strengths they possess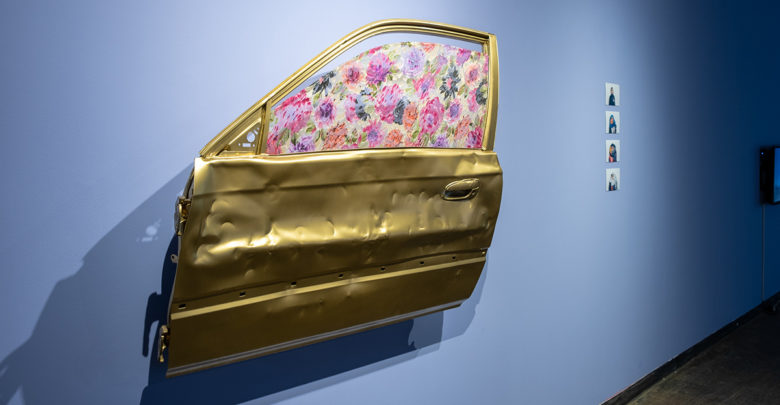 What: even the birds are walking
When: Jan 24, 2020 – March 14, 2020
Where: Latitude 53
Durrah Alsaif, a young artist with a creative and intuitive mind, introduced her newest piece of work last week at one of Edmonton's most well-known galleries, Latitude 53. even the birds are walking is a group exhibition that "seeks to smooth out the wrinkles of historical and contemporary utopias through inquiry, dialogue, and process." This group exhibit features artists such as Areez Katki, Christina Battle, Durrah Alsaif, Elizabeth Belliveau, and Emmanuel Osahor.
On January 24, I attended one of the many parts to this group exhibit, which contained three pieces from Alsaif's collection.
Alsaif, who received her Bachelor of Fine Arts from Kwantlen University in 2017, has already created and successfully presented many original pieces around Vancouver, Edmonton, and other Canadian cities. Being born and raised in Saudi Arabia, most of her work was inspired by particular instances that occurred there and the events of her early life.
My favourite sculpture was a golden, destroyed car door, and a perfectly fitted sample of floral lace in the window. It was a strong piece that expressed an immense amount of emotion through the sporadic use of bright colours, in contrast with a seemingly vague body. As the audience learnt more and more about Saudi Arabia throughout the night, it became clear to me that the car door could represent the strict Saudi Arabian laws of not allowing women to drive. Alsaif utilizes the fabric to portray women doing amazing things in her country, and uses the worn-down door to depict the hard parts of life for women. By combining these two materials, which seem incompatible, as one piece, she perfectly represents the issues that Saudi Arabian women face, but also the strengths they possess.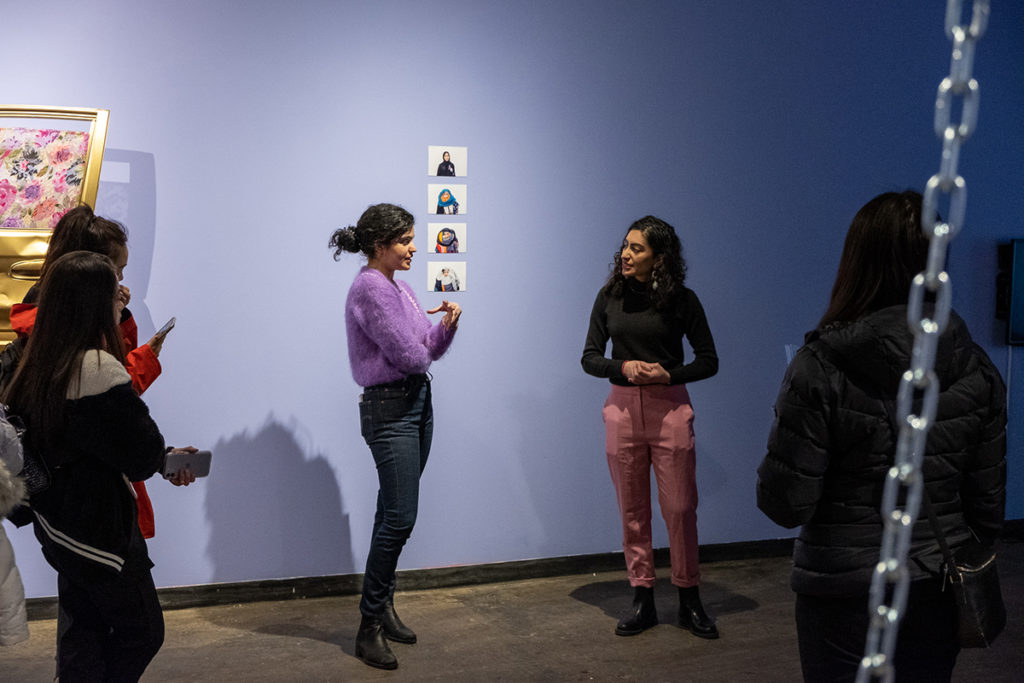 One work that stuck out was her photography piece, which includes multiple shots of women wearing one, or many hijabs, displayed on the walls of one of Vancouver's SkyTrain stations.
Some artists wish for viewers to look at their piece, and instantly know what it means, but I think that Alsaif wants the opposite of this. To be able to look at a sculpture or a photograph and interpret all different kinds of things is what makes art worthwhile, as it strikes a conversation amongst all kinds of people, and allows them to interact with her work. Not only did her photography piece do this, but it also enabled the residents of Vancouver to see her work and create their own ideas revolving it; some may have been puzzled at the central message of the piece, while others could have found it inspiring or even amusing.
As I left the gallery, I thought to myself that maybe the purpose of her work was not to please the viewers, but instead to start a public conversation about various issues, which I consider to be a breath of fresh air when it comes to art pieces and their creators. To me, if your artwork acts as a catalyst for people to come together and converse about, or even resolve the controversy surrounding something, you have done your job as an artist!
I am so glad that I was able to attend this exhibit, as Alsaif's work and speech was very intriguing and eye-opening. Her main pieces shown at Latitude 53 express real artistic talent, and I am certainly expecting to see more amazing work produced from her in the near future.
even the birds are walking exhibit runs from January 24, 2020 to March 14, 2020.