Arts & Culture
Cultural Affairs
"There Are No Fakes" explores art fraud and contemporary colonialism
The documentary explores the hidden and dark world of art forgery, drugs, and crime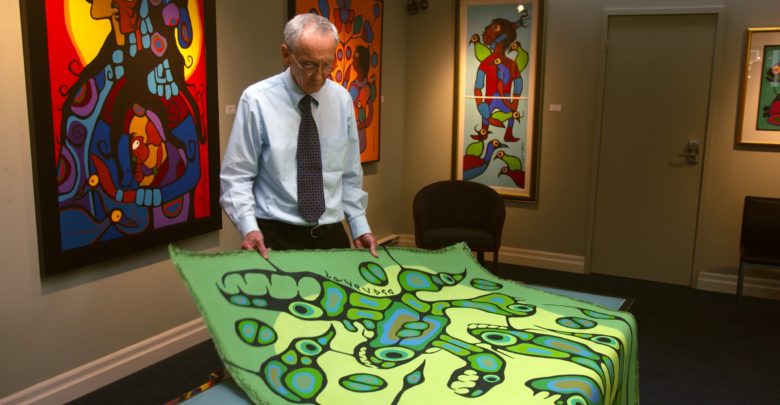 There Are No Fakes is a new documentary debuting on TVO Original this Saturday, with encore screenings on February 3 and February 5.
The film uncovers the harsh details about the authenticity of paintings created by the renowned and late Norval Morriseau, an Indigenous artist hailing from Thunder Bay. It starts after Kevin Hearn, a musician for the Barenaked Ladies, filed a court case against the Maslak McLeod Gallery in Toronto about a Morriseau painting he bought for $20,000. There Are No Fakes takes a bold and brutal journey into the largest art fraud scam in Canadian history, leading to an even more troubling and pervasive revelation involving art, money, and crime.
"It's a relatively new direction of work for me. I wouldn't say it's entirely an investigative piece, but it is an investigative piece among other things," Jamie Kastner, the film's director and producer, said. "It is strictly speaking only the second film I made in that kind of mode, kind of crime-thriller investigation."
Kastner came across this story by random. After the death of Lou Reed, frontman for rock band The Velvet Underground, Kastner approached Hearn, a close friend from high school, about potentially creating a documentary on Reed. Unfortunately, this idea didn't pan out, but this conversation led to Hearn telling Kastner about a court case he is involved in.
"When [Hearn] told me this tale, I kind of couldn't believe it, it was so crazy-sounding, so operatic-sounding," Kastner said. "It wasn't until I committed to take the project on and began doing my own research with my own team that I really believed everything he had told me and then some."
According to Kastner, there were endless challenges, especially considering how passionate the people involved were about this issue and there were a bunch of fairly extreme and litigious figures involved in this story. There are two sides of this debate, with one side believing there are no fake paintings.
"I had to get the other side to talk," Kastner said. "I had the challenge of penetrating their world. I began to get a taste of what the people involved, deeply involved in this feud, have been going through for years, you know this really kind of menacing shakedown mudslinging."
Initially, Kastner saw this story as an art fraud case involving a Canadian artist and Canadian rockstar. However, the story takes a turn into Thunder Bay, Morisseau's birthplace. There, the documentary ended up going deeper into the Indigenous community.
"I consider myself a political filmmaker and I'm interested in political stories. I think all my films are political, and they often deal with groups that I am not part of, that I was not born into, but with whom I feel a certain political alliance, so I came to this project from that point of view and with that sensibility," Kastner said. "There were serious issues of justice that needed to be told. It had been kicking around for a dozen years, haven't been covered by mainstream press and nobody touched it with a ten feet pole because of the risks involved, nobody white, Native, or green otherwise."
From the beginning, Kastner consulted with many members of the community and interviewed various Indigenous people that ended up appearing in the film and were at risk for doing so. Kastner also persuaded Mark Anthony Jacobson, an Anishinaabe artist and executive producer of There Are No Fakes, to appear in the film. Jacobson is a friend of Morriseau and had been involved in this story for a dozen years: he gave his full support to this project.
Since being released last spring at HotDocs festival and its theatrical run across the country, the ending for the film has changed. The outcome has changed in terms of the appeal to the court case. Even with this "happier" ending, Kastner still feels anger about what has happened.
"Even with the new happier legal outcome of this one case, I actually would still […] hope people are astounded and outraged," Kastner said. "Because, to my mind, this is a story of latter-day colonialism that is happening right now, not a century ago, not in the 1960s, not under the guise of residential schools, but now."
A criminal investigation has been launched since the initial release of There Are No Fakes.