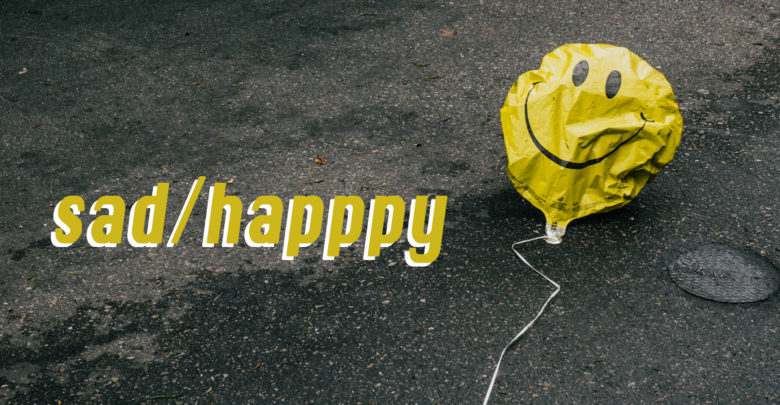 As the temperature drops, so can your mood. Personally, whenever this happens, I find music to be the most efficient and readily available remedy. For me, music evokes deep emotions. Furthermore, these emotions must correlate to the ones I feel myself.
However, just because I start my session of musical therapy on a depressing note does not mean I have to end it on one. Therefore, I often start by listening to a predictably bleak song, such as the sombre piano chords of "Videotape" by Radiohead, but later find myself dancing around my room with my headphones blaring "Digital Love" by Daft Punk. Ultimately, this change in mood helps one move forward.
Enter The Sappy Playlist (Sad/Happy)! It's a playlist designed to replicate and counteract the emotional ebb and flow of the average university student. Split into two sides, this playlist begins with a glum entrance, which abruptly ceases and ushers in a wave of radiance. Play the playlist as is or press shuffle and go wherever the music takes you. Either way, this playlist should hopefully help.
As previously mentioned, this playlist begins with some expertly curated sorrow. From the fatalistic falsetto of The Weeknd to the soaring sounds of British indie band Bloc Party, this first side has all the bitter bangers one could need.
Tracklist (Side A, Sad):
"What You Need" by The Weeknd
"Hold My Liquor" by Kanye West
"This Modern Love" by Bloc Party
"Videotape" by Radiohead
"Street Lights" by Kanye West
"I Couldn't Be More In Love" by The 1974
Next, is the much-needed boost of cheerfulness. This half contains everything from the smile-inducing Ska beats of Bakar to the laid back Loyle Carner. Side B is the optimistic opposite of its aforementioned twin, Side A.
Tracklist (Side B, Happy):
"Hell N Back" by Bakar
"Houseplants" by Easy Life
"Digital Love" by Daft Punk
"Ice Water" by Loyle Carner
"GET OVER IT" by RATBOY
"I Still Remember" by Bloc Party
Happy listening!