Campus Life
News
Students' Union commemorates 30th anniversary of Ècole Polytechnique massacre
The ceremony also focused on honoring all victims of gender-based violence
The University of Alberta Students' Union commemorated the 14 women killed at Ècole Polytechnique and all victims of gender-based violence through a memorial ceremony.
On December 6, the 30-year anniversary of the Montreal Massacre, the Students' Union held a ceremony remembering all victims of the shooting, as well as all victims of gender-based violence, with an emphasis on missing and murdered Indigenous women.
30 years ago, a gunman entered the Montreal engineering school Ècole Polytechnique and killed 14 women. The shooting was, as the attacker described, an attempt to "fight feminism."
The event was emceed by Elizabeth Johannson, president of the non-academic staff association.
U of A Chancellor Douglas Stollery said today not only serves as a moment of remembrance for the victims of the massacre, but is also a "time for reflection" on the pervasive problem of gender-based violence.
"30 years after this event, physical violence, sexual abuse and emotional and psychological abuse based on gender, gender identity, and gender expression continues to plague our communities," he said. "It is driven by misogyny, racism, homophobia, and transphobia."
Michelle Meagher, chair of women's and gender studies, touched on how 30 years later, gender-based violence continues to severely affect Canadians, especially Albertan women.
"The Montreal Massacre was a public and extreme example of the violence that women in Canada and across the globe continue to face daily," Meagher said.
Citing a report released by the Alberta Council of Women's Shelters, Meaghar said 60,000 shelter calls were made this year and shelters had to turn away 20,000 women and children due to accommodation limits.
"In Alberta, this crisis [of gender-based violence] is organized around domestic violence and abuse," she said. "Our province has one of the highest rates of domestic violence in the country."
A large focus of the ceremony was also on missing and murdered Indigenous women and girls who are systematically targeted for violence.
"When we think about the issue of violence against women, one of the pervasive problems in our society today is violence against Indigenous women and girls," emcee Johannson said.
Indigenous poet, U of A alum, and U School facilitator Carley Lizotte shared some of her poetry focused on the targeted gender-based violence against the Indigenous community.
"It's an issue that really hits home for me as I remember several women being missing or murdered from my community," she said. "As a child, I remember hearing those stories from the women in my family and were taught to be careful and to be aware of these things that were happening."
Lizotte said that despite making up three per cent of the Canadian population, Indigenous women and girls are 12 times more likely to by the victims of violence.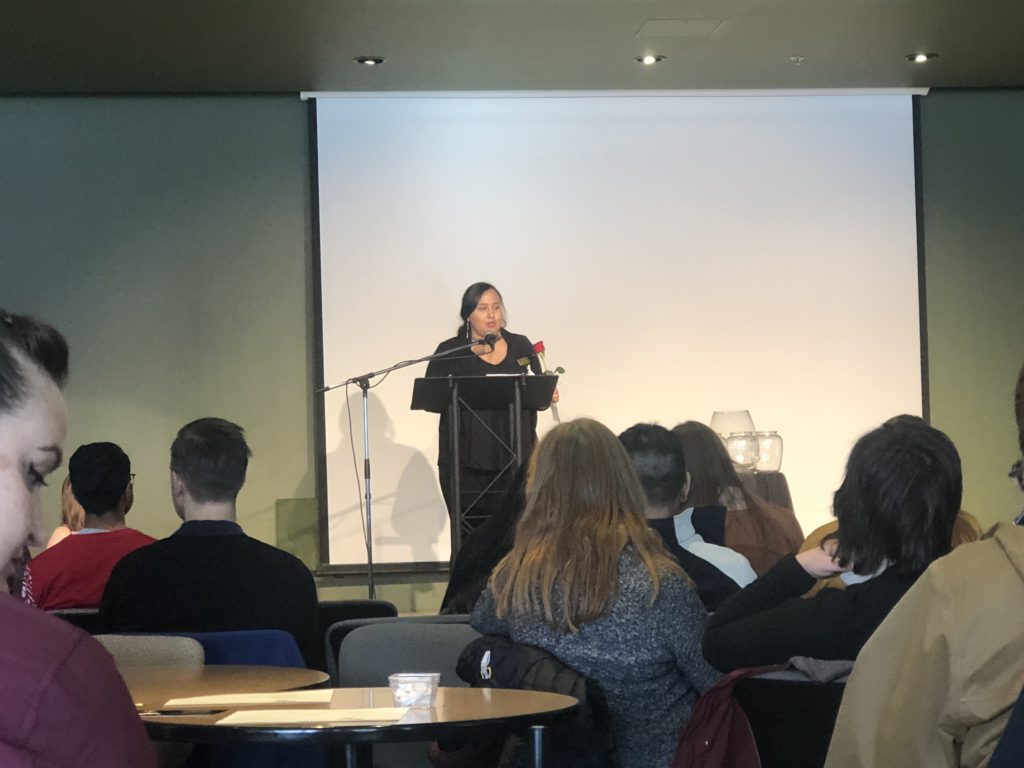 Being a woman in engineering 30 years later
Cai Lin Yang, engineering student and president of Diversity in Engineering, shared about the experience of being a woman in engineering 30 years after the attack.
"National tragedies like this happens when there are deeply misplaced beliefs in the value of women," Yang said. "That somehow as females we are worthless, we are less capable, especially in traditionally male-dominated fields like science, technology, engineering, math (STEM)."
She said that it's not just violence, but also the fear of it that is still "deeply rooted" in society, making fear something women engage with daily.
"30 years later, we're still afraid of going running in the dark as women, we still cross to the other side of the street when we walk home at night," she said. "We cover our drinks when we go out because we're fearful for our safety and we avoid eye-contact on the bus."
For Yang, the anniversary is also a reminder that there was a consequential loss of women role models in the field of STEM. According to her, to this day only 18.1 per cent of licensed engineers are women.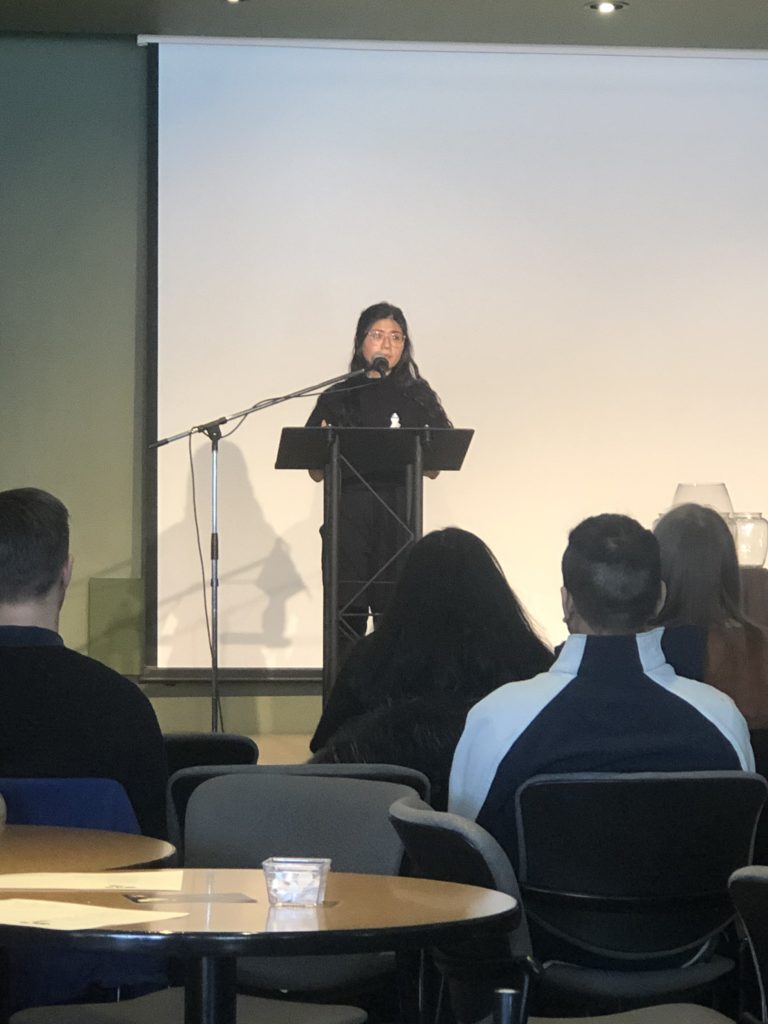 "Young women pursuing science and engineering, on that day, also lost role models we still need today," Yang said. "In a profession that is supposed to serve the whole society, we are less than a quarter."
"As a woman in engineering, today serves as a powerful reminder for me, for all of us, to recognize how far we've come in the past 30 years, but also how far we still have to go."
Victims of attack honoured in name reading
In a name-reading ceremony, the names of the 14 victims of the massacre were read by various U of A members.
The victims were 12 engineering students, a nursing student, and a support staff member. After each victim's name was read, a bell was rung, a rose was added to a vase on stage, and a small excerpt about each woman was read.
Geneviève Bergeron , 21 — Civil engineering student
Hélèn Colgan, 23 — Mechanical engineering student
Nathalie Croteau, 23 — Mechanical engineering student
Barbara Daigneault, 22 — Mechanical engineering student
Anne-Marie Edward, 21 — Chemical engineering student
Maud Haviernick, 29 — Materials engineering student
Barbara Klucznick-Widajewicz, 31 — Nursing student
Maryse Laganière, 25 — Budget clerk at Ècole polytechnique
Maryse Leclair, 23 — Materials engineering student
Anne-Marie Lemay, 22 — Mechanical engineering student
Sonia Pelletier, 28 — Mechanical engineering student
Michèle Richard, 21 — Materials engineering student
Annie St-Arneault, 23 — Mechanical engineering student
Annie Turcotte, 20 — Materials engineering student
Audience members also had the opportunity to add a rose to the vases on stage in dedication to someone they know who was a victim of gender-based violence. A red rose was added in honour of missing and murdered Indigenous women, and a pink rose was added to represent transgender victims.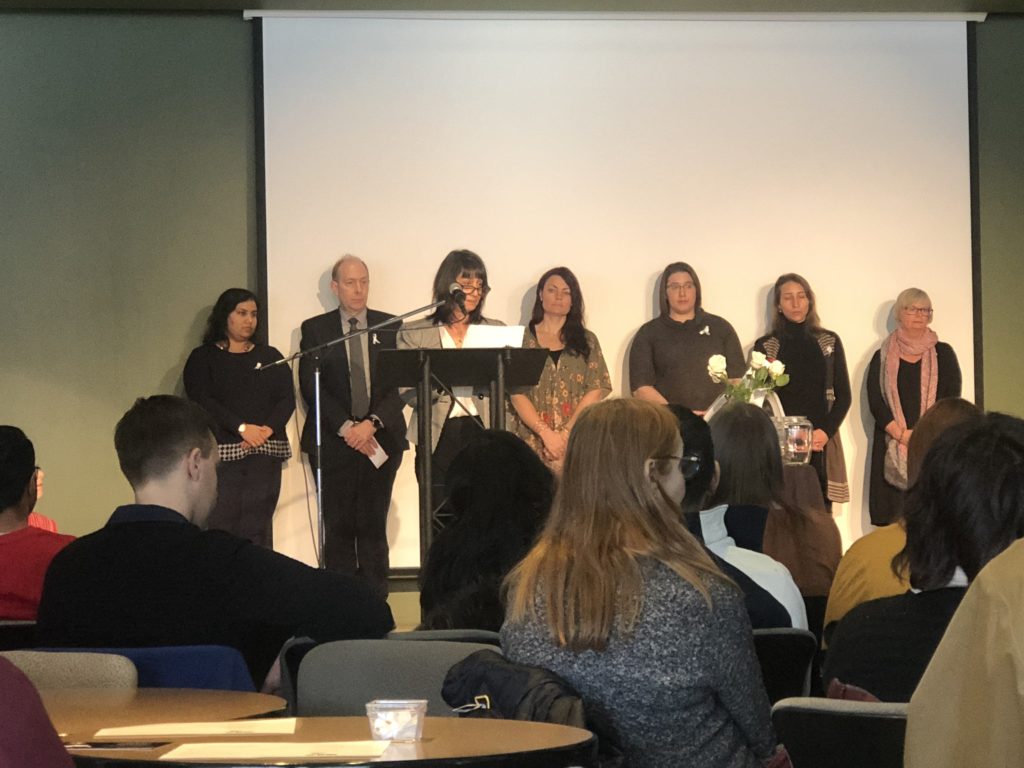 To end the ceremony, the song "This Memory" created to honour the victims by the Winnipeg group the Wyrd sisters was played.
"What we said 30 years ago we still say today," Johannson concluded. "First we mourn, then we work for change."