Institutional
News
Students' Union
43 U of A professors condemn SU president for statement regarding Holodomor-denying lecturer
SU president Akanksha Bhatnagar says the SU continues to stand by their statement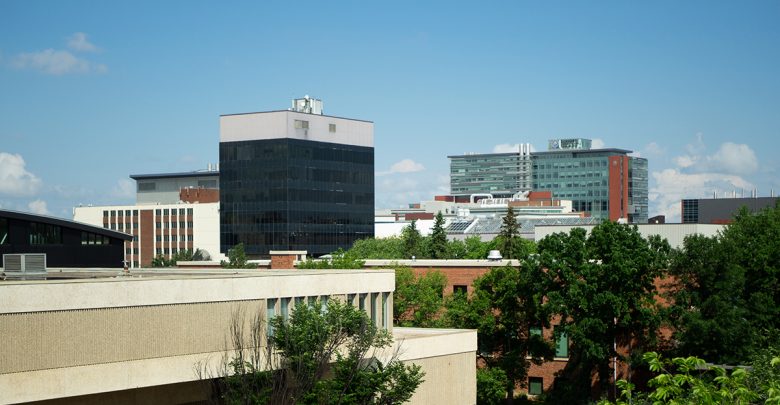 Akanksha Bhatnagar, president of the University of Alberta Students' Union, is being challenged by 43 professors for comments made in a statement she published regarding U of A assistant lecturer Dougal MacDonald.
MacDonald made a Facebook post on November 20 at 12:55 a.m. where he said the Holodomor is a "lie" and perpetuated "myth." The Holodomor is recognized by most Canadian legislatures, the federal government, and 16 United Nations member states as a genocide against the Ukrainian people created by Joseph Stalin and the Soviet Union from 1932 to 1933.
In response, the Students' Union published a statement on November 28 condemning MacDonald's comments. The statement, signed by Bhatnagar, called on "MacDonald to take back his statements or resign."
"MacDonald persists in calling the Ukrainian genocide an 'anti-communist, pro-Nazi myth' that was created by 'Hitlerite Nazis to discredit the Soviet Union,'" the statement read. "We call for Dr. MacDonald to take back his statements or resign. In solidarity with the Ukrainian Students' Society (USS), we also call upon the University of Alberta to condemn Dr. MacDonald's remarks."
On December 2, a letter signed by 43 professors in the faculties of art, education, medicine and dentistry, business, Campus Saint-Jean, science, nursing, Augustana, and law, was published condemning Bhatnagar's statement.
The letter included the names of all professors who were against Bhatnagar's statement said the group was "very concerned" about her call for MacDonald to either revoke his comments or resign.
"Your condemnation of Dr. MacDonald's remarks on the Holodomor and demand that he take them back or resign are incompatible with the University's policies and principles on Freedom of Expression," the letter read. "Just this week the General Faculties Council approved the University's new statement on Freedom of Expression."
"Dr. MacDonald's remarks are protected by our Charter of Rights and Freedoms as well as by the academic freedom to extramural expression that is a necessary right of all academic staff at the University. As the statement notes, in the University the proper response to ideas with which we do not agree is rigorous debate with those ideas, not their suppression."
Kevin Kane, president of the Association of Academic Staff University of Alberta (AASUA), issued a letter on December 1 also criticizing Bhatnagar for her comments.
"Freedom of expression also protects the right… to critique or debate that opinion by a private citizen such as Dougal MacDonald, which the University Student Union has done," Kanes statement said. "However, the Student Union has also called for Dougal MacDonald to take back his statements or resign."
"The call by the SU for him to take back his statements can be seen as pressure for retroactive self-censorship," Kane said. "This is inconsistent with principles of freedom of expression. The SU-proposed alternative to retraction of his statements, resignation, is not appropriate either, as it is regarding statements made by Dougal MacDonald in the capacity of a private citizen."
In a statement sent to The Gateway, Bhatnagar said she and the Students' Union continue to stand by their statement.
"The university policies surrounding freedom of expression are applicable to all members of the campus community," she said. "Our students came to us with their concerns and our statement regarding the denial of the Holodomor is fully in accordance to the university's freedom of expression principles."
"We continue to stand by our statement," Bhatnagar said.
Editor's Note (04/12/2019, 11:12 a.m.): A previous version of this article incorrectly stated that the Holodomor occurred from 1923 to 1933. The actual dates range was 1932 to 1933. The article has been updated to reflect this. The Gateway regrets this error.