Campus Life
News
U of A students rally in support of Bangladesh student protest
Approximately 30 U of A students and community members participated in the demonstration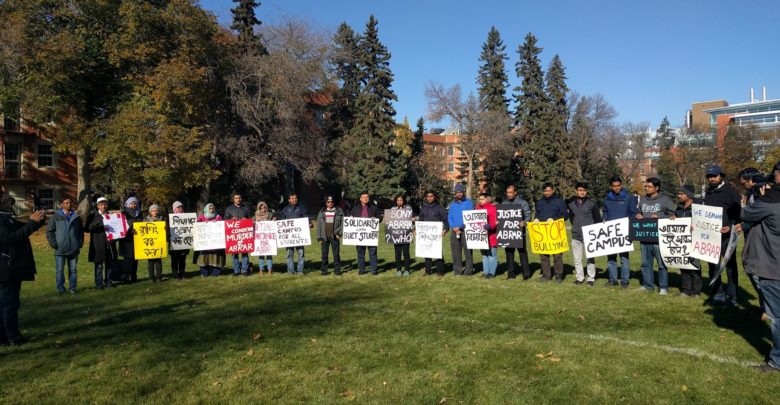 Students and members of the community rallied in main quad to show support for ongoing protests in Bangladesh and around the world that are decrying violence against a university student.
Abrar Fahad, a 21 year-old undergraduate student of electrical engineering attending the Bangladesh University of Engineering and Technology (BUET), was tortured for several hours and beaten to death allegedly by BUET Chhatra League students on October 7.
The Chhatra League is a student organization aligned with Bangladeshi prime minister Sheihk Hasina. Many believe the attack against Fahad was instigated because of a Facebook post he made criticizing the government. Widespread demonstrations protesting the violence erupted throughout Bangladesh.
On October 10 at the University of Alberta, approximately 30 students and community members attended a demonstration on October 10 to show support for Bangladeshi students opposing campus cultures of violence.
Mahmud Amin, a PhD student at the U of A in civil and environmental engineering, helped organize the demonstration. In an interview, he said the event was held to raise awareness about what happened to Fahad and show solidarity with similar demonstrations happening across the world.
"He was on campus when he was brutally killed," Amin said. "This happened at a leading university in Bangladesh. It is completely unacceptable."
"We are carrying on the ongoing protest worldwide, here in Edmonton at the U of A,"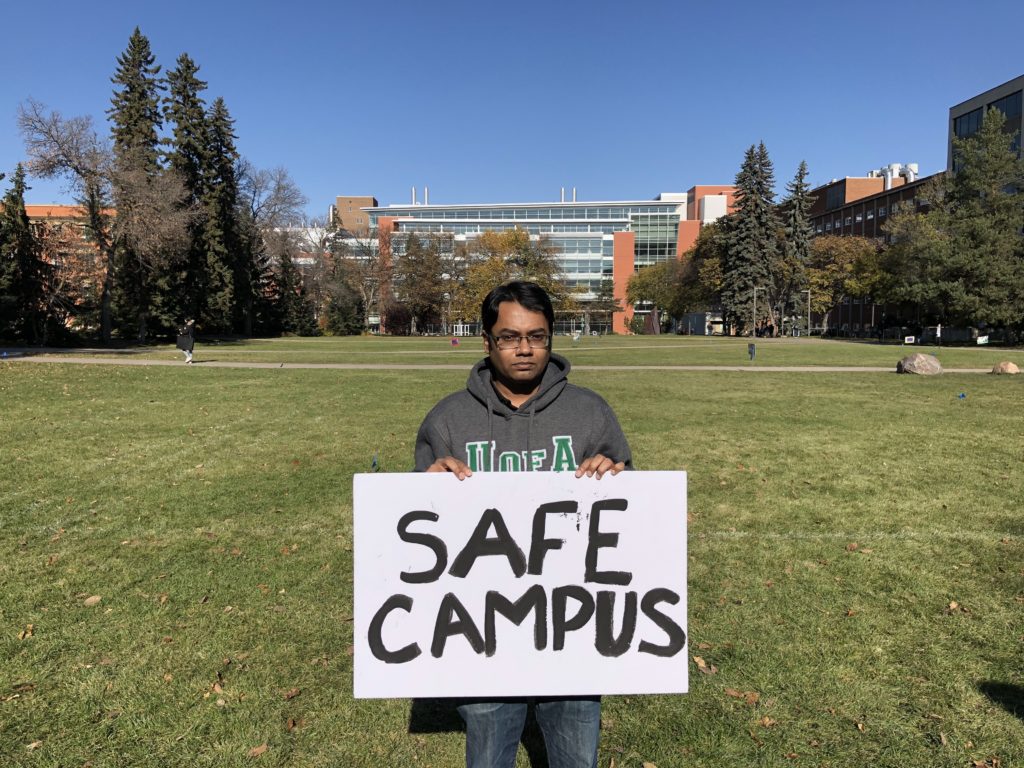 Amin said he attended the same university Fahad did and that other students there have faced different types of bullying and violence.
"University campuses should be safe. There should be an environment which allows study. We want to make sure every campus in Bangladesh, and around the world are safe; no bullying, ragging or violence should ever take place."
He added that while he has graduated from BUET and is an alumni, he wanted to show support for the ongoing movement.
"I cannot really imagine myself, there at present," Amin said. "The situation has gotten so bad. Now I am outside that university… but [I] still want to do something."
"I hope they see us on the news and social media," Amin said. "I hope that brings them moral support."

Amin said that he hopes students at the U of A realize the "blessing" of campus safety and that everyone has a role to play in ensuring that universities stay safe.
"A campus should be the safest place for a student. There should be no bullying or violence whatsoever," he said.