International
Opinion
Top 5: Movies to see before Halloween
Here are five movies to scare your pants off before October 31!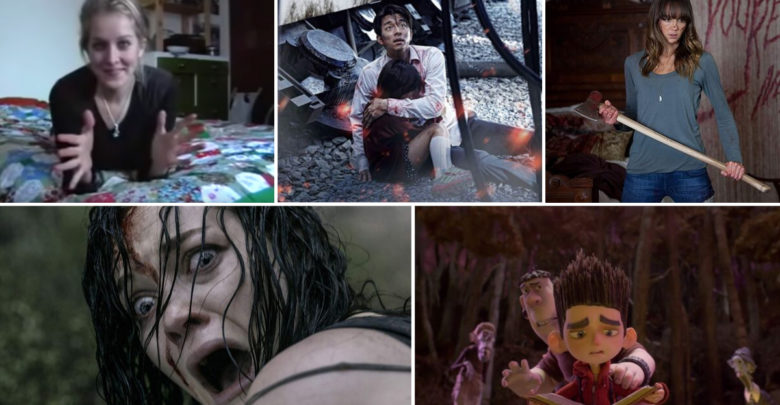 It's the most wonderful time of the year — spooky season. There's no better time to sit down and watch a scary movie, but how do you decide what to watch? Here are a few suggestions for when you get tired of watching Scream for the umpteenth time. In no particular order, these are my top underrated five horror movies to see before Halloween.
In The Dark (also referred to as Louise is Missing) (2007)
Even if you've watched every found footage movie on the planet, you probably haven't stumbled across this hidden gem. In The Dark tells the story of Louise Paxton, a young woman dealing with a mysterious stalker after moving into a new flat. However, as unexplainable events begin to unfold, it becomes clear that her nightly visitor is supernatural in nature. An unseen antagonist and well-paced plot give the story tension, but Zoe Richards' sympathetic and believable performance as Louise really ties it together. In The Dark was originally released as a series of vlogs on Youtube, and a full version was posted in 2016. If you've seen all of Marble Hornets and you're itching for another internet-based legend, I can't recommend this one enough.
Evil Dead (2013)
Looking for a real gorefest this Halloween season? This is it. Sam Raimi's retelling has the same basic premise as the 1981 original: several young adults visiting a cabin in the woods accidentally release an evil entity that possesses them one by one. This remake takes all the horror-comedy elements of the original and plays them completely straight. The result is a series of gruesome possessions that claim character after character. Cheek carving, tongue splitting, impromptu arm amputations — Evil Dead has it all, without feeling like torture porn. The tension never lets up until the final payoff, leading to one of the most satisfying endings I've ever seen.
Train to Busan (2016)
Looking for a well-made, emotional zombie film? This is the movie for you. Train to Busan's plot is simple: a father fights to get his daughter to the safe city of Busan aboard a zombie-infested train. The action sequences are tense and the zombies are savagely terrifying, but the best part of this story is the message. A common trope in apocalypse stories is that being selfless and brave gets you killed for nothing. Train to Busan turns this moral on its head. Despite harrowing circumstances, the ones who make it the furthest are the ones who refuse to give up on each other, not the ones who are in it for themselves. Intense, tragic and strangely uplifting, this movie is great if you like your horror with a side of feels.
You're Next (2011)
Cheering for horror movie protagonists can be tough when they're just so… stupid. That's not an issue with You're Next. The movie starts off like a typical home invasion thriller, but the mask-wearing killers soon meet their match in Erin, a young woman who grew up on a survivalist compound in Australia. Resourceful, adaptable and merciless, Erin is a joy to root for because of how uncommonly capable she is. Throw in a steady stream of kills, great acting by the entire cast, and a few plot twists and you've got a solid slasher flick.
Paranorman (2012)
Horror fans know Laika Animation Studios for their excellent adaptation of Neil Gaiman's Coraline, but this underrated beauty is every bit as good. Paranorman follows Norman Babcock, a kid in a closed-minded small town who can see and communicate with ghosts. When the only other psychic in town passes away, Norman is left with the task of reining in an ancient and powerful vengeful spirit, who has a lot more in common with him than it initially seems. This movie may be for a younger audience, but the gorgeous stop motion animation, bits of humour sprinkled throughout and moments of real terror can appeal to viewers of all ages. If you've ever felt like an outsider, this story will resonate with you.