Arts & Culture
Campus & City
Recap: Carolyn Bennett's "Please Stand By" book release
Audrey's Books welcomed Carolyn Bennett for an exclusive sneak peak of her new novel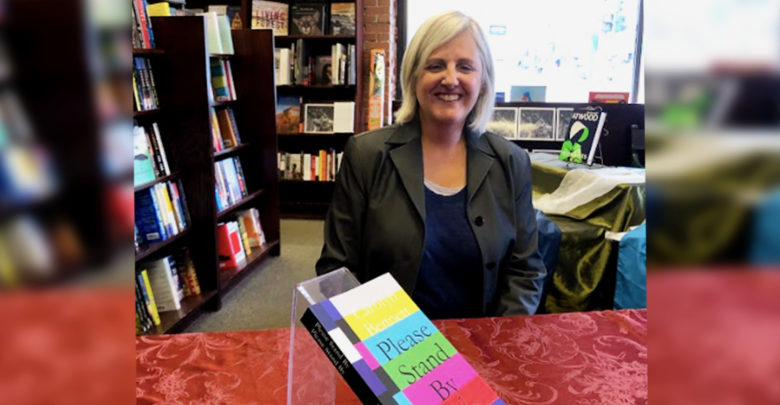 Following a very successful career in storytelling, Toronto based writer and comedian Carolyn Bennett returned to Edmonton on Sunday, September 29 to give us an exclusive sneak peek of her soon to be released debut novel: Please Stand By.
Hosted by Audrey's Books, the event featured a live reading and Q&A with the author. For those who don't know, Carolyn Bennett is an award-winning writer (2013 TIFF Screenwriting Intensive Jury Prize). She was part of the 2017 Thousand Islands Playwrights' Unit and developed the full-length play, The Monarchists. Did I mention she's also a producer? Some of her plays include Mixed Media, Pure Convenience (CBC Radio), Runtkiller, The Short List, Hitler's Ass, Canis Familiaris and Sick Kids Wanna Talk To You.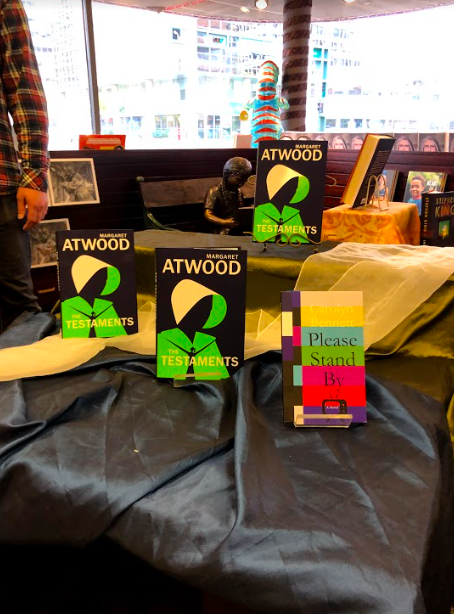 Upon taking the podium, Bennett warmly welcomed her guests and talked a little bit more about her background and the road to landing her very first book deal. Within seconds, she hooked the audience with her quick wit and all too relatable tales of struggle and perseverance. Turns out, this Eastern outsider has three Edmonton winters under her belt. Shocking, I know. Even more shocking? She chose our city as the setting of her novel. That's right, we better get ready for our close-up because, after this book comes out, everyone is going to want to come visit.
Please Stand By follows freelance writer Suzanne Foley in a desperate crusade to save her broadcasting station from evil corporate interests. Think David and Goliath, except David is a 38 year-old cougar with unaddressed childhood trauma and an affinity for day-drinking. Sounds fun, doesn't it?
Please Stand By might have taken 15 years to publish, but a long string of rejections wasn't enough to rain on Carolyn's parade. Afterall, it only takes one yes to turn your dreams into reality (just ask Lady Gaga).
For Carolyn, literature contextualizes our experiences and helps make sense of the world.
"It saved my life. It's a great vehicle to share our point of view," she said to the audience.
But, don't assume this is an autobiographical novel. There might be certain elements of the author in the main character but for the most part, any resemblance to actual persons, living or dead, is purely coincidental. Don't worry though, there's more than enough suspense and drama.
After the reading and Q&A, we went upstairs for the book signing portion of the afternoon. As I waited in line — and munched on my third cinnamon roll — I got to chat with Carolyn's sisters. Needless to say, charisma and a sense of humor runs in the family.
Overall, I had a fantastic experience at the Please Stand By pre-launch party. I even bought my own copy and had Carolyn sign it for me because yes, I'm just that cool. But, I digress.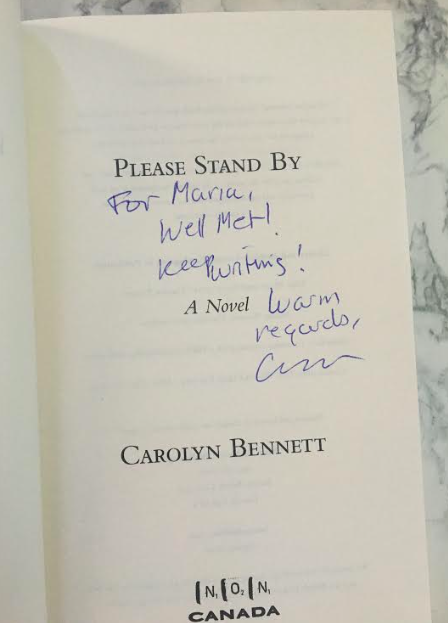 Please Stand By comes out in stores mid October, so go ahead and add it to your reading list and calendars because you're going to want to get your hands on it before it's out of stock.