News
Students' Union
New Students' Union app called Perks will gamify university experience
The application allows students to fill in surveys, check in at events, and take quizzes to earn points to exchange for prizes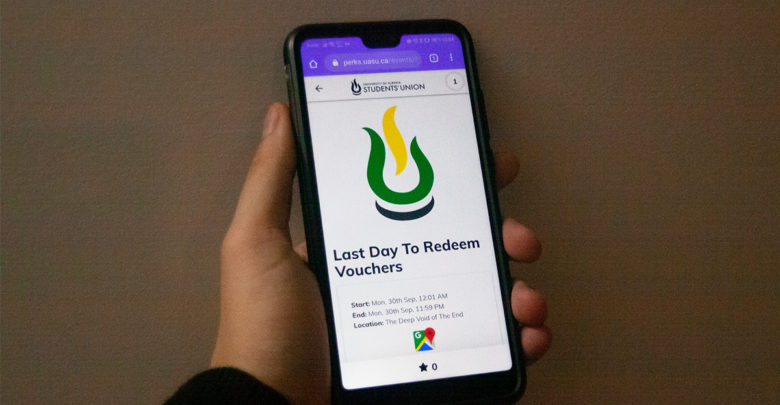 Who says you have to choose between video games and student life? The new UASU Perks app promises students at the University of Alberta a way to enjoy both.
The mobile web app is based upon the concept of 'gamification' — the application of game elements, such as point scoring, into traditionally non-game contexts. Perks was designed as an engagement tool to inform students about events around campus and, according to Luke Statt, Students' Union vice-president (operations and finance), is the first of its kind at the university level. Funding for the app came directly from the Students' Union IT department's own budget.
Students will be able to register with their U of A CCID and complete surveys about student life, check in at events, and take quizzes to earn points that can be exchanged for a variety of prizes, ranging from a free coffee to UAlberta swag and movie passes. The Perks website states: "Do stuff – Win shit."
Statt, who helped oversee development, emphasized that not only does this incentivize participation in university events, it also brings students to campus businesses they may not have visited before. Rewards for participation feature several Students' Union businesses, such as the Daily Grind and Room at the Top.
The initial concept was developed early this year by a team of six computing science undergraduate students at the University of Alberta completing their capstone course project. Statt said these students are to credit for building the base system of Perks, which was then refined by the Students' Union development team over the course of the summer.
"It's always exciting when students are helping lead innovation in the Students' Union," Statt added.
Beta testing to a limited number of students was conducted over the first two weeks of the fall semester.
"We wanted to see the program would spread organically via word of mouth, which is why there wasn't an extensive marketing campaign attached to it," Statt said.
Statt is optimistic about the future of Perks. The team's next task is to digest participant feedback from the beta run and make the system more accessible to the student population. They expect a full release of the app later this year or early 2020.
"We will continue to grow and expand […] and listen to student feedback to make sure [Perks] is as interactive as possible," Statt said.