Arts & Culture
Campus & City
Emotional Strings: A review of "The German Romantics" concert
The German Romantics brought comfort and relaxation to Convocation Hall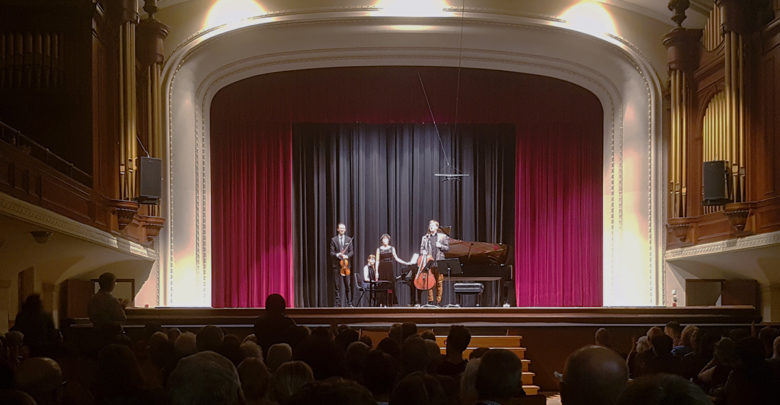 What: The German Romantics
When: September 7, 2019 at 7pm
Where: Convocation Hall
Performers: Violinist Robert Uchida; cellist Rafael Hoekman; and Dr. Patricia Tao at the Steinway grand piano
Composers: Ludwig van Beethoven, Robert Schumann, Felix Mendelssohn
After a busy and frantic week of work or procrastination, one often takes the weekend to relax. Why not go to a concert? Similar to a cup of hot chocolate, a concert can help you unwind, but one such as "The German Romantics" can make you reconnect with your senses, something hot chocolate only claims to do.
The first selection on the program was Ludwig van Beethoven's Sonata in E-flat Major for violin and piano, op. 12, no. 3, in three movements. This was a perfect choice to open the concert because, in a nutshell, compared to his predecessors and contemporaries, Beethoven's music was more concerned with emotions, most often his own.
The bold first movement featuring dramatic scale passages was followed by an introspective, mellow, more introverted second movement. Predominantly quiet and with a taste of wistfulness, it seems to reflect the disposition of a teenager. The movement gains a darker tone before reaching a moment of utmost grace, followed by brief moments of pure joy and tantrums. The movement ends quietly, a tad bashfully. In fact, the last notes on the violin are so soft that the whisper of the bow across the strings was apparent. The happy-go-lucky galloping third movement acted as a foil to its preceding movement.
But as the sonata was a work by a young Beethoven, the composition is less emotionally charged than his later opuses. Robert Schumann, one of the greatest Romantic composers, was not shy with loading his sonata Op. 105, also for piano and violin in three movements, with feelings. The piece opens right away with a whirlwind of passion in the piano part which accompanies a potent violin melody.
The second movement begins with a lyrical, carefree statement played by the violin which sounded like it could be sung. The ensuing music is dance-like and lively, but always with an essence of longing for something. The energy and anxious character of the last movement dispels these sentiments. Although, it must be mentioned, that within the frenzy of notes is a more relaxed section, which was realized beautifully. The work ends strong and forcefully.
After a brief interval, Rafael Hoekman joined the duo for Felix Mendelssohn's famous Piano Trio in D Minor, op. 49. Consisting of four movements, the first one opened with a velvety melody in the cello part. The music then grew strong and vigorous and the bite of the bow on the cello strings was discernible. Tenderness dominates the second, which is followed by an incredibly dance-like movement with a loose and frothy melody. The spirit of the movement is very reminiscent of the one found in the "Scherzo" from Mendelssohn's incidental music for A Midsummer Night's Dream.
Although the Romantic era lasted a brief eighty years or so in the 19th century, through the dedication of the three musicians, the spirit of the Romantic period resounded within Convocation Hall. To quote filmmaker Oskar Fischinger, "everything in the world has a spirit that can be released through its sound."