Campus Life
News
Doctors Against Tragedies releasing new edition on sexual health
Doctors create a spoof of popular card game to spread medical awareness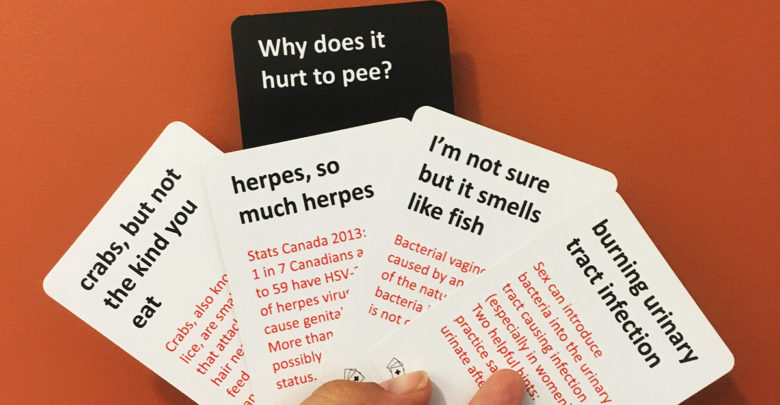 If you can't find the right words to talk about sexual health, look no further: Doctors Against Tragedies (DAT) combines the Cards Against Humanity format with medical facts.
DAT is a doctor-initiated non-profit organization that produces health crisis-related versions of the popular game Cards Against Humanity. While their decks are available online for free, the group also plants decks in local coffee shops, pubs, as well as their workshop sessions. The new edition, which launches in September, focuses on sexual health, with the hopes of informing young people about certain sexually transmitted infections (STIs) like syphilis, which are on the rise according to Alberta Health Services.
"This is just one reason why a sexual health edition that deals frankly with issues like STIs is timely," Dr. Cheryl Mack, an assistant professor in the University of Alberta's faculty of medicine and dentistry and DAT's Edmonton Team Leader, said.
DAT was formed when healthcare professionals noticed that the age of organ donors who overdosed from fentanyl was getting younger and younger. Rather than use a website or online module, which might not be engaging, Dr. Michiko Maruyama, DAT co-creator and cardiac surgery resident, used her background in toy design to find popular games amongst young adults. Eventually, Cards Against Humanity's format was chosen, with the group's first edition being based on opioid awareness.
DAT has since received approval from Cards Against Humanity, and different teams have formed in cities like Calgary and Halifax. Thousands have downloaded their games from around the world, including in Norway and Australia.
"The public appreciates physicians taking the time to participate in educational initiatives out in the community," Dr. Mack said. "This has inspired me to look for other opportunities to be involved in education at the community level."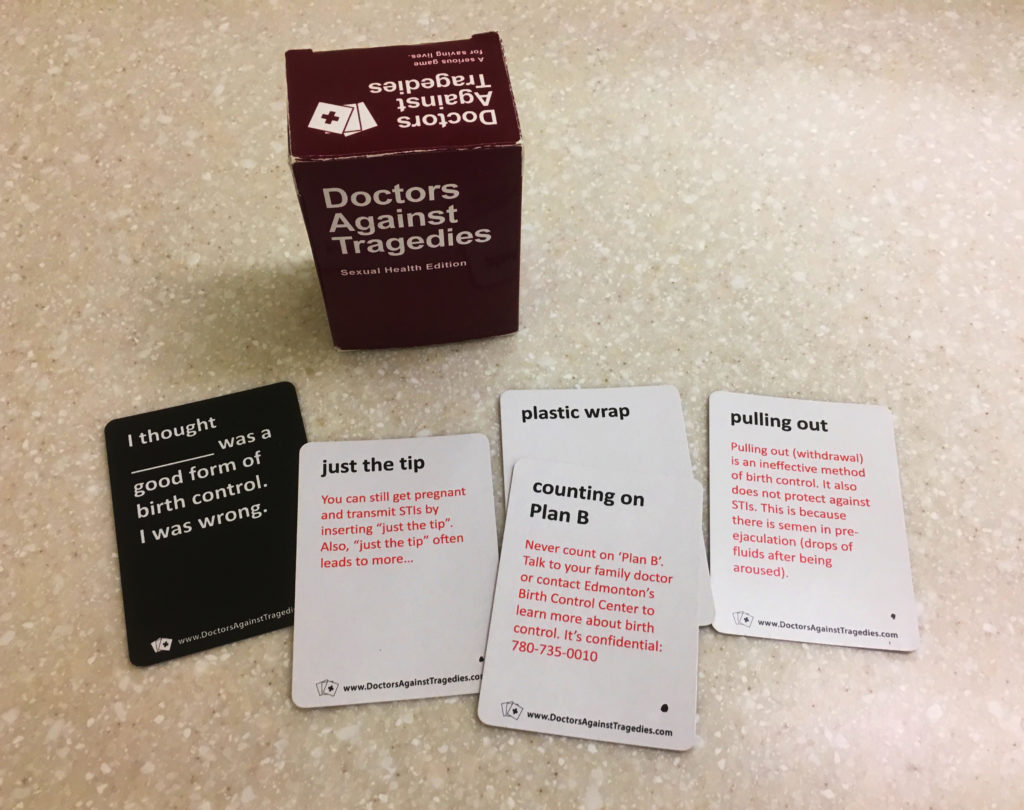 One of the biggest challenges the team faced was finding the right balance between making the game informative and fun. To do this, they reached out to various members of the community, other physicians, and the target audience of teenagers and young adults.
"For the game, it was important that it remains fun and keep that dark humour as that's what makes it popular," Dr. Maruyama said. "It was a challenging balance, but we were able to achieve it."
Another challenge came from fellow physicians, who were concerned that the game appeared unprofessional due to its language. However, the feedback has been mostly positive since the game's launch.
"I don't think it's unprofessional at all." Dr. Maruyama said. "It's using the language of the people. Of the youth. It's everyday language."
Future editions will include topics like infectious disease, social media safety, cannabis, and mental health. Additionally, DAT is recruiting new members.
"You don't have to be a doctor to be part of Doctors Against Tragedies." Dr. Maruyama said. "We have university students and elementary kids. We have trade workers creating a deck for workplace safety. Anybody interested in community health is welcome to join."