Campus Life
News
U of A design grad uses fashion line to pay tribute to Indigenous culture
Design grad uses his fashion line LUXX Ready to Wear to celebrate Indigenous culture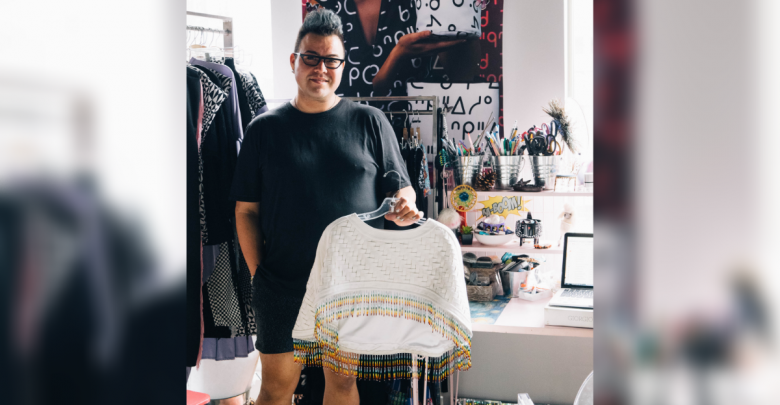 LUXX Ready-to-Wear is a fashion line that aims to pay tribute to the Indigenous community by creating culturally-aware fashion products and inspiring others to learn more about Indigenous customs and traditions.
LUXX was founded in 2011 by Derek Jagozinsky, an alumnus from the University of Alberta and the first recipient of the Indigenous Graduate Award. LUXX is focused on creating modern clothing with an Indigenous style, offering a diverse set of products such as dresses, capes, belt bags, and custom print fabrics. Everything is cut and sewed from start to finish in Edmonton.
For Jadgodzinsky, his passion for promoting and supporting Indigenous culture stems from his desire to fight against the misinformation and myths about Indigenous peoples.
"When I was younger, it wasn't very encouraging to be Indigenous. There was actually a lot of stigma towards Indigenous Peoples [such as] they don't go to school or that they drink a lot," Jagaodzinsky said. "I just want to essentially help rebrand Indigenous peoples as a modern people because we are a modern people."
Jagodzinsky, who got his Bachelor of Design in graphic design from the U of A in 2010, recently received his Master's degree in industrial design this past June. He said that his education at the U of A has helped him in his career by giving him the opportunity to explore his cultural roots.
"My grandmother went to residential school and I wasn't really taught a lot about my culture," Jagodzinsky said. "My education has helped me learn how to do research properly [and] to study what it means to be an Indigenous person."
As someone who has made it his mission to create culturally-aware clothing, Jagodzinsky believes that everyone can do their part towards reconciliation by being more open-minded.
"I think that everyone in general should learn about people's cultures," Jagodzinsky said. "Diversity makes the world go round."
Since launching, LUXX has developed multiple collections that represent aspects of Indigenous life. For example, its 2015-16 Aboriginal POP collection combined the colour coral with hand-painted arrowheads to symbolize the beauty and strength of Indigenous women. Another collection made in 2018-19, Northern Evening, used deerskins, modern textiles, and Cree syllabics meaning "we will succeed," to reflect the strength and resilience of Indigenous Peoples.
LUXX's latest collection from Spring/Summer 2019, Rainbow Warriors, reflects an ancient Indigenous prophecy of renewing the world and promoting a sense of spiritual prosperity by having people of "different colors, classes, and creeds" unite.
For the next collection, Indigenous Metamorphosis, Jagodzinsky plans to work with animal hides and weaving to convey the importance of personal growth and the interconnected nature of life, including "relationships, communities, and natural systems."
In his eyes, Jagodzinsky sees LUXX as a way to bring Indigenous culture to the forefront of the fashion and design industry, which has historically underrepresented Indigenous peoples.
"I felt that Indigenous people aren't really represented in design very much. When I was younger, I had no one to look up to, so I wanted to make something new and innovative," Jagodzinsky said. "I just really wanted to start something that was essentially Canadian, but with a modern Indigenous flare."