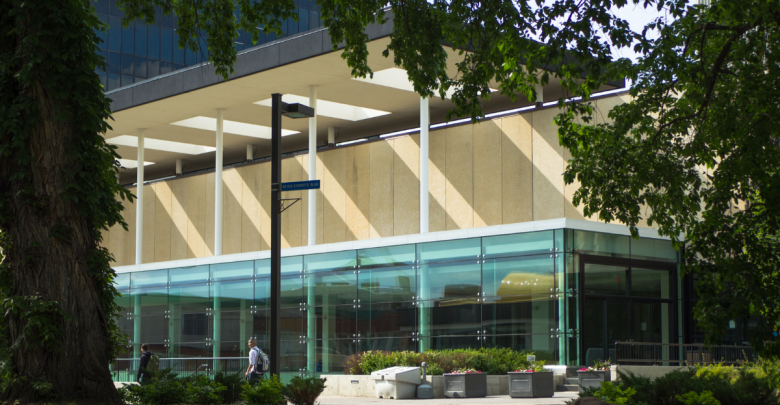 This article is the second in a three-part series on the WUSC program at the University of Alberta. To read the first article, click here.
The DFU-sponsored WUSC program provides an opportunity for refugee students to pursue a university education at the University of Alberta.
The World University Service of Canada (WUSC) is a program that brings students from refugee camps to study at universities in Canada. The students who come to study at the U of A receive funding through a Student's Union dedicated fee unit (DFU). The program is administered through two local student volunteer committees, one at North Campus and one at Campus Saint-Jean (CSJ). The two local committees alternate taking a student each year.
The selection process
John Abwe, 2016 WUSC recipient and currently in his third year of Education at CSJ, said that to be considered by WUSC, a student must meet a specific grade requirement from high school, be less than 25 years old, and have refugee status in the country they are in, which they can only receive after being in a refugee camp for three years.
"If you have the refugee status, then it's fine. That's the most difficult one, because [if you have it] you can go and have your high school [grades] and just apply," he said.
Students can choose between a French or English degree, he said, but most people choose French because there is less competition.
Once students meet the requirements, there is a written language exam, Abwe said. WUSC selects students who pass the exam by a certain percentage and after there is an oral interview.
If a student is selected to be a WUSC recipient, they have a year before they come to Canada in the following June or July to take the language exams: DELF for French and TOEFL for English. If a student is not selected, they have the opportunity to reapply if they still meet the requirements.
The local committee
The local committee takes care of the WUSC student when they arrive in Canada, starting by welcoming them at the airport. They then help the student set up everything they need, such as opening a bank account and getting their Social Insurance Number, buying winter clothes, and how to take transit.
John Hussein, former Students' Union business councillor and WUSC recipient, said many previous WUSC and President's Award recipients make up the local committee, as well as other students. It's a way they feel like they're giving back, he added.
In addition to the local committee, there are staff from U of A International who also help. If the committee or the students don't know what to do in a situation, they go to them, Hussein said.
The role of the university
Nancy Hannemann, director of global education at U of A International, has been involved with WUSC for 24 years. From the university's perspective, the process starts when the national WUSC organization selects the students to come to Canada, where they will be placed at 73 institutions across the country. The students' dossiers are sent to the Registrar's Office to check for admissibility into the university, Hannemann said. If more than one student is admissible, she added, the local committee has a selection process.
International Student Services now helps with training the WUSC local committee in supporting the WUSC recipients since the President's Award now accepts refugee students. While WUSC recipients come to Canada to study as permanent residents, making them different from international students, they may have some of the same needs, Hannemann said.
"International Student Services would know a lot of the needs that international students have and that the refugee students have," she said, "If there is any issue that arises for them, they would refer them to the appropriate services."
Support for WUSC recipients
Support for WUSC students is different depending on the university, Hussein said. One university might fully fund a student from their first year until their last year, and some might only support them for one year — it's contingent on their DFU.
At the U of A, the university waives tuition and the DFU is used to support the student in their first year, and to a lesser degree starting April of their first year and every year until their fourth year.

"They support you precisely from September to April, and then from April, you figure out how things work," Hussein said.
Jean de Dieu Hakizimana, a 2011 WUSC recipient who studied political science, said after the first year, WUSC isn't legally responsible for the student anymore. However, by then, recipients have friends and other WUSC people that become like family. While WUSC is no longer responsible, Hakizimana said they are still there, but in a different capacity.
"They still support you, but not hands-on as before, so it's just normally social events, potlucks, things like that," he said.