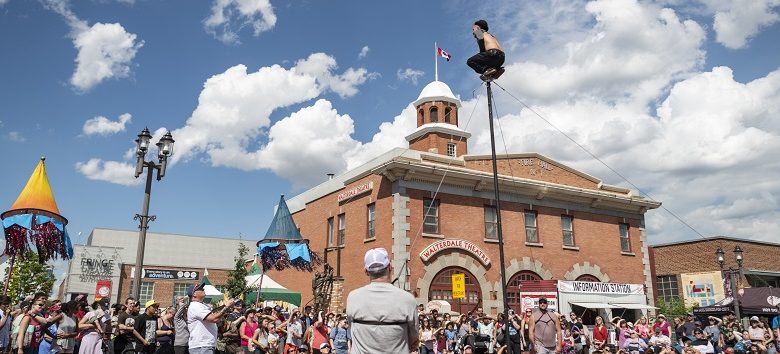 In our (returning) weekly column Social Intercourse, we (i.e.your friendly neighbourhood Arts & Culture writers) share our picks for your weekend (or mid-week) night out.
When: July 5-14, 11:30 a.m. – 11:00 p.m.
Where: Dr. Wilbert Mcintyre Park (8331 104 St NW)
Admission: Free!
Until July 14th, street performers from around the world will be performing in Edmonton. Comedians, circus performers, dancers, jugglers, magicians, and more will be dazzling audiences with their art. The 35th annual Edmonton International Street Performers Festival is sure to be an event the whole family can enjoy!
When: July 12-14, Friday & Saturday: 11:00 a.m. – 10:00 p.m. Sunday: 11:00 a.m. – 7:00 p.m.
Where: Borden Park (7507 Borden Park Road NW)
Admission: Free! (The ribs aren't though!)
The 2nd annual Edmonton Ribfest, featuring the best ribs, chicken, and pulled pork in Edmonton, will be taking place this weekend! There'll be a beer garden, kids zone, and the Canadian Made Crafters Market. The event will also feature live music from local musicians!
When: July 13, 9:45 p.m. – 12:45 p.m.
Where: South Terwillegar Park
Admission: Free!
Outdoor movie season is upon us again, and what better way to kick it off than with Detective Pikachu. It's a movie that all ages can enjoy, about a son trying to uncover the mystery behind his father's disappearance, with the help of a Ryan Reynolds-voiced Pikachu! Free popcorn is also provided at the event by Darlene Reid Real Estate.
When: July 13-14, Saturday: 9:00 a.m. – 9:00 p.m. Sunday: 9:00 a.m. – 8:00 p.m.
Where: 10581 107 St NW
Admission: Free!
Africanival is a chance to celebrate the rich, inviting, and diverse cultures of peoples of African descent in Edmonton and beyond. It features artistic and cultural performances, fashion shows, dance competitions and more! There will also be a beer garden, and food vendors selling authentic African cuisine.
When: July 13th 10:00 a.m.
Where: End of Steel Park
Admission: Free!
Twinfest is an annual festival in Edmonton celebrating twins, triplets, and all multiple birth families! The event will feature a parade, live performances, a petting zoo, talent show, and more!