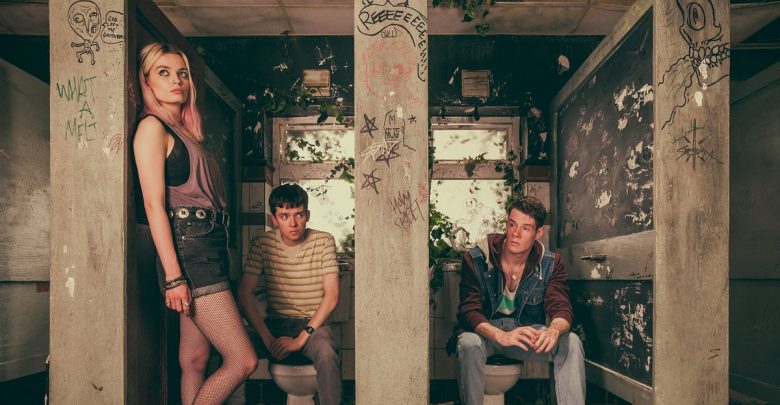 Sex Education
Created by: Laurie Nunn
Starring: Asa Butterfield, Gillian Anderson, Ncuti Gatwa, and Emma Mackey

---
Laurie Nunn's Sex Education offers a hilarious and thoughtful glimpse on the reality of adolescent sexuality, but the series follows a predictable pattern.
Sex Education focuses on socially awkward 16-year-old Otis Milburn (Asa Butterfield) whose mom, Dr. Jean Milburn (Gillian Anderson), runs a sex therapy clinic at home and is the author of multiple books on the subject. Otis has become rather knowledgeable about sex and has teamed with Maeve Wiley (Emma Mackey) to run an illegal sex therapy service at their high school. There is only one problem: Otis has intense anxiety about any sexual activity, including masturbation. This leads to various awkward mishaps and cringe-worthy conversations.
Although set in modern-day Britain, the show itself is an ode to American 80s teen comedies — everything from the clothes to the soundtrack is reminiscent of beloved John Hughes' movies. It's actually difficult to tell that it's set in Britain, with the actors' accents being the only indication.

Sex Education heavily relies on clichés and teen movie tropes, although I don't find this to be much of a problem. The subject matter often includes more mature or "woke" content with topics going beyond sex and virginity, such as characters dealing with abortions, slut-shaming, and sexting. The show does a great job balancing darker themes with humour; the comedic and political aspects don't overpower each other or feel misplaced.
Gillian Anderson shines as Jean, making her likeable and warm even when the audience should feel otherwise. Personally, I wish Anderson had more screen time and that her character was less of a stereotypical sex therapist.

Asa Butterfield does a wonderful job playing Otis, but the character is the least interesting of the bunch; the most interesting characters are the supporting cast. Eric Effiong (Ncuti Gatwa) is Otis' best friend, who's storyline consists of self-acceptance and what happens after coming out. Maeve is a feminist badgirl dealing with her own family and financial problems.

Eric (Gatwa) and Maeve's (Mackey) storylines captivated me from the start; the show would not be successful without Gatwa and Mackey's performances. Not only are the major characters intriguing, but the subplots and minor characters are engaging as well. Both the therapy sessions and the clients are entertaining; it's rare for teen comedies to depict therapy on screen and even rarer to have therapy displayed in a positive light.
Regardless of the wonderful aspects of the series, there are things I find troubling. The first episode is off-putting and the series doesn't pick up until later. I think this is due to the uncomfortable sexual scenes between Aimee Gibbs (Aimee Lou Wood) and Adam Groff (Connor Swindells), who are placed in graphic nude scenes, despite the characters themselves being 16. This isn't a unique problem; many other teen shows sexualize their teenage characters (see Riverdale).

Teenagers have sex and sex shouldn't be a taboo topic, but adults portraying teens in graphic sex scenes feels inappropriate. Sex Education eventually becomes better at showing teenage sexuality without sexualizing the characters. There is an attempt to portray true human experiences and a genuine effort to change the way our society talks about sex and sexuality.
This show isn't for everyone; the premise is absurd and the humour can be quite dark.
If you're a fan of teen comedies though, check out Sex Education.
Rating: 3.5/5