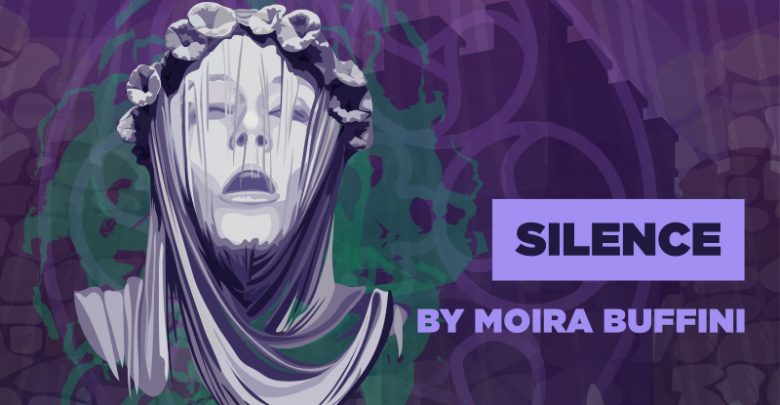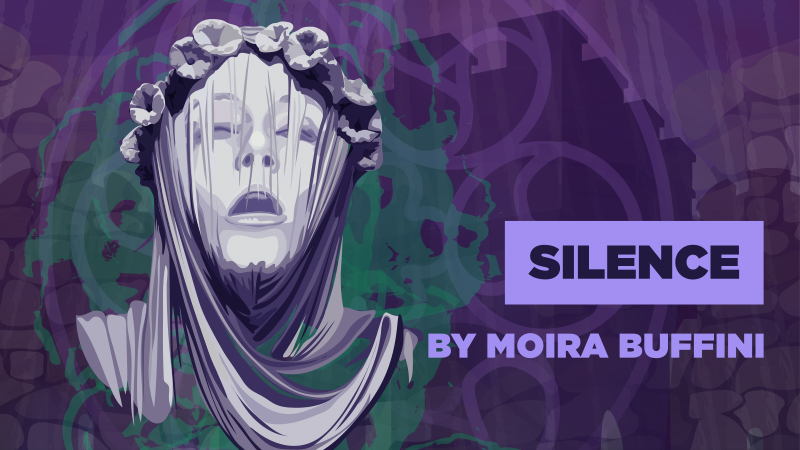 What: Silence
When: May 16th to 25th
Where: Timms Centre for the Arts
Tickets: Evening: $12 student, $25 adult, $22 senior
"If I had been a man," declares Ymma of Normandy (Emily Howard) in Moira Buffini's Silence, "my anger would have been a virtue."

Buffini's disturbingly timely script examines transgressive gender expression, queerness, and the patriarchal religious authority that seeks to subjugate them while director Kim Mattice Wanat emphasizes the script's dual nature.

The overarching narrative is profoundly tragic, as Ymma finds power only through marriage to a male authority figure, Ethelred (Michael Anderson). Yet, the script is also ridiculous. It is unafraid to poke fun at the power structures it blatantly criticizes. It is shown in Roger (Joshua Meredith), a Catholic priest, ending a lesson with Silence (Shannon Blanchet) upon having trouble with his "thing." It's also seen when Eadric (Griffin Cork) drugs the cast with hallucinogenic mushrooms, in an attempt to seduce Ymma.

These two sides to Silence leave the audience wondering what exactly to take from this show. With a bittersweet ending, as Ymma and Silence continue their relationship in secret, we are unsure if anyone has really "won." Perhaps this is intentional, but at times the play's abrupt changes from comic to tragic are jarring. Is this production's interpretation an accurate way of examining the absurdity of patriarchal power, or is it merely a confusion of Buffini's intentions?

Regardless, this show is visually and theatrically stunning. We begin with a near empty stage, draped in purple-grey cloth. Medieval England is traced out in black, angular set-pieces by set designer Bailey Ferchoff, which transition from the halls of a vast castle, to the moors, to a desolate beach.

Beyata Hackborn's luxurious medieval costuming invites us into an era unfamiliar to most modern audiences. The early medieval, post-Roman, period in England differed greatly from what most imagine as the Middle Ages. It was a blend of Anglo-Saxon paganism and Christianity, something Hackborn's costuming reflects with ease and grace.

Sound designer Logan Chorney plays an equally important role in this transformation, enchanting the audience with the echoing choirs of medieval churches and the sound of birds and waves lapping at the sand. Yet, he occasionally falls to the temptation to make the sounds of the medieval era merely campy and fantastic with overly bombastic music, pulling the audience away from the drama.
Buffini's rich and poetic script provides ample material for the play's talented cast. Particularly, Howard's Ymma and Blanchet's Silence stand out as perfectly embodying the difficulty of transgressing gender norms in a time when authority demanded traditional masculinity and femininity. As their relationship grows, we learn, slowly, the causes for Ymma's anger and Silence's shyness. Neither actor shies away from trauma, confusion, or pain, and the result is two remarkably compelling characters with a fascinating relationship. "We made a vow to be flesh and bone together," each remarks once, "we ought to love and protect one another, don't you think?"

Anderson's take on Ethelred, a king both drunk on power and on the brink of descending into madness is equally stunning. Transforming from bedridden and emasculated to destructive, power-hungry and blood-thirsty warrior, Ethelred is at once threateningly malicious and ridiculously stupid, a contradictory but effective combination which Anderson pulls off skillfully.

While at times other performances—especially Joshua Meredith's Roger—feel overwrought, the actors resist raising Ymma and Silence as the show's protagonists while relegating other characters to the sidelines. We find ourselves drawn in to the stories of these characters. We see Roger's apostasy and Agnes' freedom, Ymma's (at times) tyrannical service, and Eadric's supposed "mindreading" abilities. These plot elements keep us captivated till the play's conclusion. Consequently, both Buffini and the actors who bring her work to life dismantle what we might expect from this narrative.
Silence is, then, extremely apt for an age of increasing social conservatism and regression. In a story driven by contradictory romances and love-inspired duels, shouting matches, and secret affection, intimacy is the antidote to power and oppression. Ymma, though forced out of her masculine clothing and into a tight corset, remains queen, a powerful testament to resistance and quiet revolution in the face of authority.