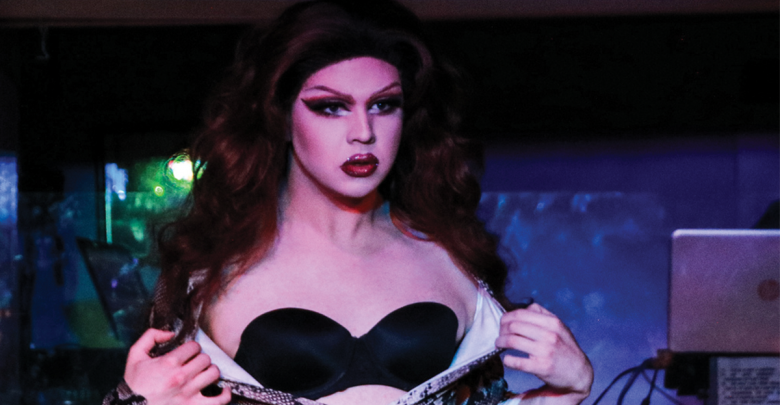 Step into the world of drag and meet some of Edmonton's most fabulous queens in this feature.
When Netflix uploaded the remaining seasons of RuPaul's Drag Race in November, I spent hours locked in my room, binging to the point where someone could name a song and I could tell you which two queens lip synched it for their lives. The addiction came easily as I tried my hardest to soak up the confidence, beauty, and artistic talents the queens exuded through my laptop screen. Though it's easy to get caught up in the fierceness of voguing and death drops, it's important to remind ourselves that drag is about a lot more than just serving looks and commanding a stage.

As originally proposed by Judith Butler, gender can be viewed as performative. It's constructed through the way we dress, the way we act, the way we speak; all the minor lifestyle choices we make contribute to projecting a certain image to the world. Drag, a performance in itself, is a perfect testament to this idea. It's about flipping the script, all while exaggerating the very performances that we use in portraying gender. If a man in a dress and heels or a woman donning a baseball cap and beard can produce the illusion of their opposite sex, what does that say about the performativity of gender?

Beyond gender-bending and pushing the boundaries of the binary, drag is also about uplifting the LGBTQ community, a core principle for Edmonton's local drag scene. Through the Imperial Sovereign Court of the Wildrose (ISCW), a not-for-profit social organization, local drag queens raise thousands of dollars each year for charities serving their community.

Out of the 65 courts functioning in North America, Edmonton's chapter is the second oldest in Canada, operating for 43 years. Comprised of various drag performers, the ISCW annually selects an Empress and Emperor to act as figureheads, along with an upper house consisting of a princess, prince, duke, and duchess. After selecting charities, money is raised for a year through drag performances and then given away at a charity ball in August, where the cycle begins again.

As I stood in the changing room of Evolution Wonderlounge, under a large poster of Bob the Drag Queen graffitied with a moustache and goatee, the club's muted pop music set the tone for a lively conversation with Vanity Fair, Morgen Fair, and Ivy League, three fabulous local drag queens with a lot to say.

A hairdresser during the day, Vanity Fair is the drag mother to both Morgen Fair and Ivy League, acting as their mentor as the two navigate the world of drag. As Vanity strutted confidently around the stage in a large grey wig, it became clear she's been around the block a few times. After moving to Edmonton from Vegreville, Vanity began doing drag 20 years ago when she was approached randomly at the bar by two queens who wanted to put her in drag the next weekend. From there, she went on to have a prominent presence in the Edmonton drag scene, holding many titles including the 37th Empress of the Court.

"I started with the Court 20 years ago because I really wanted to do something positive with drag, and the Court allows you to raise money for organizations you believe in," she says, jokingly adding: "But I've done everything from lesbian weddings to bachelorette parties, whatever pays."

She may rock a beautifully painted mug at night, but you can also catch her during the day with a full face of makeup, a fresh set of nails, and a sparkly accessory or two. Though drag is about performing a character, it also gave Vanity the strength to truly be herself and transcend restrictions. "Sometimes gay men like to be stuck in boxes, but drag queens, we don't give a shit about that," she says. "People should be free to express themselves 24/7, not just on stage for five minutes."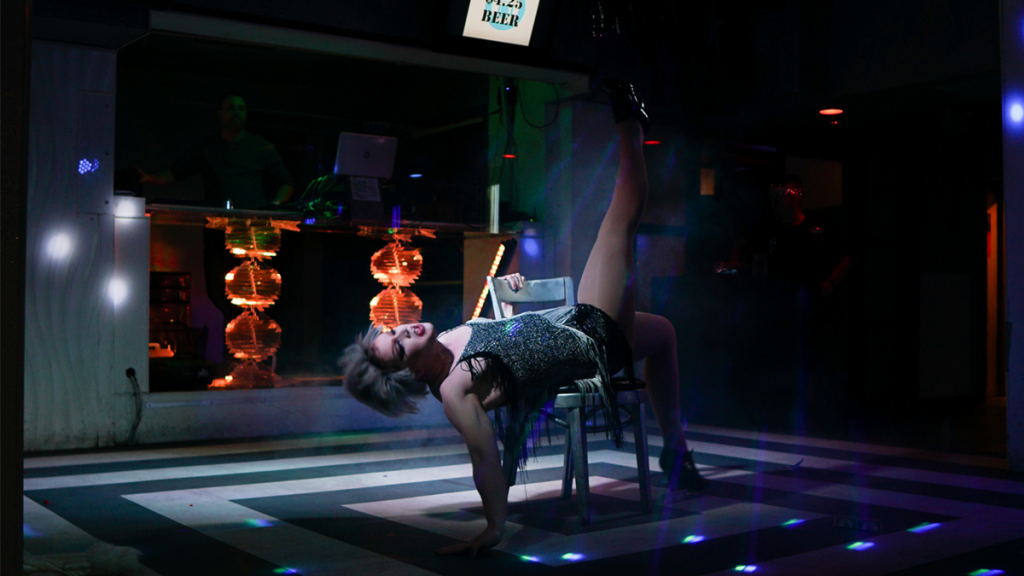 Morgen Fair is the current Empress of the Court, a position she was elected to this past August. While her first name is a nod to her German heritage, the last name of Fair was given by Vanity, who put Morgen into drag for the first time. "We became friends and one crisp August evening she threw me in drag and I ran with it," Fair says.

Like mother, like daughter. In the four and a half years Morgen has been performing, she has also held multiple titles with the court, including the 41st Princess and Entertainer of the Year.

Vanity says Morgen used to be reserved and shy, but watching her perform to "Bitch" by Meredith Brooks had me convinced she's the type of gal who won't take anyone's shit. When I picked her brain about performing, Morgen told me it's almost like an out-of-body experience.

"When I'm onstage, I feel nothing. I always get a nervous bug right before I go on, but when I step on stage it disappears," she explains. "When you're on stage you're there to entertain and whatever else is happening in your life doesn't exist."

The baby of the family, Ivy League is a fourth-year biochemistry student at the University of Alberta. It was on campus three years ago where Ivy got her start hosting a drag show for OUTreach, the university's LGBTQ+ and Allied social group, when they needed someone from their executive team to host with Morgen Fair. Though she was uncomfortable at first, after the amount of fun she had that night, Ivy has never looked back. Her name reflects both her scientific and artistic side, or, as Ivy explains it, "Academia in the front, party in the back." She currently holds the court title Mz. Gay Edmonton, which is understandable after watching her perform a hilarious number about the mishaps of anal, featuring lots of chocolate sauce. Currently, Ivy is also competing to be Alberta's Next Drag Superstar 2019.

As a makeup artist teaching classes at Sephora during the day, one of Morgen's favourite aspects of drag is her makeup transformation, a process that has become ritualistic for the queen.

"I sit down, have everything laid out, and when I start I forget everything else that's happening," she says. "I'm so focused on transforming my face that I literally don't think of anything else, so it's a really good time for me to digress and not feel stressed out about the day I had at work."

Vanity teases that Ivy loves drag so much she'll perform at the opening of an envelope, but in her defense, drag is a hobby that Ivy says she enjoys more than most things in life. She especially appreciates the platform it creates for artists of all genders to explore the social constructs we conform to everyday.

"There's so much room for artistic expression and challenging dialogues [in drag]; there are almost no boundaries," she says. "Drag queens literally warp our bodies to conform to what is considered acceptable and take it to the nth degree, but other performers mix and match things to make you question why we stereotypically associate things with the concept of masculinity or femininity."
"People should be free to express themselves 24/7, not just on stage for five minutes."

As another queen entered the dressing room to take off her corset, I was reminded of the physical pain that accompanies the glamour of drag. From tucking their junk to being cinched in and wearing heels for hours, it's easy to imagine the physical toll drag can take on a body. Yet the most challenging aspects of drag aren't as visible. For Vanity, drag requires sacrifice, both financial and personal. Now in a strong relationship, she notes dating is not an easy task, requiring partners that can handle dating a drag queen, let alone being left in the crowd every weekend."There is a big double standard in the gay community," she says. "Everyone thinks drag queens are so fabulous; they come to shows, but they don't want to date us for some reason."

Ivy also highlights a challenge many busy queens face: being a full-time student and spending 10 to 20 hours in a lab each week while also working a part-time job, it's hard to imagine how Ivy still has the time to perform every weekend. There's no shortage of drag performers within Edmonton, so staying current is crucial for booking gigs. With Ivy's busy schedule, however, creating new material can be a difficult task.

"If you want that platform, you need to stay current and provide content that's wanted," she says. "It's challenging, but having that fire under your ass can really light the creative process."

Regardless of whether she's performing a groundbreaking routine or revisiting an old favourite, at the end of the day, Ivy's main goal is to connect with her audience, share her perspective on the world, and ultimately brighten someone's day.

"With other art forms you may need a couple of years of education to understand what that little brushmark on a canvas means, but with drag it's in your face and interactive," she says. "The audience is a part of the number and they're expected to cheer and be present. It's an honour to have a platform for exploring the world as I perceive it and presenting it through drag."

Despite all the trials and tribulations drag entails, earning respect in the local drag scene boils down to remaining humble. For Vanity, the most respected queens earn their status by how they treat their fans offstage. "In the end we're men in dresses and taking it too seriously doesn't serve any purpose," she says. "You're much better off to be an approachable, humble person. I think that gets you further in the scene than giving people attitude."

Last year was exceptionally successful for the Court, raising over $50,000 for the Elizabeth Fry Society and the Pride Centre of Edmonton. Putting on drag shows almost every weekend to fundraise, local drag queens work tirelessly to economically uplift their community.

"We've donated a lot of money over the years to charities that would not necessarily be able to function without the money we work all year long to donate," Morgen says. "All of our money goes towards charities that support LGBTQ initiatives, so our organization plays a huge part in keeping that going."

As Morgen beams, telling me about the thousands of dollars the court raises for charity, it's clear she's proud to be this year's figurehead. Drag is expensive and definitely doesn't pay the bills, but the charity aspect fuels these queens to keep going. "We don't do drag to make money, at least not for ourselves," Morgen says.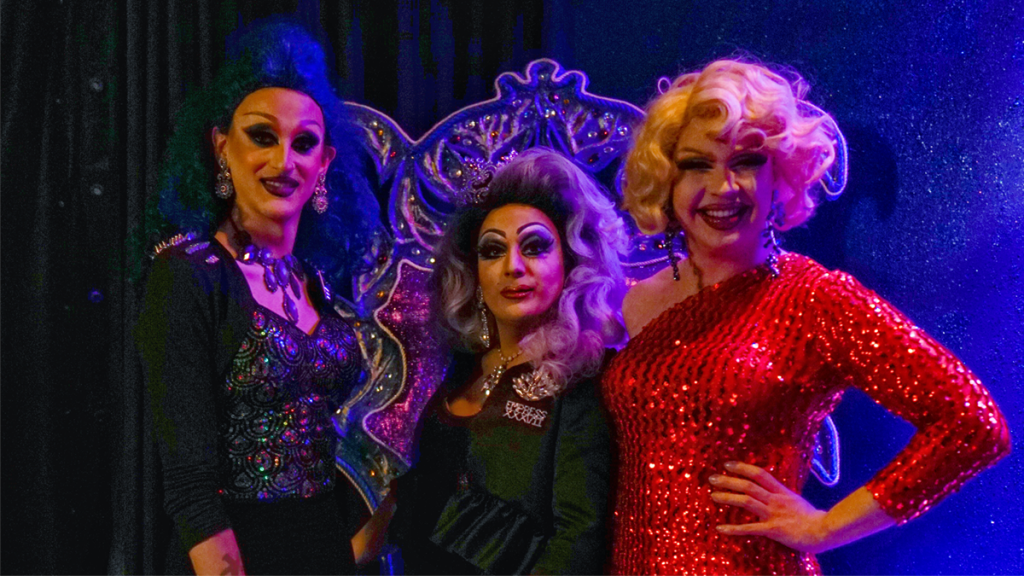 For Vanity, this commitment is only natural, as drag queens have always been an active voice in the community. As she sees a new wave of complicity settle upon the gay community, she insists that drag queens continue to be the doers, not afraid to be vocal about issues. When you're in drag, there is no hiding, especially when you're in hair teased up to the gods and wearing five-inch stilettos. "Drag is almost a forceful, in-your-face way of making people realize our community is here," Morgen says.

Drag is also one of the most enjoyable ways to give straight people a taste of LGBTQ culture. When Ivy hosts drag shows at Have Mercy Tavern, she says most of the crowd are heterosexuals who unknowingly come to the bar. "Regardless of how uncomfortable they are with it, they come out willing to be more open," she says. "I think that it's a nice open door for those who don't have a lot of exposure in the community — we can be a stepping stone to greater understanding."

There's no question drag has become one of the most celebrated and recognized aspects of the LGBTQ community, a shift heavily attributed to shows like RuPaul's Drag Race, which has been airing for 10 years. It wasn't that long ago, however, that drag was tucked away deep within the queer community.

"Drag is so mainstream, its messages get even farther now than they did 20 years ago when I started," Vanity says. "We were performing in the dark recesses of private gay clubs that weren't accessible to everyone and now we're able to perform on the streets."
"When you're on stage you're there to entertain and whatever else is happening in your life doesn't exist"

RuPaul's Drag Race will always have a special place in my heart, but I'm not blind to the controversy it can stir up. When I asked the queens how local drag is affected by RuPaul's Drag Race, our quick-witted conversation hit a wall of hesitation. Careful to set a disclaimer of gratitude for their local fan base, they explained how drag becoming mainstream poses a dilemma. On the one hand, it has increased drag queens' platforms, creating more space for visibility and acceptance. Yet, while there's no denying their talents, idolizing those queens may have cast a shadow over local drag.

"If the bar books one of the RuPaul's Drag Race queens, the bar is sold out and people are throwing money at the queens hand over fist," Vanity says.

"We get a lot of support from places like Evolution, which give us a place to perform, but getting support from the community can be difficult for sure," Morgen adds. "Tonight's show had a good crowd, but it could've been a lot bigger."

If you're looking for reasons to attend a show, local queens are not only cheaper to see, but are just as entertaining as a Drag Race queen, if not more.

"There've been a lot of times when the opening local queens have put on a better show than the paid act," Vanity says. "But that's because we're always trying to prove something, so whenever we go onstage before one of these queens we always bring our A-game."

So maybe next time, skip the Netflix binge of RuPaul's Drag Race and take a gander around Edmonton's drag scene. Whether you want to ponder the nature of gender or simply have a good time, the versatility of local drag means there's something for everyone.

"There are so many different styles of drag, whether it's dancy, comedic, theatrical, political, wacky, or flat-out bizarre… You don't get to see all that on TV," Ivy says. "Going out to local drag shows can really broaden your perspective, not only as a drag patron but as a person in general."