Campus Life
News
U of A alumnus lands Last Lecture after less than two years of teaching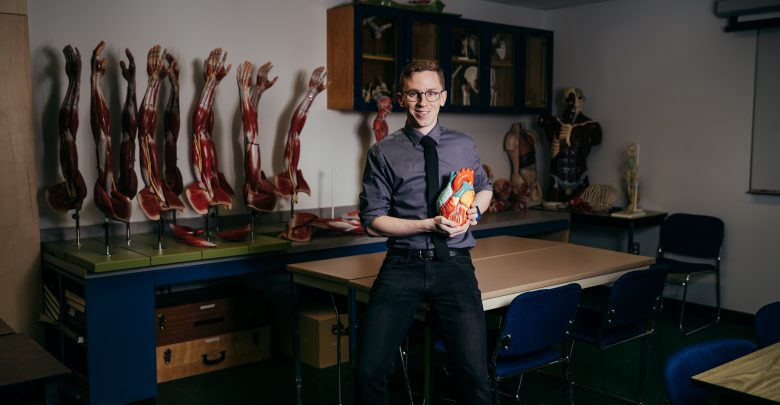 Kinesiology instructor Adam Pinkoski will deliver this year's Last Lecture, focusing on rapping, pop culture references, anatomy, and the idea that age is just a number.

Graduating in 2016 with a bachelor in kinesiology and obtaining a master's in musculoskeletal sport science and health from Loughborough University the following year, Pinkoski has been a sessional instructor for the faculty of kinesiology for less than two years. Despite his short time teaching, Pinkoski has been nominated by students to give this year's Last Lecture on April 4, an annual tradition which has instructors create a lecture under the premise that it's their final opportunity to address students.

As his anatomy rap to Eminem's "Without Me" continues to go viral on Facebook, Pinkoski promises his rapping skills will also make an appearance at the Last Lecture, but won't reveal to which song.

First year Kinesiology students Travis Stewart, Matthew Gervais, and Matthew Pardell all agree that Pinkoski is unlike any lecturer they've encountered so far.

"Coming into first semester having no expectation for what a professor would be like, he set the bar so high," Gervais said. "He really puts a high expectation in all the first years' minds."

Adding GIFs to lectures, talking about mental health, and rapping their final review, they found Pinkoski extremely approachable. This, however, was only a compliment to his ability to deliver an engaging anatomy lecture.

"He made it known that he was always there for you. But at the same time he was the most knowledgeable professor I've had," Stewart said. "He told us about the highs and lows he had. And as first years, he let us know that if you're not feeling okay it's okay to ask for help."

"He's a role model and how established he is is something one can aspire to," Pardell said. "It's interesting to see how age is irrelevant in the quality of the instructor. He was so engaged in the material… and he's passionate about the subject. That's all that mattered in the end."

Pinkoski began teaching when his former professor, and past Last Lecture nominee, Brian Maraj asked him to teach in one of his classes. What was supposed to be a one-time affair progressed into Pinkoski teaching introduction to human anatomy and human gross anatomy.

"By the end of November the faculty asked if I could teach their 400-level anatomy class and this obviously meant that work was being recognized," Pinkoski said.

Though instructing happened by chance, Pinkoski always had a passion for performing and teaching, something that originates back to his days as a science demonstrator at the Telus World of Science.

"When I was at the Telus World of Science, one performance I would be talking about fire and the next I would be talking about ice and they were very general concepts," he said. "The logical progression I saw for myself was teaching at the university level where I have a big audience, I can keep educating, but I can speak to something I feel more passionate about."

"I [love to] teach because it is a mental escape and when I'm in front of students my mind shuts off and I can talk about something I love and get lost in the moment," he added.

Besides teaching, Pinkoski's passion for anatomy extends to his research assistant position at rehabtronics, an Edmonton-founded company focused on rehabilitative technology for those with stroke and spinal cord injuries. There, he focuses on ensuring the technology is harmonious with the physiological realities of these injuries.

"Engineers are very good at building things, but their weaknesses lie in finding applications," he said. "I work really closely with the engineers and tell them the major issues for individuals with a stroke or spinal cord injury because they don't see the human aspect."

Being only 24 and graduating from his undergraduate degree three years ago, Pinkoski admits that age can be a hurdle at the start of a semester. He plans to challenge the idea that "age and experience are synonymous" during his Last Lecture.

"A lot of students put in their USRI that from day one, they thought I was young and gave me no chance," he said. "They go on to say what they thought was my biggest weakness is actually my biggest strength."

Though honoured to be selected, Pinkoski is surprised this milestone occurred so early in his career. He does however, take it as a sign that he isn't leading his students astray as a new instructor.

"I remember watching Brian Maraj give his Last Lecture [in 2015] and thinking that someday I want the same amount of respect his students have for him when it's organic and truly deserved," Pinkoski said. "It's a weird thing that it's already happening… [but] the Last Lecture is very much a once in a lifetime opportunity."