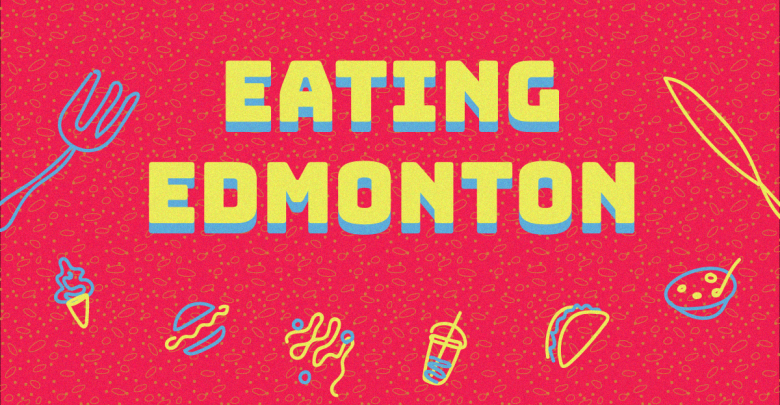 Nestled amongst the finest hotels and car dealerships 100th Avenue has to offer, is Homefire Grill — "West Edmonton's progressive Aboriginal restaurant." The Alberta Indian Investment Corporation established the bar and grill in 2005, and it has since been offering visitors an authentic Canadian prairie dining experience characterized by an inviting atmosphere and inventive menu crafted with local ingredients. The restaurant prides itself on its "fire to table comfort food," and boasts about serving "the best rotisserie and fire-roasted oven cooking in Edmonton."
My girlfriend and I drove to Homefire Grill for a late dinner one Saturday evening (they are open until 10 p.m. on weekdays, and 11 p.m. on weekends, so we were in no rush). Although largely inaccessible by public transit, we had no difficulty parking, as the restaurant shares a massive parking lot with neighbouring businesses. The outside of the building is a magnificent sight. "Homefire Grill" is sprawled out in large lights across the front and towering neon flames stemming from the archway encompass the entrance. .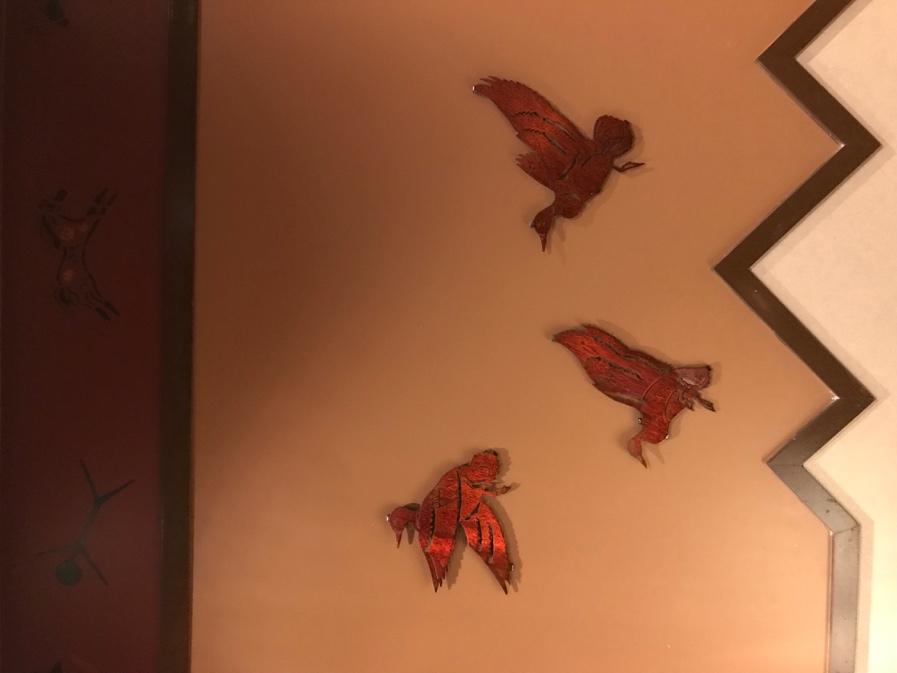 In the waiting area of the eatery hung Aboriginal paintings, which can be purchased from local artists. The entire room was painted a warm shade of burgundy with matching furniture; even the light bulbs cast a red glow down from the high ceiling. Sheet metal cut-outs of ducks, bears, and other animals adorned the restaurant, and similar designs were carved into both the hood of the central fireplace and the lamps hanging above each table. A private dining room, and a lounge complete with a bar and televisions, were affixed to the main dining area.
Upon our arrival, we were quickly seated in a both with a view of the open kitchen complete with a pizza oven and bustling chefs. Behind us, a guitar player was perched peacefully on a barstool treating patrons to a charming array of tunes.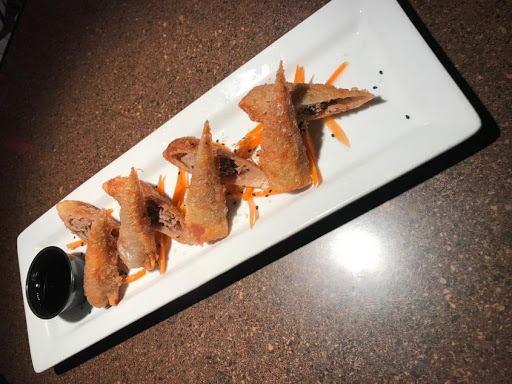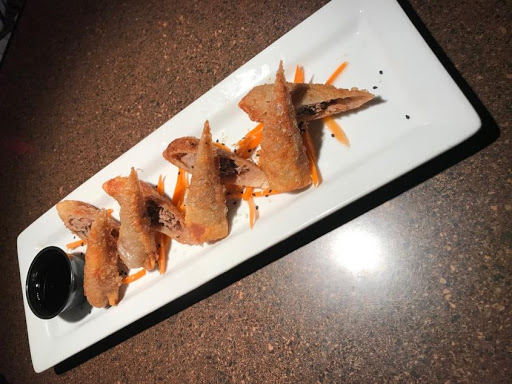 Although the restaurant had no vegan options, and only a handful of vegetarian dishes, our waitress displayed her commitment to service by suggesting vegan dishes they could possibly throw together on the spot.
Our first dish of the evening was the bison spring rolls, and despite being especially oily, they were amazing. They were served with a Saskatoon berry dipping sauce, which created a delicious, sweet and savoury flavour. The diagonally cut wedges were stacked side-by-side, almost resembling barbed wire.
The drink menu was similarly impressive. It contained a large selection of wine and beer, and a long list of signature cocktails.
The most disappointing dish of the evening was one of the establishment's supposed signatures — the elk lasagna. Instead of having multiple layers, as lasagna should, the elk lasagna was a disorganized pile of mush topped with entirely too much cheese. The scarcely seasoned dish opted for canned tomato paste, an observation made by my Italian dining partner who is far more well-versed in the art of pasta than I. Overshadowing the Costco sample-sized dish were two oversized, under-seasoned, slices of bannock. I could barely finish one of the bone-dry, gargantuan slices before surrendering to my dehydration and cutting the meal short. We had made the right choice ordering the spring rolls for an appetizer, as opposed to a full basket of the drywall-textured bannock.
The presentation of the dish did however perpetuate the restaurant's reputation of offering visually stunning meals. The elegant, albeit tiny, serving had awarded me not one but two reasons to dust off my monocle; one, for an entrée of that size, it was positively ludicrous of them to price it at a staggering $27, and secondly, I can't imagine how much smaller a portion is served with the $18 version of the dish featured on the lunch menu. Astoundingly, the elk lasagna is one of their medium priced entrée.
My dining companion ordered the crispy chicken dumpling salad, which promised to be a gentle mixture of finely chopped vegetables and Asian delicacies, but was ultimately a veritable ball pit of chunks, each one larger than my lasagna. The staff must have been playing a game of 'How Inconveniently Can We Slice These Ingredients?' Cucumbers were cut diagonally into egg-sized slices and peppers were cut into fully intact rings. The worst offenders, however, were the titular dumplings. Even with the ginger lime vinaigrette, the enormous chunks of chicken were extremely dry and difficult to eat. Unimpressed minds must think alike, as she also gave up on her dish due to a deadly combination of size and dryness.
The restaurant seems to have invested a lot in presentation of both the food and the environment, and it shows; where it fails however is in its attempt to bring the quality (and quantity) of some of its dishes to that same standard. The meal came out to a whopping $79 for an appetizer, two entrees, and two glasses of wine. Had there been much more in my stomach, I'm sure I would've vomited at sight of the bill.
If you are solely interested in spicing up your Instagram, then this is the restaurant for you, otherwise, I suggest you follow in our footsteps and conclude your evening with a late night visit to Denny's.