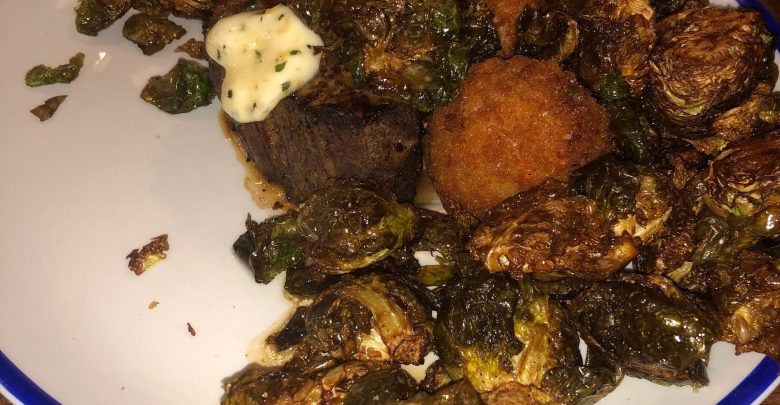 Located south of Ellerslie Road, Workshop Eatery promises farm-to-table dining in modern surrounds. The local-when-possible restaurant resides in the Mosaic Centre on 91 St SW, Alberta's first LEED Platinum Certified commercial building (the highest level of recognition for environmental stewardship on a construction project). The entrance of the Mosaic Centre greets you with a Living Wall — lush from floor to ceiling with various plants scaling the wall. The parking at the Mosaic Centre is tight, but I had no trouble finding a spot. It is free, of course, because Edmonton's south side is quiet and kind — there's no need to charge $15.
The head chef at Workplace Eatery is Paul Shufelt, the chef behind Hart's, MKT, and other Century Hospitality restaurants until he decided to branch out and open Workshop Eatery. The southside of Edmonton has been graced with a plethora of chain restaurants, all of which have their strengths, but when I heard about Workshop Eatery, I was excited about the potential of high quality food, unchained, deep in the south of Edmonton.
The dining room is quite small, but the high ceilings and open kitchen lift the space up so diners don't feel too close. My dining companion, Rylee, and I were seated at a booth tucked away in a corner, much to my dismay, as we couldn't see the chefs in action. The lighting was warm and yellow-y, definitely not too bright. Music played quietly in the background, and I struggled to pick up which Vance Joy song it was. Interestingly, there was only one bathroom — a gender-neutral one — and someone was in it when I wanted to use it, so I had to wait in the hall. I was upset there was only one — am I at a Starbucks? Rylee pointed out that there was only salt on the tables — no pepper. In what I can only assume was a messy breakup, salt remained the only option for people wishing to take control of their meal.
I ordered a Smoked Grapefruit Jalapeno Margarita to drink, and Rylee kept her water because she was driving. Thankfully, Glen did not question why I was drinking alone on a Tuesday. The smokey flavour came through loud and clear, cutting through the bitterness of the grapefruit. A $13 cocktail is on par with Edmonton's drink prices, though Cactus Club has everyone beat with their $4 happy hour drink menu. The margarita was flavourful, but I would opt for a glass of vino next time.
Rylee and I were entranced by the idea of "risotto" and "balls" used in the same phrase. Arancini is a Sicilian dish that North Americans understand to be creamy rice combined with various vegetables and cheese, breaded into a nice ball. Arancini is $12 and immensely popular at the Workshop Eatery; flavour combinations are rotated monthly. The special that night was corn and tomato arancini with caper and parsley aioli. I don't think I've ever been happier with risotto in my life. The corn and the tomato made for a sweet filling, but the parsley aioli did the majority of the flavour work. It was citrusy and light, and the texture was smooth but not wet. Each ingredient fell into its role, with the aioli leading the pack and the corn and capers following suit.
Next, we ordered our entrees. I was apprehensive about the Duck, Wild Boar Chop, and Braised Lamb Gnocchi, and only one pasta dish stood on the menu among many seafood dishes. They all sounded delicious, but I went for a nice Albertan meal: the Token Steak Dish. For $39, the steak promised Baseball-cut Heritage Angus Beef sirloin, skillet-seared, herb and garlic butter, sriracha sour cream, crispy Brussels sprouts, and chorizo cheddar tater tots. They must have run out of the tater tots, because I was gifted three more risotto balls. Happy New Year to me!
The presentation of our entrees could not have been more disappointing. My steak was enveloped by a forest of brussel sprouts (more on those in a minute) and the plating was purposefully off-kilter, which is fine, but Glen's fast walking had shifted the sprouts so they were all over the plate, and upon setting it on the table, he had to shake my plate to get all the sprouts back on one side. I had not touched my plate prior to taking the picture, and there were brussel sprout crumbs lying about on the side of the plate that was strategically left empty.
The steak was very good. I hesitate to call it great, but it was nice and peppery, and performed well when being cut. Rylee was blown away by its buttery texture. She's a farm girl, so I trust her review. Lemon wandered around my plate, but it did not interfere with the taste. It quietly reminded me of its importance. The highlight of the dish was the way the sriracha sour cream assisted the steak's flavour. The sauce was not in my face about it's spiciness and it encouraged the steak to take on a more prominent taste among all the goddamn brussel sprouts.
Now, I love Brussels sprouts. Adore them, really. If it weren't for the arduous peeling and cutting, I would eat them every day. The ladies next to us ordered them — just a mountain of Brussels sprouts in a bowl — as an appetizer. The menu's description of the sprouts is: "For those who know, you know!" as if that's helpful to anyone new. They were good enough: crispy on the outside and soft in the middle. However, the taste lacked luster. They had a nice buttery flavour to them, but I couldn't help but miss my favorite part of the dish when I usually eat it: a hefty helping of Parmesan cheese and balsamic vinegar drizzled on top. A Brussels sprout can hold its own, but it is best accompanied with friends.
Rylee ordered the Chicken Supreme, which boasted free-run Morinville Colony breast, mushroom agnolotti, truffle butter, with a thyme jus for $25. The word "truffle" was enough for Rylee to jump into bed with the meal. The truffle butter was understated, which is the trick of truffle. But again, the plating was sad. There was no colour on her plate, so it looked as if it was going to be a very bland meal. It was a pleasant surprise that the breast's skin was crisp and well seasoned. She enjoyed the mushroom ravioli, but didn't say much about it. It was flavourful, but not bring-us-ten-more-pieces-right-now spectacular.
My meal was $60 after taxes and tip. It's hard to complain about price when you order a steak, but I do feel that I won't be returning without taking my parents with me, conveniently forgetting my wallet. Rylee's bill was $40, which is more than we would pay at a chain like Earls, but in terms of quality, the price seems on par.
What Workshop Eatery promised, they delivered. The food was fresh, honest, and clean. The menu did not boast any vegan options, and people with dietary restrictions may be stuck choosing between appetizers, as no entrees on their dinner menu are vegan. They do serve gluten-free bread upon request. The prices seem fair for the quality of the product, but it is a stiff price for a student. I don't think I'm adding the Workshop Eatery to my regular rotation of restaurants, but I will definitely be back to test out more dishes. And I'll do my best to avoid the copious amounts of sprouts they would like me to consume.