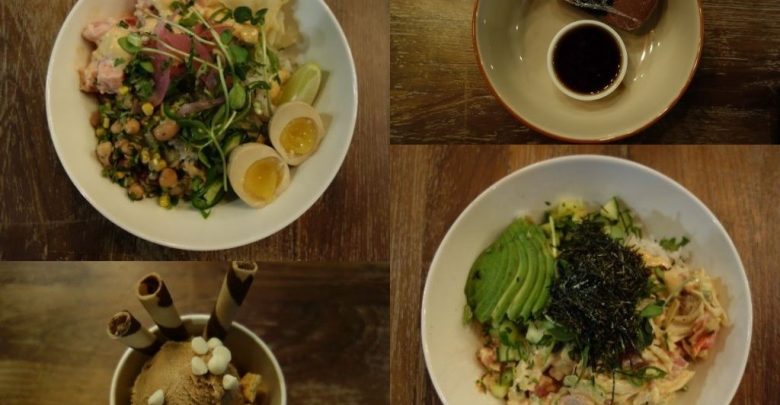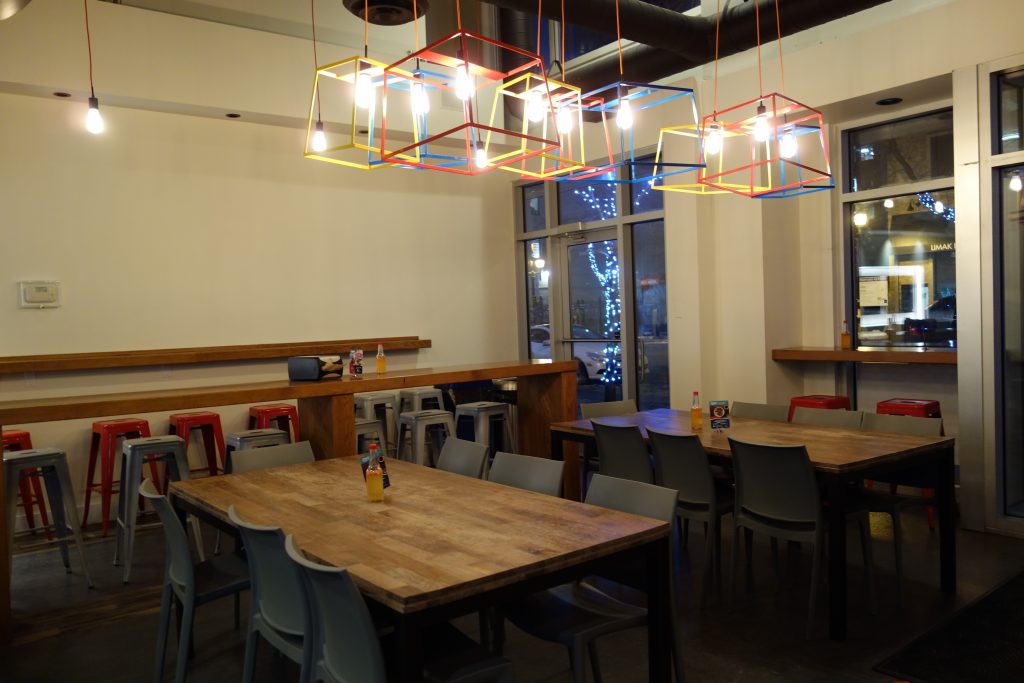 On a cold evening there sits a small restaurant nestled between a strip of stores, including a chocolatier, coffee shop, and a pub. Located between 104 Street and Jasper Avenue, its size can make it easy to overlook. Inside, however, contains endless possibilities. The name? 'Ono Poke. No, not the Facebook type of "poke," but the Hawaiian dish, "po-kay." In essence, poke is a blend of rice, vegetables, and raw seafood, almost like a deconstructed sushi roll in a bowl. Open every day except Sunday from 11 a.m. to 9 p.m., 'Ono Poke is perfect for a quick bite or a hangout with friends.
The warm glow beckoned us inside; the building felt bright and lively, with paintings of Hawaii lining the white walls and the cubic structures encapsulating the bulbs. There are a few long tables in the centre, with smaller tables along the perimeter of the space. With tables even against the wall, lone customers can feel at ease without the need to look at the empty seat in front of them. Similar to Subway's layout, customers can choose what they want to go into their bowl. They have options from tuna, salmon, and scallops, to shiitake mushrooms, kimchi, and macadamia nuts. However, I recommend trying the predetermined combinations, as the chef truly understands which flavours and textures go well together. While there was only one vegetarian dish, the bowls could be customized to fit each person's needs.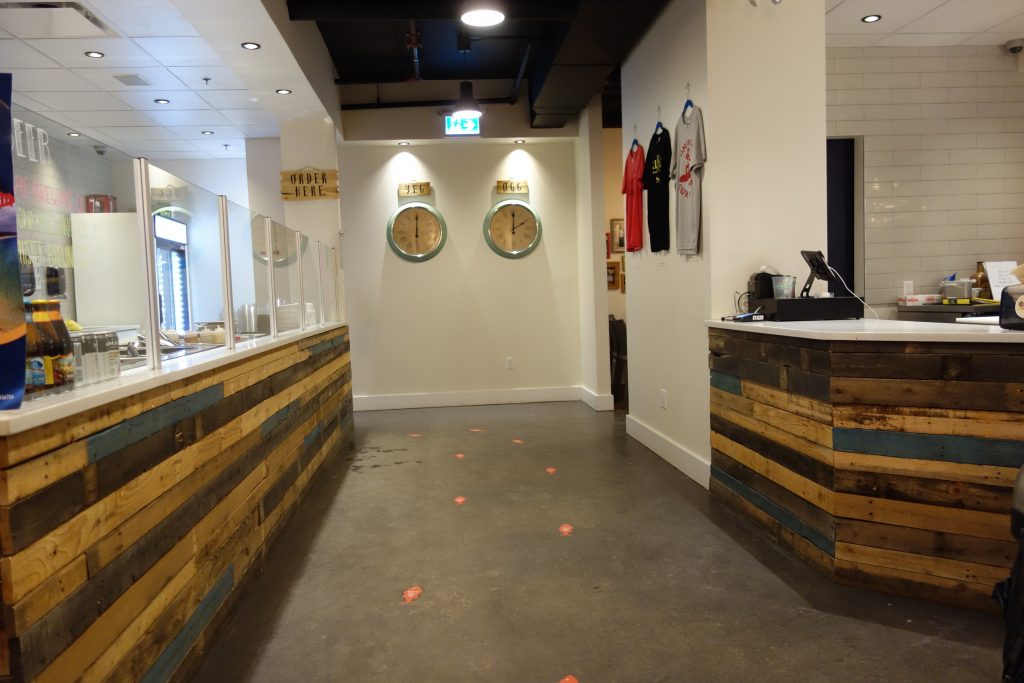 With only two visible staff at the counter, I was worried that service would be slow. Luckily, we were the only two guests, and they treated us like royalty. Maybe it was because the game started in an hour and we were running late, but I expected more customers. The staff was patient with us, explaining the dishes and piping in suggestions. After a few moments of labouring over what to eat, our indecisive selves decided to try their recommendations: the California Poke and the Hola! Aloha! Bowl. Strategically placed fish and vegetables upon white rice produced beautiful, Instagram-worthy dishes. Taking advantage of the limited-time combo offer, we got a canned drink and the spam musabi along with the bowl. The bill totaled just under 40 dollars for two combos.
My main dish, the Hola! Aloha! bowl, was absolute perfection. It was a symphony of flavour in my mouth. The ahi tuna was soft and creamy, and paired well with the soft crunch of cilantro, pea shoots, and other vegetables. There's a lot going on in the dish. Every bite can offer something new. But each ingredient adds to the flavour, neither overpowering, or underperforming. It has a soft sweetness, with the occasional spice from the jalapenos. My friend purchased the California Poke. The only time she opened her mouth was to shovel food into her mouth and moan about its flavour. We devoured the bowl in what seemed like seconds.
On the other hand, the spam musabi side was nothing special. In Hawaii, spam is considered a comfort food, but quite the opposite in Edmonton. The musabi was literally a slice of spam on a block of rice, held together by a thin strip of seaweed. The spam was soft and seasoned well, but it was something I might be able to make at home. Considering that the most intricate dish I can make is probably fried egg, that says a lot. The side had a nice, sweet sauce to go with it, but it did not match with the standard of the rest of the bowls.
Our stomachs were happy and full, but it is a rule to always save room for dessert, which was separate from the main station. The downside to this method was you had to pay for dessert separately. As we made our way to the dessert station, we noticed that they only offered ice cream. It being winter, a cold dessert may not be the first choice for a sweet treat. Yet ice cream has always appealed to me more in the winter than the summer. It took a moment for them to realize someone actually wanted to eat ice cream on such a chilly evening. Once staff made their way around, I ordered the cappuccino flavour. Two scoops of ice cream, with some chocolate sticks, honeycomb, and chocolate chips, totaled about five dollars. The ice cream had that sweet coffee taste and the honeycomb was a surprising touch.
All in all, it's a small place that's not recommended for big parties. I'm not sure how many staff work there on a given day, but for a Saturday night, I would have expected more. However, considering the amount of customers they had during our stay, I think the two staff handled their guests well. Overall, it was a fun experience on the Hawaiian dish, though a bit on the pricey side. I just wish we knew about the game day deals before heading over so we could have gotten that 20 per cent discount on the meals.