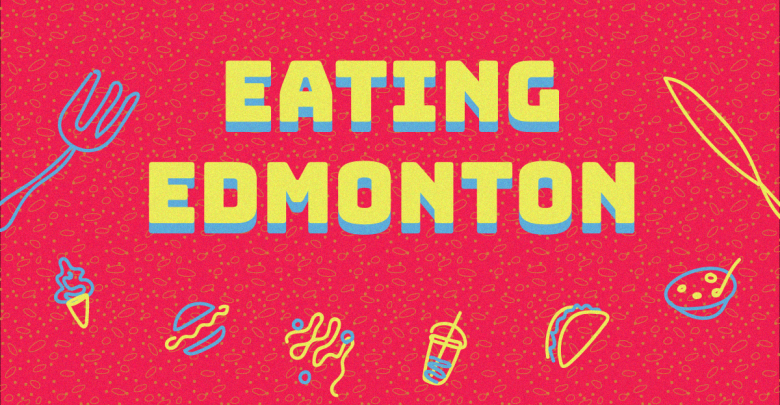 There comes a time in everyone's life when the attractiveness of a club or bar on a Saturday night is replaced by anxiety from crowds and noise. When this time comes, most resign themselves to becoming another couple that performs the ritual of dinner and a movie on the weekend. No restaurant is more ideally located for this ritual than Edmonton's Kyoto Japanese Cuisine, which sits directly across from Metro Cinema on 109th Street. So on a chilly Saturday night, my girlfriend, Susie, and I made our way down to 109th to try out some Japanese fare.
We skipped on the drinks, but a brief glance at the drink menu suggested prices comparable to most Whyte Avenue or 109th Street restaurants. We decided to start with a two-piece order of the white tuna nigiri sushi and four-piece order of the Canada maki (shrimp rolls). The nigiri came out tremendously fresh — a fact signalled by its shiny bright colour and lack of odour. Darker, smelly, wet tuna is a sign of oxidation, and therefore stale sushi. The rice bed was sticky and well-shaped with a light sweetness, offering nice chewiness against the bite of soft tuna, but not cloaking its mild, fatty flavour. The maki, too, looked fresh, and the rice was packed dense enough to keep the roll's shape while maintaining a good ratio of rice to shrimp. The shrimp was crispy, firm, and very juicy, offering a bite that provided a satisfaction somehow akin to popping bubble wrap. Kyoto was beginning to taste like a hit.
After the rolls we decided to try out the bento box – a compartmentalized box offering a variety of dishes. We decided on one with sushi, salmon teriyaki, and beef shogayaki, and one with sushi, tempura, and pork shogayaki. We were disappointed, however, when our server did not allow us to pick the sushi that would arrive in the box, suggesting that this sushi wouldn't be as fresh as what arrived earlier.
Before we could confirm this hunch, however, we were served the miso soup which accompanies the box. The soup contained a light coloured miso, offering a savoury, nutty mouthful mediated by a hint of sweetness. Though it came with tofu, I found the cubes unsatisfactorily small. It really may as well have been tofu-less.
When the boxes did arrive, the sushi, as I predicted, had a much less appetizing appearance. The chef had picked for us one red tuna nigiri, one salmon nigiri, and two California maki (avocado and crab rolls). This last choice was particularly disappointing, as I despise imitation crab. I put it down, however, with the help of a healthy dollop of soya sauce and wasabi.
The beef shogayaki and the pork shogayaki — ginger fried pork and beef — were also a bit disappointing. Although the sweet and savoury sauce was delicious, both were slightly overcooked, offering a bit of a workout for the jaw. The tempura, for its part, was served too cool, though it had a great crunch.
All this, however, was mitigated by the star of the meal – the teriyaki salmon. The teriyaki sauce was the sweet and savoury sauce we all know and love, but mild enough that it really let the flavour of the salmon shine through — and boy did it shine through. The salmon was cooked to perfection – flaky and fatty on the inside and just slightly charred on the outside. The result was a smoky and creamy mouthful with just the right amount of fish hanging around. Later, as we were watching The Favourite, I found my mind wandering from 18th century England back to this perfectly balanced medley of flavours.
The high note offered by the salmon was dampened by the waitress who came by to remove the bento box before I had finished eating. She quite literally took it away as I was taking my final bite. Busy or not, one expects better service when spending approximately $60 on dinner.
That said, the food was relatively affordable, although we had made some expensive decisions. Most maki, ngiri, and sashimi are $5 to $10 for 4 to 10 pieces. The bento boxes will cost you $20 apiece, but lunchtime sees the boxes drop to $13 each. Ultimately, if you're going for supper, I recommend sticking to sushi; however, if you're headed to Kyoto for lunch then I recommend the bento box, and make sure to get it with the teriyaki salmon, because it's not listed on the menu as a standalone dish. But be warned: the bite of salmon may linger in mind long after lunch, and you may struggle to focus on the task at hand back at work or in class.