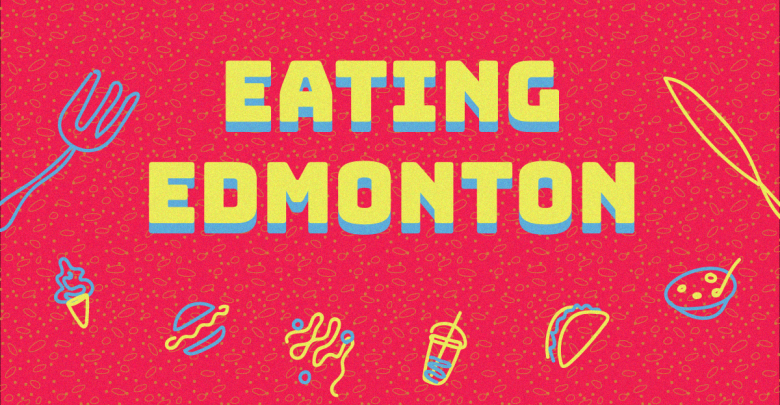 It's a shame to say that the first impression given by Kanu Cafe, a new plant-based eatery on Jasper ave, is not totally pleasant. My boyfriend, Isaiah, and I were met both by the bright and friendly host, and the confusing and overwhelming smell of dirty vegetables. It was the kind of smell you might expect walking into a musty basement filled with pickled beets, not a trendy downtown restaurant. However, the eagerness and hospitality of the host distracted us from the smell — he offered us a spot near enough to the kitchen that we could watch the chefs cook. This alone was more than enough to distract us from the farmhouse smell, which we decided to chalk up to the high density of vegetables in the place.
The food, visually, definitely delivers a satisfying wow factor. Isaiah chose the infamously millennial avocado toast, and I a cold tomato and zucchini lasagna. The avocado toast was topped with a colourful bouquet of garnishes, most of which we couldn't identify. The lasagna was presented as a tidy stack of fresh vegetables and cashew ricotta cheese, topped with it's own mini garden of garnishes. Both were bright, and appetizing — although the toast was almost too pretty to eat. Almost.
The lasagna temperature shouldn't deter anyone from ordering it — the fresh vegetables are perfectly seasoned, and the accompanying pesto added a lovely green flavour. We were spared the grease and mushy texture of a classic pasta lasagna, and given a light, refreshing, and satisfying replacement. It's difficult to believe that the cheese was dairy-free — it didn't feel like an imitation, but rather an improvement on ricotta. The only complaint we had between the two of us was that the toast left an oily residue on our fingers as we ate it.
Our dessert, a shared piece of chocolate "cheesecake," was just as pleasant. The cake was topped with spicy pecans, coconut marshmallow cream (could it get any better than that? I think not), and of course, some delicate floral garnishes. The marshmallow cream, though unsurprisingly delightful, came in short supply, only a few fluffy dots on the plate. The pecans too, left a bit to be desired— while we appreciated the element of spice in the dish in theory, it just wasn't quite right. That said, the cake itself was delicious. Our waitress assured us that the chocolate cake was actually made from — get this — avocados. Between this and the ricotta cheese, as a lactose sensitive individual, I was in heaven.
We were less impressed with our drinks. Although there is an impressive array of cocktails, coffees, and organic juice blends available, averaging about $12 a pop, all were a bit too pricey to justify. Eventually we settled on kombuchas, the avocado of drinks in terms of trendiness among young people, which were non-alcoholic, and within our price range. We chose lavender and snozzberry, the latter of which our waitress claimed to be the best flavour. Unfortunately we disagreed, both of us preferring my lavender drink which tasted merely of — yes, you guessed it — lavender. They weren't bad, but probably not worth adding $14 to our bill for.
A concern I had come across in online reviews was that the plates, for their prices, were small. While I found that the portion sizes were indeed on the smaller side, both our meals were very filling. In fact, Isaiah couldn't finish his toast, although he did, in the end, find room for dessert. Price wise, it wasn't cheap. We ate light, and, with our non-alcoholic drinks, ended up paying almost $70 — you could pay much more for much lower quality at many "high-scale" chain restaurants, but still, the prices could stand adjusting.
Come for the excellent food and service, and stay despite the smell. Kanu offers a haven for vegans, and for those with dairy sensitivities, like myself, a delicious and worry free menu. The cafe, only a couple of months old, has already found its groove within Edmonton's growing culinary scene. It's plant food that doesn't call attention to itself. The flavours speak for themselves. PLANT good™, indeed.