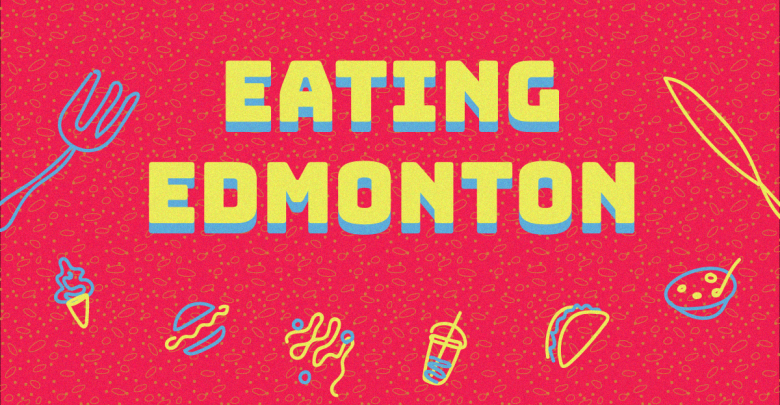 In the heart of Edmonton's prosaic Chinatown, residing amidst the thriving opulence and squalor of the neighbourhood — I found myself home. In its very own corner off of 97th Street, Double Greeting Wonton House takes me back to the other side of the world. Its Cantonese-style comfort food and its Asian ambience are reminiscent of the wistful life I had back in Malaysia: a warm homey feeling for the long winter ahead.
Sitting in a quiet corner, my friend Ken and I were first served with oriental aperitifs that go by the name of Hong Cha (Red Tea). A sip from our white porcelain tea cups had instantaneously suffused our taste palettes with a light, grassy taste. Such a pleasant taste eventually left us feeling tranquil yet ravenous. And what came to us afterwards was the antagonizing restaurant menu that consisted of over 367 Cantonese dishes to choose from.
We ordered our first main dish, which happened to be a major staple food in Cantonese cuisine: the House Special Fried Rice ($10.75), a large dish of mountainous fried rice sautéed with dices of sweet Chinese sausages, omelette flakes and shrimps, and lightly garnished with green peas. Along with the fried rice came the Cantonese-style Wontons in a Soup ($7.50); its shrimp and pork filings were piping hot and fresh, doused in the bold and comforting flavours of hearty chicken broth soup.
Our second main dish, a Singapore-style Fried Vermicelli ($11.50), was appetizingly presented in all its curry-flavoured and yellow-hued grandeur, the stir-fried rice vermicelli delivered a perfect mix of picante and savory sapor through the harmonious amalgamation of two different sauces: soya sauce and chili garlic sauce.
Then came our "greener" dish, such in the form of Kai Lan Vegetables with Oyster Sauce ($9.75). This supposedly greener option was terribly disappointing. The kai lan vegetables were presented in a darker shade of green I had never seen before. They were extremely soggy and stale and heavily drenched with oyster sauce, which meant the dish tasted more like salty, wet mush — which certainly was anything but healthy.
Ken and I were reluctant to give their vegetarian dishes another shot at redemption, but we did. We went with a dish that we were both familiar with, Green Beans with XO Sauce ($14.25). Ken contributed a lot of convoluted speculations of how the mysterious XO sauce might taste like before it was served to us. The dish, however, appeared before us in healthy-looking green colour, a redeemable compensation for the kai lan vegetables we had earlier. Instead of drowning in oyster sauce, this dish appeared in glimmering grease, with no heavy sauce in sight. But despite the presentation, its sharp-tangy taste made it all the better. And its pungent taste and smell emanating from the crispy fried shallots gave the dish a mellow, sweet, savory, meaty sensation. The freshness could be heard in the soft crunch of each string bean. Ken said they tasted like home. In spite of the occasional blips, almost everything we tried was delicious. At an affordable price of $53.75, the restaurant served us more food than a group of two could ever hope to eat in one sitting. I came out of the restaurant realizing that a part of my home in Malaysia resides in the city of Edmonton.